Ice fishing bite continues to be strong on area lakes
News | Published on February 28, 2023 at 4:19pm EST | Author: frazeevergas
0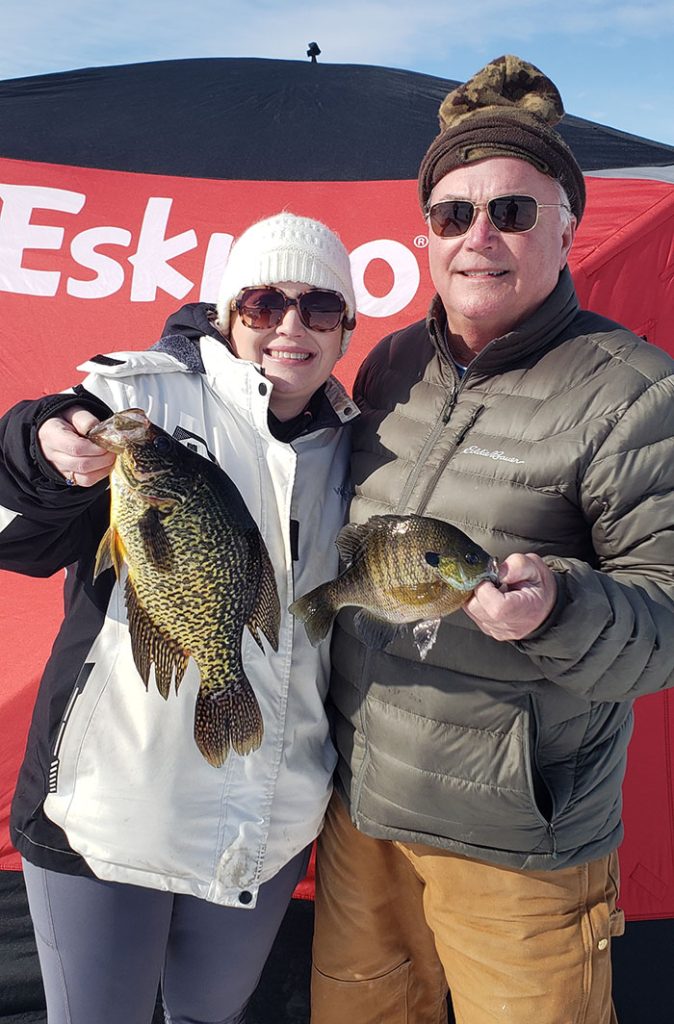 Chill Fishing Report
Cody Hill
Most people think the end of ice fishing is coming up this upcoming weekend since the game fish season will be closing Sunday night, but the way the bite has picked up it is only going to get better if you are willing to look at other species of fish to target. This past weekend the blue gills were aggressive and kept our clients busy catching a ton of fish and made for a lot of fun memories.
Friday, I was able to fish with a father and his young daughter. They had an amazing time on the ice. The daughter was able to out fish her dad and got the privilege of having biggest blue gill of the weekend which measured at 9.3 inches long. I love seeing kids get all excited about catching fish and let's just say she was having a blast. Something unique is I have only caught one rock bass before through the ice and the dad caught a minimum of five during our trip.
Saturday, we had another father and daughter trip but this time it was the daughter taking her father out fishing. They had mentioned it had been years since they've ice fished together, and it was fun to watch them tell stories and make memories fishing together. We were blessed with nice weather on Saturday and the son in law enjoyed jumping around on the ice chasing fish and he was rewarded with the largest crappie of the weekend at 14 inches. We were marking a lot of pike mixed in our schools of blue gills, so we put tip ups out and we were blessed with a few northern pike over 26 inches long with the largest being 31.5 inches.
Sunday wrapped up our weekend with a family affair with having three generations fishing together making memories that will last a lifetime. We got a lot of good eater fish to keep us busy and a few crappies to surprise us throughout the day keeping it interesting because we didn't know what was going to be caught.
We were set up in that 20-25 feet of water off mid lake structure. Even though we were deep we had pods of standing weeds around our fish houses each day. The fish cruised from weed clumps to weed clumps providing us with fish on the graph the whole day and kept it fun for our clients.
Tungsten jigs were the ticket all weekend, but it was good to have multiple rods set up with something different because they were very picky all weekend but once you found the winning combination it was nonstop action. The bite was best in the morning with a 5 mm tungsten tipped with a larger soft plastic. When bite got tougher one wax worm was all it was needed to entice the bite. When that didn't work downsizing our plastic to more of a finesse style plastic worked amazing. As our day went on the fish were getting smarter and pickier so a 4 mm jig tipped with a micro finesse style plastic or just wax worms were needed to entice the bites. 
Key take away this weekend from this weekend was keep changing and don't be afraid to throw something different on because it might be the winning ticket. It did seem the moment we changed color of plastics it would produce fish instantly.
With the end of game fish season nearing now is a great time to look at other species in our area. The crappie and blue gill bite has been getting amazing. Another option a lot of people overlook are tullibee and in our area that bite should be getting hot in the next few weeks.
There are a few remaining dates available in March to fish late ice. Contact Cody today to book a trip that will make memories that will last a lifetime!
For more informaiton, contact (218) 443-3813 or visit him online at www.chillguideservice.com.