Faith is foundational for Frazee 2015 grad Birkey
News | Published on March 14, 2023 at 4:27pm EDT | Author: frazeevergas
0
Unseen pathway reveals four years missionary service, marriage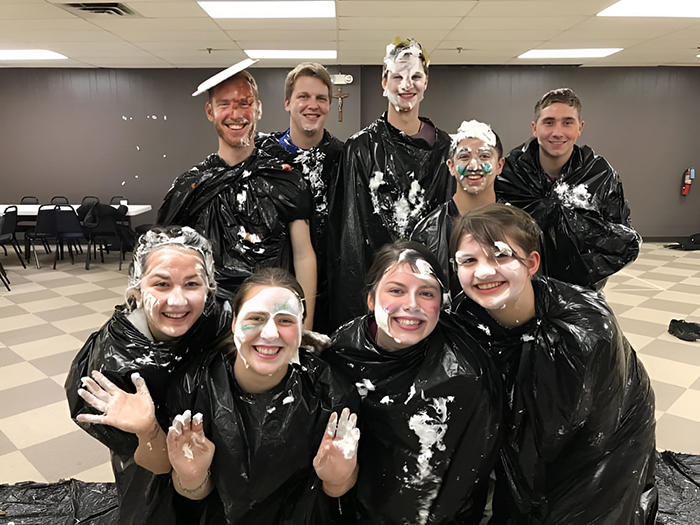 By Lori Fischer Thorp
Correspondent
Kyleigh Van Den Eykel Birkey knows life holds endless uncertainties, but she is confident her faith will always reveal the steps to venture forward.
The 2015 Frazee graduate was a junior in high school when her commitment caught fire "on a TEC (Together Encountering Christ) weekend. Somewhere throughout that weekend, I actually encountered that person of Jesus," through event talks, sacraments and other activities, she said.
"I call that my reconversion year," she said.
She was confirmed at Frazee's Sacred Heart Catholic Church two months later.
Birkey recently reflected on her faith during a trip to Germany for her husband's work. Maplewood native Jacob Birkey is an aerospace engineer and the newlyweds live in Edina.
Following the TEC retreat, "I began reading the Bible more, learning more, and praying more," she said. "It was a lot of uphill steps…I wanted to do more (to practice faith) and surrender my life more."
Birkey's pathway after high school included one year at M-State in Detroit Lakes, and a year at Moorhead State University Moorhead (MSUM). Then, she felt led to become a discipleship team missionary with NET (National Evangelization Team) Ministries.
"It is in giving that we receive," Birkey said. That first year eventually led to four, which was "kind of a radical way…but it's just really helped me grow," she said.
For missionary training, "the first two weeks there is a personal retreat, where they teach you how to pray. That was one of the biggest take-aways, to develop that good habit to pray every day. I set aside time each day," Birkey said.
NET has two types of teams. Retreat teams travel to different cities and states and are with host families a night or two. Discipleship teams "stay in the same area for nine months and help build up youth ministry," Birkey said. She served on a team assigned to St. Joseph, Missouri, about an hour-and-a-half drive from Chicago, Illinois.
"There are four parishes in that area, and we were working with youth who were already Catholic, but they didn't have a personal relationship with Jesus, they were only going because their parents made them," she said. The missionaries' task is to "teach them how to pray, how to have a personal relationship with Jesus."
Team members' nine months of service are divided into two-week stays with host families in the parish.
"That was one of my favorite parts, too," Birkey said. "Witnessing those relationships and seeing those good examples of faith-based marriages. That was a big deal for me. Five of those families came to my wedding."
Birkey returned to MSUM, graduated in 2019, and again felt led to support others' faith journey. She was reassigned to St. Joseph.
"That's not super common, but I had deep connections to the youth and to the families," she said, "so when I thought about doing another year, that was where I wanted to go. They can't really promise…it was a good act of surrender for me."
"It's like the imagery of planting the seeds, and watering the seeds," she said. "You always trust the Lord because you might not be able to see where the seeds will grow."
Proverbial seeds Birkey planted included "a Bible study of eighth grade girls the first year," she said.
In their 10th grade year, she got to connect with them for more group and individual time, supporting them on discovering "how to work through things with the Lord's guidance," she said.
During that second year, Birkey became a team leader.
"I still worked with youth and young adults, but much of my work was encouraging the team and making sure they were doing OK," she said. "I was encouraging other youth my age."
Young people currently experience a load of struggles, ranging through "loneliness, depression, mental health issues, pressure to be perfect, an overload of activities and jobs, just being super-busy and not able to take care of themselves, plus negative influences in the world, in media, drugs and alcohol, family issues, and not being able to get the help they need," Birkey said.
"Something we did as supervisors was to have prayer teams, where youth would share welfare concerns," such as anxieties or self-harm, she said. "A lot of times youth are not knowing where to share that.
"It helped me realize I do have gifts, of leading other people and caring for them," she said. Those gifts led her to two years as a NET supervisor in West St. Paul. "They provide the housing, and I was staying with other women who had similar positions," she said.
Leading those teams of women, "I've had a lot of different life experiences. It's cool how the Lord hand-picked each person that I supervised so that I could connect with them and encourage them," she said.
As she prepared to spend her last year in missionary work, she leaned into her faith to reveal her next steps. "I was not sure if I wanted to become married or become a religious sister," she said.
She had "lived alone 2 months during (the COVID) shut-down, and it was a beautiful experience."
"I decided I wanted to be married, but I wasn't doing anything about it," Birkey said.
Then she remembered a friend who'd used an online dating app.
"It was important to me to date and marry someone of the same faith," Birkey said. She and Jacob "met online through Catholic Match. Our first date was July 2, 2021, we were engaged in January 2022, and married in December 2022."
Their dating period "was all led by the Lord," Birkey said. She went on dates with other men, and recognized that with each of them, "He (the Lord) was not letting them closer to my heart."
Birkey estimates that about 50 percent of people in the metro area use dating apps.
"I felt convicted by the Lord. He was saying, 'I don't want you to live your life in fear,'" she said of the experience.
The couple held a crucifix during their wedding ceremony, to symbolize the three entities in the marriage, "Me, Jacob and Jesus," she said. "Sometimes it's difficult," she added, "but Jesus called us to this marriage, and we're trusting that the Lord is going to give us the grace to work through anything."
In June, Birkey finished her work as a NET supervisor, and then worked in a smoothy bar in Edina until the trip to Germany. She has social work job interviews scheduled when she returns home.
Looking ahead, Birkey is highly confident in her path.
"Our goal is to help get each other to Heaven," she said. Birkey looks forward to having her husband as her partner in doing that, and to "raising children to help them get to Heaven as well."
Birkey said her husband has three siblings, and his mother set an example of stay-at-home parenting. "It's really beneficial to be there throughout (children's) development," she said. "My next mission will be figuring out the job path to allow me to be that person."
"We are being missionaries within our circles," she said. "We live our lives as disciples." The pair have started a Catholic marriage group, with five couples in somewhat different life stages. "I'm really excited for that to develop, and I'm hoping to get involved in our parish soon, too."
Birkey concentrates on "healthy relationships of being brothers in Christ and sisters in Christ. A lot of people from my second-year team were in our wedding," she said. She has visited St. Joseph, and two girls in her Bible study group asked her to complete college recommendations.
"They know that I'm praying for them, and they trust that they can reach out and I will guide them with the Lord's love," Birkey said.
She said she places her faith in Jesus and His redemptive suffering, "knowing that he is in a divine position as a healer. We can go to the doctor, to counseling, (and) pray. We have all these avenues but ultimately it's up to him," she said.
That "involves a lot of waiting, surrender, waiting, and patience, which is hard," she said. "When I try to take control and grasp at things, that's when it's difficult."
"If you don't believe in the Lord, it's hard to understand, 'what is the meaning to all of this?' The Lord is always here to hear this. You may feel alone, but you're never alone because he is with you," Birkey said.