Hanson's ideals continue success in idyllic Vergas
News | Published on March 14, 2023 at 4:52pm EDT | Author: frazeevergas
0
Plumbing & Heating celebrates 90th year in business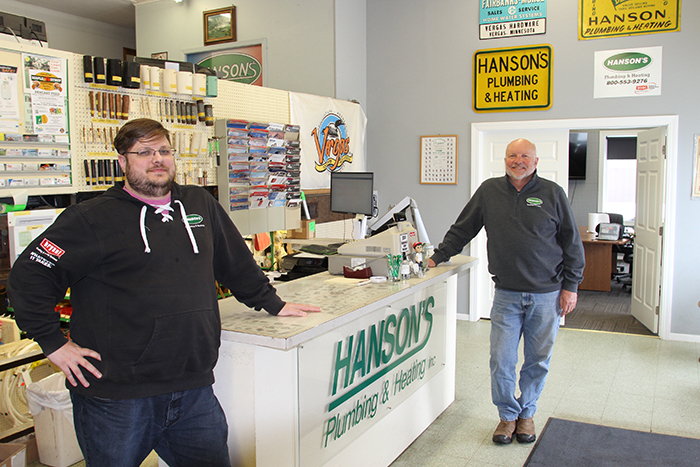 By Robert Williams
Editor
Robin Hanson
Whether known by its original name H.J. Hanson and Sons, Vergas Hardware, The Home of Hardware Hank or its current moniker Hanson's Plumbing & Heating, Inc, the service-based company is as much a part of Vergas as the town is a part of the business.
Closing in on a century in operation, this summer, Hanson's will be celebrating their 90th year. The company would do well to bottle the secret to such longevity and sell it on the store shelves.
"I've thought about that a lot," said Hanson. "There were always tough times, as you're building a business. I think our grandfather gave us a real-good foothold that you treat people right. Do what you say you're going to do and try to make it fair."
Grandfather is Henry James Hanson, the original Hardware Hank.
In 1933, when Henry Hanson opened the family hardware store in Vergas it was based on one guiding principle – neighbors helping neighbors. Times were simpler back then. Everyone knew your name and you were only as good as your word.
"I think that's probably what I remember most about him is he would let me drive him around when I was a young teenager," Robin Hanson said. "He'd go visit different farmers and he worried about the people who were less fortunate than he was. He never had a lot of money, but he did what he did."
The big secret is caring for others, integrity, and standing behind the company's goods and services.
"Ideals that we hope we still have, honestly," said Hanson.
Robin is easing his way into retirement. His son Jason, along with business partner Jason Schrupp, are purchasing Robin's shares, but he is not fully giving up a routine he's had for nearly his entire life.
"I'm trying to retire," said Robin. "I think I'm two or three years into this buyout change part of my life where I'm working three days a week. I enjoy doing this; I'm not quitting. I have customers that I've worked with for 40 years."
Robin watched his father pull out of the business as well, while still being a vital part of it at the same time. The key was the desire and ability to let go of operations.
"I try to stay out of their way," said Robin. "My dad was really good at that. I was amazed at once he made the decision, he didn't get involved anymore. He just kind of let us do our thing."
For the third generation, Jason will be continuing to operate Hanson's under those same ideals and has a modern take that has become part of the company's mantra.
"Just keep doing what they've been doing," said Jason. " You don't last 90 years if you aren't doing something right. We always stress a vision statement we have. Do what's right for the customer first, then do what's right for our employees. Company comes last. I think that's what builds on all that."
It's all in the name
In 1933, the town of Vergas had a need for someone to take over the hardware and grocery store. That need was fulfilled by Henry, who quickly became known around town as "Hardware Hank," a dozen years before the national franchise was conceived.
United Hardware Distributing Company is a dealer-owned corporation based in Plymouth, Minnesota, which provides distribution services for 600+ member-owned stores, the majority of which operate under the Hardware Hank trade name.
Rodney Hanson, father to Robin and grandpa to Jason, related the Hardware Hank name story about his father Henry James in one of Rodney's many memoirs. Henry worked at a hardware store in Pelican Rapids prior to moving to Vergas.
"For many years, the whole front of the hardware store above the windows bore the sign 'Home of Hardware Hank,'" Rodney wrote. "When Dad came to Vergas that year, he was already known as 'Hardware Hank.' There were three Henry Hansons on Main Street in Pelican Rapids. One worked for the telephone company, another ran his own restaurant, and then my dad worked for Logan Brothers Hardware. To keep them straight, they became known as 'Telephone Hank' 'Restaurant Hank' and 'Hardware Hank.'"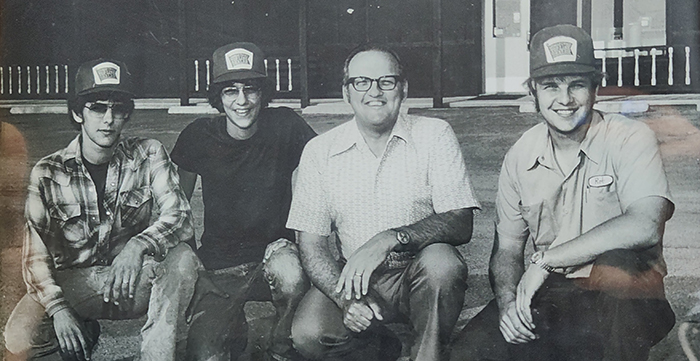 It's all in the family
Henry's work ethic started what has become a fixture in Vergas and the surrounding communities, all while passing down his knowledge and the business to his twin sons Rodney and Roger. The business was split between the twins—Roger took the hardware and Rodney took the plumbing.
The business continued to evolve, as did ways of doing business, even in small towns.
"We would charge to everybody and at the end of the year we had to make sure we were clear," said Robin. "We would charge our gas at the gas station and in December we were just trying to get the bills out, trying to get the money to pay everyone up at the end of the year. 30 years ago that went way by the wayside. Everybody now gets paid before you do anything. So, it's changed, but I think our name's been around for a while."
By the time the business was passed down to Robin, brothers Jeff, Marty and sister Jolyn, Hanson's continued to change with the business climate.
"I grew up knowing what my daddy did, but of course my dad was more of a hardware guy. He had more of the vision of the retail hardware. He did more floor covering when he was younger; he got his plumbing license maybe just a year or two before me, so we've evolved out of the plumbing."

Robin Hanson
As the company grew and its ownership transitioned from father to son, a second location was established in Perham, expanding the business to HVAC and plumbing installations, repairs, and maintenance.
Both Vergas and Perham have been integral to Hanson's success and the businesses in each city return the favor.
"We've been a big part of Vergas and Vergas has been a big part of us too," said Hanson. "There's no doubt about that. Perham is basically a business extension office; half of our business was in Perham and it really turned out to be a good thing. That's evolved into our sales center."
"Without Vergas I don't know where we'd be," Jason said. "The same goes with Perham too. Both towns that really support local businesses."
Reducing the retail side of the business, something the company was based upon, was the biggest change over 90 years.
"Used to be we thought we had to have a storefront and a big showroom and it's really evolved into not retail," said Robin. "It started going there with my dad. My dad was more of a retail-based guy from the hardware and we belonged to an association called Top Line, a retail plumbing business. But our business has really gone away to the Home Depots and Menards. They come to us after they've been to the box stores and tried to fix it themselves."
The online marketplace created another hurdle, but Hanson's stuck to its founding father's motto and providing quality service is the key to present-day success and the future.
"Amazon is eating away at the Main Street, big time," Robin said. "Our business is, thankfully, more service-related, where we are bringing our shop to the customers' homes and building new homes, building new buildings, servicing existing equipment."
With change came growth from the mid-70's, when there were three to four employees to today's crew of 30 and not all of them with the last name Hanson.
"For years, we were just pretty much a family operation, maybe one or two people in the office that weren't related and now they've evolved out and we've got a really good staff," said Robin.
"We wouldn't be here without the employees," Jason said. "They're just amazing. A lot of guys stick around for a long time here, so it's nice."
Along the way, the Hansons purchased a building and started a retail business in Pelican Rapids during the Top Line days run by brother Marty.
"I don't know if we talked him into it or conned him into it – to move to Pelican Rapids," said Robin.
After a decade, Marty branched off and created his own business Pelican Plumbing and Heating.
"One guy from Pelican Rapids told us, 'you guys are local everywhere,' said Robin. 'That's a compliment."
Hansons in the future
While Jason and his business partner Schrupp take over controls for the years ahead, that was not always part of the plan. Robin once had an out, as well.
Robin started working at the store in 1968, graduated high school in 1972 and went to plumbing school in Wadena in '73.
That year, he was offered a job for a large contractor in Fargo.
"My dad and I talked and decided I would stay here and work," he said.
That decision was not forced or coerced.
"We never pushed anybody into this business," Robin said. "If they want to be in, they can be in it. My dad always told me many times if you want to go do something else, go. I've told that to Jason, too, but you get pretty comfortable."
Jason did try out other things before jumping on board.
"My dad tried to push me away from this so when I got out of high school I went into the Air Force, he said. "After that, I went to college for accounting and I hadn't planned on coming here."
Much like when there once was a need in Vergas for someone to run the hardware store and Henry came calling, Jason faced a similar fate.
"They needed help and I've been here since," he said.
There was a specific need he filled to help Hanson's continue to successfully operate.
"I always felt one of our weakest links was accounting and business management-side of it and that's where my son has a business education," said Robin. "He's working on refining the business. I told him if you want to work for us you've got to get an accounting degree. He worked in the field too, but he and his partner have really bought into trying to manage the business and run the business right."
"He probably steered me toward it without me knowing it," said Jason. "He always pushed that if this was something I wanted to do, the accounting side and finance side is a weakness of a lot of businesses, especially smaller businesses, so that's all I focus on."
Jason has his own children, a daughter and two sons, to pass on the privilege of possibly working for the family company. To that, he is taking the same family approach.
"I told my kids the same thing; go find something you want to do but if you want to do this it's always there for you,"he said.
During Hanson's 90th year, while the second generation plans for a more leisurely pace at work as retirement, the third generation streams business from the contemporary model to the future, where a fourth generation awaits, a summertime celebration of the achievement of being in business for nine decades is in the works, likely in June.