Hornets fall to East Grand Forks 77-62 in Section 8AA opener
Sports | Published on March 14, 2023 at 4:10pm EDT | Author: frazeevergas
0
By Chad Koenen
Publisher
With upset on their minds, the Frazee Hornets led for much of the first half of their Section 8AA opener against East Grand Forks on Thursday night. Unfortunately, a late run by the Green Wave in the first half and 20 Frazee turnovers proved to be too much to overcome as the Hornets lost to East Grand Forks by a score of 77-62.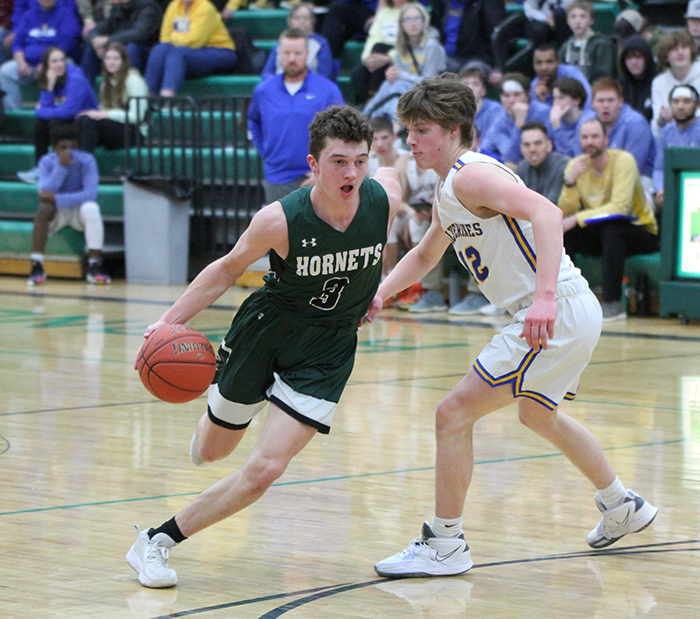 "I thought we played really well. We just didn't realize the level of physical play that comes with being in the playoffs. It's a lesson learned and we will be better for it," said head coach Ryan Vigen. "The score didn't show how close the game actually was since we were fouling to get the ball back. I felt that if we could have made a few more shots and eliminated a couple of turnovers we might have been able to pull this one out."
The 11th seeded Hornets shot 45.5 percent from the field and hit seven 3-pointers as they looked to upend the sixth seeded Green Wave on Thursday night. Frazee trailed 37-25 at halftime thanks to a late run in the first half by East Grand Forks.
One of the big differences in the game came down to the free throw line as the Hornets were forced to foul in order to try to get back into the game. East Grand Forks went 17-26 from the free throw line, while Frazee went just 5-6. The Hornets also had 18 team assists on just 25 made shots from the floor.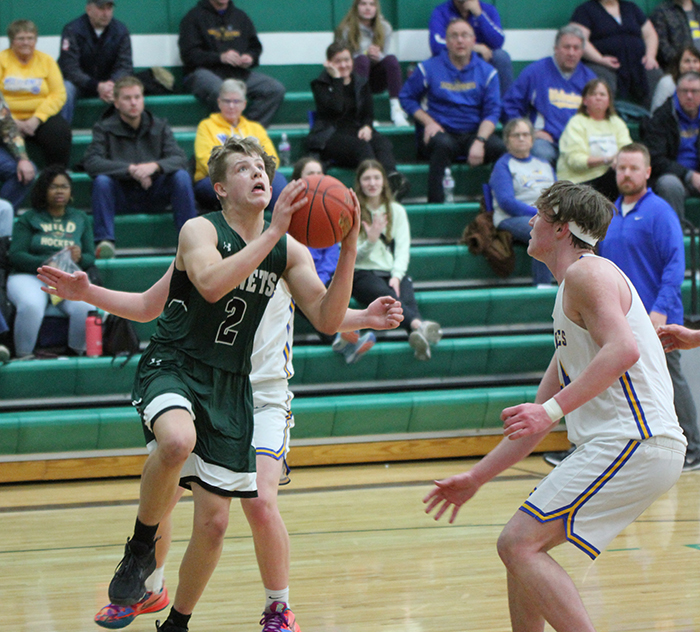 Frazee was led offensively by Carter Sonnenberg who finished with 20 points and 5 rebounds on just 8-10 shooting from the floor. Adam Vigen scored 15 points and Alex Helmers finished with 12 points of his own.
Asher Blaine had a solid night setting up his teammates as he finished with 4 points and a team-high 7 assists in the loss.
With the loss, Frazee's season comes to an end. The Hornets finished with a record of 7-19 overall and 1-11 in the Heart O' Lakes Conference.
POINTS: Carter Sonnenberg 20, Adam Vigen 15, Alex Helmers 12, Zachary Longfors 7, Asher Blaine 4, Kale Ovsak 4
ASSISTS: Asher Blaine 7, Carter Sonnenberg 4, Adam Vigen 2, Alex Helmers 2, Zachary Longfors 2, Kale Ovsak 1
REBOUNDS: Asher Blaine 6, Carter Sonnenberg 5, Zachary Longfors 4, Adam Vigen 2, Kale Ovsak 1, Alex Helmers 1, Nathan Longfors 1, Gage Post 1
STEALS: Zachary Longfors 3, Nathan Longfors 2, Carter Sonnenberg 2, Adam Vigen 1, Alex Helmers 1, Logan Brekke 1
BLOCKS: Kale Ovsak 1, Alex Helmers 1