Sixth graders to represent Frazee at USAG state meet
News | Published on March 14, 2023 at 4:48pm EDT | Author: frazeevergas
0
Perham and DL academy gymnasts form a team of three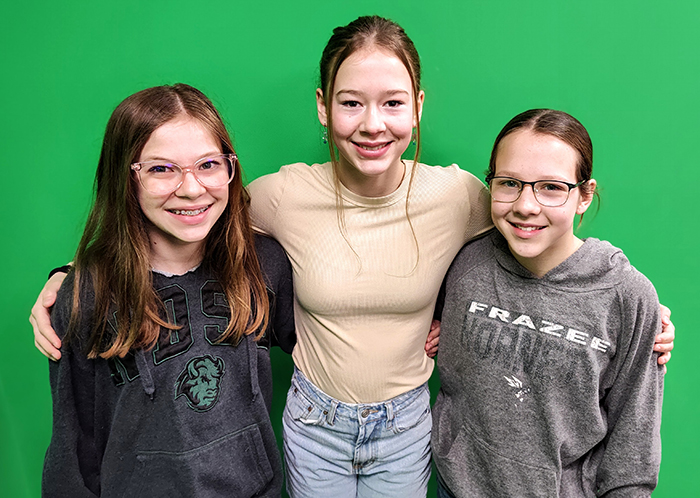 By Robert Williams
Editor
Gymnasts in Frazee are finding success in both the high school ranks and the more individually-focused USA Gymnastics programs. Following up three Hornets—Elsie Ratz, Addy and Kaija Aschnewitz—who made the trip to state with the Detroit Lakes-Frazee co-op team in late February, another group of three—Maecyn Carlson, Claire Mickelson and Mia Breun—will represent Frazee and their respective training academies at the USAG Minnesota State Gymnastics Meet the weekend of March 24-26 in Minneapolis. ¶ Bruen, 11, trains in Detroit Lakes at Minnesota Flyers Gymnastics, while Carlson, 12 and Mickelson, 12, train at the Perham Area Gymnastics Academy. Despite that difference, the sixth grade trio will be part of their own team of Level 6 gymnasts in Minneapolis.
USAG has requirements on each apparatus to reach specific levels and meet scores the girls must hit to move up.
"In USAG, they push you to your limit more and you're more likely to be successful," said Mickelson.
Of the three, Mickelson is the late bloomer having only begun training four years ago. Kitchen performances got her into the sport.
"I always did handstands in my kitchen and stuff, so my mom just put me into gymnastics," said Mickelson.
Breun and Carlson got their starts before they stepped foot into a kindergarten class. Breun is a veteran in the sport at the ripe age of only 11.
"I just thought it would be fun and I've been in it for 8 or 9 years," she said.
"My mom started me right after I turned three," said Carlson. "I was in love with it, honestly, and it was a really fun experience when I was younger too and I just kept with it."
The girls are excited to be going as a team of three, rather than making a state trip on their own.
"It's better going as a team because you have people who are cheering for you," said Mickelson.
Mickelson and Carlson qualified early in the season and have had more time to prepare for state, while Bruen recently secured her trip to state by qualifying in February.
"I was working really hard, but I didn't really expect to but I'm glad I did," said Breun.
Both Mickelson and Carlson made jumps from Level 5 early in the season to Level 6, but were not sure on whether or not a state trip was going to happen.
"I didn't really know, honestly, because me and Claire both tried Level 5 and we competed in one meet, got a qualifying score and then we went up to Level 6," said Carlson.
"I kind of was but I wasn't very sure because it was a harder level," said Mickelson.
What matters at state is scoring. Gymnasts still place, but each gymnast needs to accumulate an all around score of 34 to advance to regions. Scoring is more strict in USAG, compared to high school, but they share the same axiom that every deduction counts.
"It is different judging, for sure," said Carlson. "There are just so many different rules in USAG and the judges keep a closer eye on the girls. Like last meet, I think I had a very clean floor and I got a 9.025 and on beam it felt clean and I didn't think there would be much deduction and it was an 8.025, so yeah."
USAG gymnasts need an average score of 8.5 on each apparatus to advance. Level 6 routines have specific requirements also, where a gymnast must each have a certain amount of "A" skills and "B" skills. In gymnastics, each skill has a value, A's are the easiest all the way up to E's, which are the hardest. Gymnasts work with their coaches to find the right amount of skills and difficulty.
"On beam you have to have so many A's, like a back walkover is an A and you have to have so many of those," said Carlson. "On floor, you have to have a B, which is like a switch leap or a straddle jump."
"Or a 180 split leap," said Mickelson.
Of the four events, all three gymnasts agree that floor exercise is their favorite.
"Because you get to show off," said Mickelson. "It shows what kind of music you like and you can show off all your dance and your routine."
"It's really fun because you get to express how you really are," said Carlson. "You have your own routines. It expresses who you really are and your feelings."
Going to state demands bigger and better routines, like putting a back handspring into a beam routine, cast handstands and giants on bars.
Giants are a skill in which the gymnast rotates 360 degrees around a bar with their body in a fully extended position.
The girls have made personal sacrifices to excel in their sport. USAG gymnasts train year round, five days a week, three hours after school during the school year and they are up early for 8 a.m. practices in the summer.
"I do get kind of sad when all my friends are doing other stuff but I've got to go gymnastics," said Mickelson.
"Especially in the summer," said Breun.
Breun has also been training without the help of the other two as they workout in separate gyms.
"I've been working really hard to not get distracted with my teammates in team practice and I've been doing better," said Breun.
They often train with older girls at different levels also, attempting bigger and bolder moves.
"We practice with Level 8's and 9's and then you back tuck sometimes on beam and that's terrifying because you don't know what's going to happen," said Carlson.
The three gymnasts had similar summaries of what their expectations are in Minneapolis.
"I just hope I do good because I've been getting pretty consistent 34's so maybe we're going to get a 34 at state and go to Regionals," said Carlson.
"My other scores have been consistent, high 8's or 9's," said Mickelson.
"I hope I do good," said Breun.
They also credit their parents, especially moms, for support during their year round pursuits.
"They're really important," said Breun.
"Tuition, entry fees, they drive you there and cheer you on," said Carlson.
"They have to pay for our stuff and it's not cheap," said Mickelson. "We pay them back by working hard."
There is one secret to being successful, according to Carlson. She summed up what each of the girls needs to concentrate on to perform well on the biggest stage.
"Gymnastics is mostly just confidence," she said. "You have to have confidence in yourself and confidence in your coach and you have to believe your coach can spot you and keep you safe."