Aho, Tweeton cap best NCAA run for UMary wrestling
News | Published on March 22, 2023 at 3:01pm EDT | Author: frazeevergas
0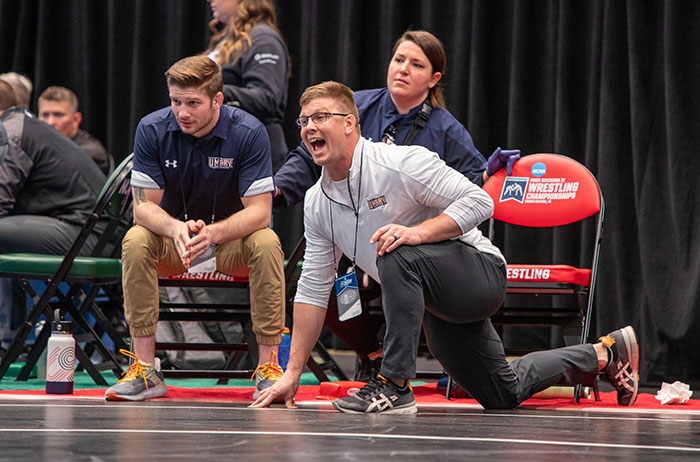 Redshirt freshman Tweeton makes nationals appearance
By Robert Williams
Editor
Former Frazee wrestling standouts head coach Adam Aho and redshirt freshman Luke Tweeton were part of the University of Mary's best-ever finish at the NCAA Division II National Wrestling Championships in Cedar Rapids, Iowa, last weekend.
UMary scored a total of 30.5 team points to finish 13th overall in the team standings. This marks the highest team finish in University of Mary NCAA DII wrestling era and hopes are high for the coming season already.  
"We still have to celebrate the success from this year, but I can't tell you how excited I am for next year," said Aho. "Statistically and from our accomplishments, this is the best season that UMary has had since being in the D-II era. From top to bottom, it was quite the year for us."  
The Marauders sent four underclassmen wrestlers to the national tournament: Max Bruss (174-Redshirt Sophomore), Matthew Kaylor (197-Redshirt Sophomore) and Reece Barnhardt (133-Freshman), and Luke Tweeton (HWT-Redshirt Freshman). That quartet returns next season and will also be joined by two-time All-American, redshirt junior Braydon Huber who was injured during the season.  
Aho's expectations for next season match his mindset going into nationals.
"Going into the tournament, we had the highest expectations and we wanted to shoot for four national titles," he said. "I always judge it after the tournament on how we wrestled and I felt like overall I was really pleased with how the guys competed. The results, we always want more. The only guy I felt could have done a little better was Max Bruss, our 174-pounder. That first match I felt like he wrestled a little tight and not like himself. That prevented him from winning that first round match but after that he wrestled really well, but overall, I was happy with how the guys competed."
Aho was a 2004 state champion at Frazee and a three-time state placer. The North Dakota State University grad and former Bison wrestling captain has been head coach at UMary since 2013. After completing his eligibility at NDSU in the spring of 2009, Aho took a winding trip through multiple schools before landing in Bismarck. He graduated from NDSU in December of 2009 and coached high school wrestling with his brother Matt at Becker High School. He got an opportunity to coach the following year in Kimball. In the fall of 2011, he was hired to coach at Minnesota State University – Mankato under head coach Jim Makovsky for two years.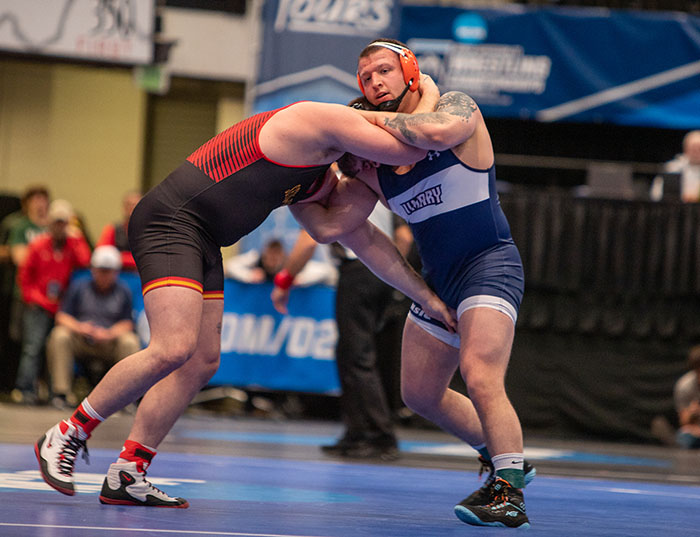 "I had a great experience, learned a lot," said Aho. "He prepared me and taught me a lot about the coaching profession. I'm really grateful for him and his mentorship."
The UMary position opened up in the spring of 2013 and it was a big jump for Aho and the program struggled early on.
"After my first three seasons, I was really questioning whether or not I could do this," said Aho. "It was way harder than I anticipated. The recruiting piece to it. I enjoy talking to people and I enjoy recruiting. You just feel like you never have a day off. You always have to be reaching out, watching somebody, talking to kids or coaches to get ahead."
UMary had tremendous success from 1987-2002 under legendary coach Milo Trusty, the first wrestling coach at the school. During his time with the Marauders, his dual record was 120-5. Under Coach Trusty, the Marauders were the NAIA national runners-up in 1996 and 1997 and placed in the top four six times. Trusty coached 12 NAIA individual national champions and 78 All-Americans.
"They were outstanding, constantly bringing home team trophies at the national tournament," said Aho. "Then there was a little lull with the change from NAIA to D-II. I had to rebuild some trust and prove that we can be competitive at this level. UMary has always had good individuals during the D-II area. As far as the overall competitiveness of a dual team from 125 to heavyweight, that was my vision for the program to be competitive with the best teams in the country."
That was the case in 2022-23.
"That proved to our guys that yes, we are here, we can compete with anybody," said Aho.
A big contributor to the Marauders' success was Tweeton at heavyweight. For Tweeton, the connection to UMary began through Adam's dad, Frazee hall of fame wrestling coach Marty Aho.
"I already knew Adam and I knew a couple guys that already wrestled here at the University of Mary—it was an easy decision to make," said Tweeton. "It wasn't like I was going somewhere random and not knowing anyone," said Tweeton.
"It never hurts to have that hometown connection," said Aho. "That was nice to have that and that's how I do a lot of my recruiting. I rely on connections with coaches to give me some insight on a kid. If he's going to be able to transition to this level."
Weighing in at 230-pounds, Tweeton had a larger than normal transition to make in the Marauder lineup wrestling at heavyweight.
"At the beginning of the season, it started off rough, but toward the middle and end of the season I feel like I was progressing and making it work," Tweeton said.
"We would see glimpses of it here and there, but it's the consistency every time he steps on the mat that was starting to make the difference at the end of the year," Aho said. "That's why I recruited him because I felt like he had that potential. It was just a matter of how quickly he was going to make that consistent effort every time. He started to get some success and work on little details here and there and more so, just the belief system. It is kind of scary wrestling at 230 pounds and wrestling a guy that weighs 285 to shoot underneath him or get away from him underneath."
Tweeton said it was unlike what he had experienced in wrestling before.
"Going up a weight class from 197, I had to get that heavyweight feel," he said. "It was a whole new world to get used to."
Finishing the season was far less of a reality at the beginning of the transition compared to last weekend, actually being at nationals in Iowa.
"Honestly, I never thought about that," Tweeton said. "It was definitely a goal, but I just kind of took one thing at a time. It was a really cool experience going down there. "Definitely an experience I won't forget."
Tweeton got a tough draw opening against No. 2-ranked Lee Herrington of Nebraska-Kearney, who was all of 285 pounds.
"That guy is about as close to 285 as you can get; he's a mountain of a man," said Aho.
The wrestlers traded escapes in the second and third period, respectively, but the difference was an unusual pair of stalling calls on Tweeton in the first period that became the deciding point in a 2-1 Herrington victory. From an outside perspective, Herrington's offense appeared to be stalling but it went unpunished.
"It was definitely something that kind of shocked me in the moment," said Tweeton. "He didn't take a shot. He just kind of pushed me out of bounds. I was a little frustrated, but at the same time, you can't let that dictate how you're going to end the match."
"I disagreed with the call 100 percent, but it is what it is," said Aho. "Unfortunately, that's the downfall. A lot of us coaches across the country, we all have been talking about the inconsistency in the stall call sometimes. You always want to make an excuse or blame somebody, but at the end of the day, Luke's got to get a little better of clearing ties and circling. It's unfortunate how the rules are written right now. Those are things that the National Wrestling Coaches Association, we're trying to make it a little more objective, rather than being subjective by the official, because not only our matches, but I saw call on kids from other teams that I felt, 'what was the need for the official to inject himself in that match?'"
In the first round of consolation matchups, Tweeton was defeated in a sudden victory 3-1 decision by No. 7 John Meyers of Seton Hall. The match was similar to the first with an escape earned by each wrestler with Tweeton leading 1-0 after the second period, but a third period escape for Meyers and a takedown in overtime ended Tweeton's season.
"My first match, I felt like I wrestled a lot better," said Tweeton. "My second match, I let it get to me. I just didn't wrestle my match."
Tweeton was a three-time state placer at Frazee finishing runner-up in 2018 and 2020 and fourth place in 2017. The NCAA stage was similar to the intensity of Saturday night at the Xcel Energy Center during the state tourney.
"It was comparable to the state finals," said Tweeton. "The intensity—everyone is watching you. Obviously, the competition when it comes to Nationals – it's tense in there. Every match is close; it doesn't matter what you're ranked or seeded. It's a battle. Obviously, Nationals didn't end up the way I wanted it to and it left a bad taste in my mouth. "It's motivation and I want to get back there next year on the podium."
"I hope Luke is really taking that to heart," said Aho. "We told him at the beginning of the year, 'you have this potential; you have to believe in yourself.' He got better every time he got on the mat and I think he wrestled great at the national tournament. He had a tough first round draw. Could he have done a little better in that first period as far as clearing out of ties and not allowing that guy to get to his best stuff? Yes, but he wasn't wrestling slouches. He needs to use this as motivation and drive for next year, because he's really close to seeing the top of that podium."
The Marauders are currently off on a two-week NCAA-mandated break from team activities, but the push for next year begins soon.
"Basically, we get right back at it," said Tweeton. "I'm really excited for our team here. "Everyone is coming back and we're going to have a tough team next year. I'm excited."
"We start the process all over again from ground zero," said Aho. "We're trying to prepare for next year and I have to give the guys a lot of credit. Over the summertime, they were doing the little things on their own and it was really fun to see the dedication from this team. Obviously, the results kind of proved what they did was worth it. The results are reciprocal of what they do every day during the summer."
For Tweeton, his offseason is about preparing himself in workouts, both to adjust to some increase in body mass, but more so, to work on the mental side of the sport.
"I'm going to try to get bigger—hit the weight room really hard," he said. "When it comes to wrestling, I'm going to work on those little things; fix those one-point matches, turn that around. A lot of it is just the mindset too. I feel like I need to come into next season with a killer mindset. I'm the man kind of mindset. You go into a match scared and trying not to lose, you're going to lose."
"He just missed a couple opportunities," said Aho. "I think it made him hungry to get to that point. He's starting to realize he's close. It's going to be a great motivator for him. We've got a great group of guys who are hungry and I truly believe if we get healthy at the right weights and get the right guys in the lineup we can compete for a team title next year at the national tournament."