Ashley Mohn, a licensed independent clinical social worker specializing in behavioral health, is excited to join Essentia Health St. Mary's-Detroit Lakes and return to her hometown.
"This is where my heart and soul thrive," said Mohn, who has returned to the area after seven years.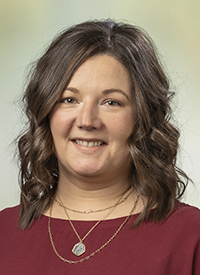 "I was lucky to hear about the positive culture of Essentia Health from a family member," she said. "When I moved back, I reached out to that family member, who ecstatically informed me of a psychotherapist position with Essentia. Every interaction I've had with Essentia staff has left me feeling cared about and accepted as a valuable potential addition to the team. Every step of the process of deciding where to begin my career in the lakes area pointed towards the community-like environment Essentia provides."
Mohn received her medical education from Augsburg University in Minneapolis.
"Prior to working in the mental health field, I was a classroom teacher," said Mohn. "During those years, I discovered I had a deep passion to help students who faced adversity, so I returned to school and completed my degree in a multicultural clinical practice program. I will be right by your side as we navigate through this process."
To schedule an appointment with Mohn, please call (218) 844-2347. To see her full profile, please visit EssentiaHealth.org.