Nundahl heading to elite CLI Conservatory
News | Published on March 22, 2023 at 2:53pm EDT | Author: frazeevergas
0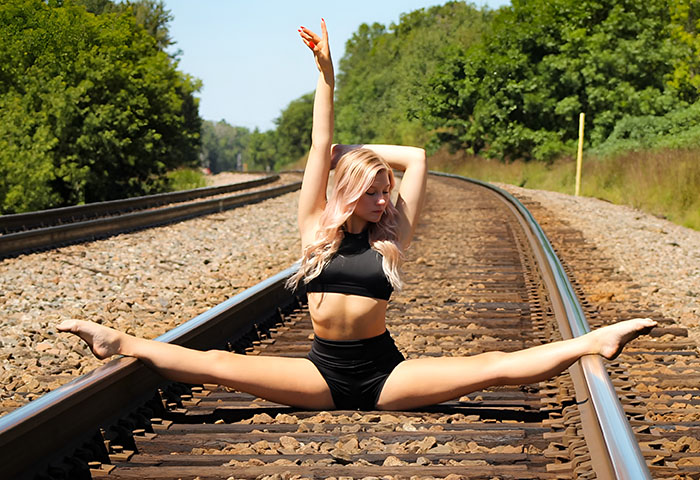 By Lori Fischer Thorp
Correspondent
A photo of dancer Callabelle Nundahl captures a moment of her grace, focus and skill.
Behind the scene of that picture are drive and intelligence, which propelled the 2021 Frazee grad's application to the prestigious CLI Conservatory in Southampton, Massachusetts. Her acceptance letter for the 2023-24 study term arrived in January.
The fact that she had applied was news to Kiala Fett Velde and Ta Fett, but CLI's acceptance of Nundahl was no surprise to her long-term coaches.
"She didn't tell me she was auditioning," said Velde. "That including putting together a video. I don't know how she did it…she sent me a text when she made first callbacks."
Velde, along with her sister, Kendal Fett Ware, has worked with Nundahl since she was age 7 or 8 and first started at Frazee's Northern Lights Dance Academy (NLDA). Now, Nundahl teaches classes at the studio's Park Rapids location.
"NLDA had been using CLI (teaching videos)," Nundahl said, "but I didn't know about the Conservatory. Social media kind of plays a role in this, too. I just kept seeing the ad (for the Conservatory), then someone sent me the ad and said, 'You should do this.' I was looking for somewhere where I could learn all styles. CLI is very versatile with their styles so I really like that about them."
Nundahl's attitude about learning keeps her open to new experiences.
"Calla's probably the most humble girl I've ever met," Velde said.
"She was in my first class ever that I taught at the (NLDA) studio," Velde said. "She could already kick herself in the head and smile," she said. "She had natural flexibility…she pushed herself to do the oversplits, she could overextend everything because she knew she had this natural gift and could push it even further."
"She could make it all look effortless…and she was always working to push it to the next level," Velde said.
That work ethic, she said, included Nundahl using her lunch breaks when she began working at Frazee's United Community Bank at age 14, as dance sessions.
"She went to train by herself," Velde said.
Prior to her NLDA days, Nundahl participated in dance classes in Detroit Lakes, but her actual memories of the experience begin with Frazee.
"NLDA is where I definitely developed, that's what I remember," she said.
Those experiences ratcheted up in Nundahl's seventh grade year of 2015-16, when she made both Frazee High School Fly Girls' Jazz and High Kick Varsity teams.
"Calla was on the first state-winning team" with Jazz taking first place and High Kick placing second, said Ta Fett, who launched the sport at Frazee and was head coach during that time.
"Calla was the kid who just loved dance for the pure pleasure of dance," Fett said, "and she also really allowed everyone else to shine. She was the perfect kid to coach because she was such a team player."
"That's when I really started to love dance," Nundahl said of that first year in Fly Girls. "I saw it as something to do, something to work on, something to enjoy."
"I read something that said you need five hobbies in your life," Nundahl said.
Those areas, she said, include being creative, making money, staying active, building knowledge, and evolving mindset.
"Dance met everything in that list," she said.
Now, over a decade after starting as an NLDA student, Nundahl continues to fulfill those five areas of her life through the art and work of dance. She turns her gift into expertise while teaching classes at NLDA's Park Rapids studio on Thursdays, as well as Wednesday sessions at Gasper's School of Dance in Fargo. Last year, she was a member of the Gasper-directed FMBallet.
She currently balances her dance involvement with four weekly workdays at United Community Bank. Since her acceptance to CLI, she's made her initial deposit and is saving for the year's remaining tuition. At a recent online meeting, she learned more about what those months will entail, including participant housing, weekday classes from 8 a.m. until 7 p.m., and opportunities to earn income on "small pick-up dance gigs."
More consistent employment during the Conservatory year isn't encouraged, Nundahl said.
"It's kind of scary to not have (regular) income," she said.
This next phase of her life is when Nundahl's composure, calm and commitment will be an asset.
"I've never seen her nervous, even at state competition," Velde said. "She's definitely in it for the art. Awards are not her main priority, that's why I think she'll do really well in the professional world."
The CLI Conservatory will be the gateway to that adventure. Founder Teddy Forance, a professional dancer and choreographer, is a native of Easthampton, Massachusetts. Among Forance's credits are seasons two and three of the Fox reality show So You Think You Can Dance, as is an honorary Emmy Nomination.
Forance grew up dancing at his family's studio, Hackworth School of Performing Arts. Later, while living in Glendale, California, he co-founded CLI Studios in Los Angeles. While Nundahl became familiar with CLI online videos as teacher trainings, when she becomes a Conservatory student she'll be part of the videos other teachers and students learn from.
She's excited to explore more about dance styles and the related fitness, nutrition and well-being, as well as build her knowledge of professional avenues and connections.
Velde said, "Teddy Forance knows everyone in the dance world. Especially being from a small town, Teddy wants to show there's a lot of career paths in the dance world . . . Every day is a day to get a different job opportunity."
Nundahl brings her trademark calm to the process.
"I am very chill when it comes to anything. If you mess up on stage, it's not something you can fix, you just have to wait for the next time," she said.
"There's that saying that mistakes are more like lessons," Nundahl said. "You don't need to be nervous, because you're learning from it."
She attributes that perspective to her family: "Together, we're calm and super light-hearted." Nundahl describes her mom, Cally, as "a ray of sunshine, I feel I definitely was raised by her . . . and my dad (Darby) – his work ethic is way up there, I want to be like that, too, of course."
Reflecting on lessons learned from her dance coaches, Nundahl said, "I would like to say that they built me, but they won't agree with me. They are probably the strongest women ever, and they taught me to be strong. That sticks out, and they definitely preach that all the time," she said.
Being strong, Nundahl added, means "you can overcome, you can make it through, you can succeed in what you're doing."
"You never stop," Nundahl said of success and the overall learning experience. "I might have a job somewhere dancing, but it doesn't end, and there's still more opportunities after that."
"It's always good to remember that someone's always working harder than you, so you've got to step up sometimes," she said.
That determination is evident even when goal-driven Nundahl is asked what she's looking forward to: "I'm going to make sure I'm still top-notch in my training," she said. "I've got to work on myself, stay in shape, eat right. I'm taking some CLI classes online and making sure I'm not behind."
"Excellence," concluded Nundahl, "brings you joy."