A sticky celebration set for Saturday in Vergas
News | Published on March 28, 2023 at 7:42pm EDT | Author: Chad Koenen
0
Maple Syrup Demonstration Day to be held at Maplewood State Park
By Robert Williams
Editor
While the weather outside is not the most springlike, the weekend festival season this spring kicks off in Vergas and at Maplewood State Park Saturday, April 1, with the Vergas Maple Syrup Festival.
"We really appreciate partnering with Maplewood State Park and they'll be putting on their demonstrations out there," said organizer Sherri Hanson.
In town, the festival begins bright and early at 8 a.m., with the pancake feed at the Vergas Event Center. The feed lasts until 11 a.m., or until all the pancakes are gone. There will be a drive-thru and indoor seating available. Cost is $10, kids 10 and under $5. Payment must be made in cash only.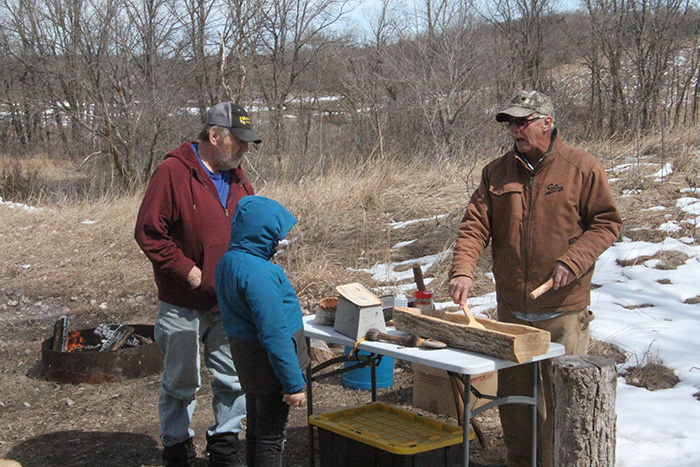 "The Sap is Running in Vergas" 5k walk/run chipped race begins at 9 a.m., with registration from 8-8:30 a.m., at Billy's Corner Bar and Grill. Pre-registration is still available for $25. Forms are available on the city's website cityofvergas.comevents/maple-syrup-fest
Registration the day of the race is $30 and the race will be run on all asphalt on its original route starting off at Hanson's Plumbing and Heating.
From 9 a.m. to 12 p.m., there will be horse drawn wagon rides provided by Farm 41.
Kids ages 6 and under can participate in the Maple Leaf Hunt at 10 a.m., along Long Lake Trail (Tin Can Alley entrance).
As always, downtown Vergas stores will be open with Maple Fest specials.
At Maplewood State Park, Volunteers will hold a variety of demonstrations on how to make maple syrup and harvest some of the maple sugar from trees. Maple Syrup Demonstration Day will be held from 11 a.m. to 3 p.m. The park is located 22 miles southwest of Vergas off Highway 108.