FHS grad enjoys recent work jaunt to Ireland
News | Published on March 28, 2023 at 7:52pm EDT | Author: Chad Koenen
0
Rebiskie balances family time, career
By Lori Fischer Thorp
Correspondent
Kris Wothe Rebiskie departed from Ireland one day before St. Patrick's Day, but that didn't dim the country's beauty and charm.
Her memories of green rolling fields dotted with sheep are just as enjoyable, and the perfectly-plated Guinness stew served at a pub on her last evening overseas was post-worthy.
"I didn't really get a chance to take many photos when I was in Dublin, because really, it was work," Rebiskie said. The Frazee High School 1979 grad traveled with two others to meet coworkers in their Ireland-based medical device company.
Rebiskie isn't new to international travel. Her previous employer was based in Denmark, so she attended several meetings there in pre-COVID years.
"This trip was kind of a last-minute thing," she said.
With advance notice on prior trips, she'd typically extend her trip to do some sight-seeing. Though that didn't happen this time, she said "hopefully I'll get to travel again," she said.
"We need to get together again, because we're working on a project," she said. "When you do need to make those initial face-to-face connections, it's really important…it's interesting to get to know the person," she said, because that paves the way for collaborative connection differently than an email or virtual meeting does.
She's not certain of their next meeting sites, which might be the U.S. or other countries, but wherever the location, Rebeskie said her coworkers are game for the idea of exploring some new destinations, too.
Ireland "was my first time ever in a country where they drove on the opposite side of the road," said Rebeskie. "I had a colleague who was adventurous. She volunteered to drive and did well," she said.
The team flew into Dublin, and the meeting was in the smaller town of Athlone, "right in the middle of Ireland," Rebiske said. Nestled there is the world's oldest bar, Shawn's, which dates back to 900 A.D.
"It was so fun to go there," she said. "It's just tiny." Filled with "locals and live music, I can see why they like to go to the pub, it was pretty fun."
The travelers left prior to St. Patrick's Day so didn't take part in festivities, Rebiskie said.
"It's interesting, you talk to the locals, and it's a national holiday," though no one she spoke with had been to the parade or some of the other highly-publicized events. "It's more focused on tourists than the actual people of Ireland," she said.
The interstate drive to Athlone and back provided an idyllic view. Snow fell several weeks prior and had since melted, revealing green countryside with "rolling hills and sheep, and you can see all the lambs in the field because they're so bright and white," she said. "Backroads would show more of how the people are living," she said.
"It was chilly and very windy, so it was cold walking around," she said, with temps in the 40-45 degree range and rain every day.
They tucked in some time to get "fish and chips, because when you're in Ireland, you have to do that," she said.
Rebiskie created similar memories when she traveled to Denmark, where she visited the famed The Little Mermaid bronze statue in Copenhagen, and shopped at a candy store focused on a Scandinavian favorite.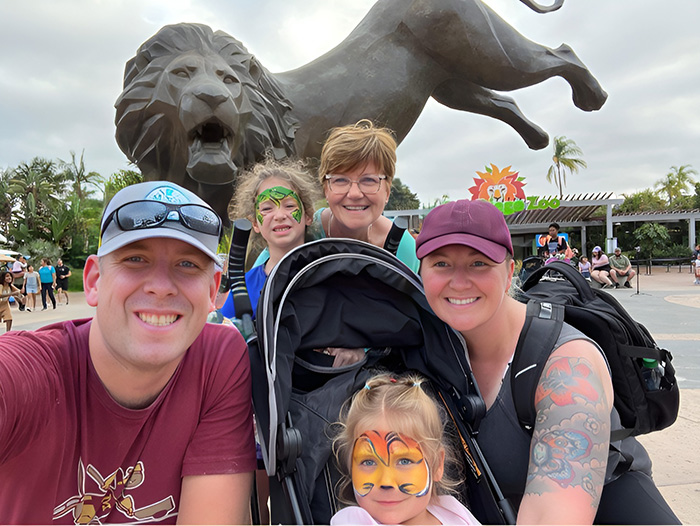 "I love black licorice," she said. "They have so many varieties, the walls are covered with the product."
Those trips also included visits to castles and other experiences in a land where bicycling is common transportation.
"We really did get to do a lot of things in Denmark," Rebiskie said.
Rebiskie's husband, Duaine, "does not like to fly, so international travel is off the table" for the couple. She'll take any opportunity to do that for work and is fitting in trips for family fun, too.
Her son, Matt Beyer, said he's game to travel with her. "Denmark is on his bucket list," so Rebiskie said she'll likely get to experience that region of the world again.
His recent work stint in San Diego, California – which extended to three years due to COVID—also provided Rebiskie, her daughter Nicole Beyer and granddaughters Harper and Emery (ages 5 ½ and 4) with a destination for some adventure, including time at the San Diego Zoo.
The Rebiskies live in Southern Minnesota's St. Bonifacius, and she loves being near her grandchildren. She recalled the impact of their connection, reflected in a recent evening visit to her daughter's family.
When Rebiskie and her husband announced they were going to go home, preschooler Harper went to her room and got her coat to go with them. When "Mimi" explained that wouldn't work, the resulting tears tore at her heartstrings.
Being a grandmother now, Rebiskie considers how, when her children were young and the family was stationed far from Frazee at various U.S. Air Force bases, visual connection was in the delayed form of VCR tapes.
"You counted on the mail to make those deliveries," she said.
In that phase of her family's life, "I started cleaning houses at the bases to make a little extra money," Rebiskie said. Her small children "just came along."
"All the clients knew that. It really worked out well for me," she said.
The play area would always be the one tidied last.
"I didn't want to work full-time when the kids were little." Rebiskie said. "I started kind of later in life with a fulltime job."
As her children got a bit older, "I started working as a receptionist at a medical device company," she said. Since that time, she's built her knowledge in that field.
"I found different areas in those companies that were of interest," she said, and she tapped her talents for working with people as well as details in the international regulatory approval arena.
"You have to follow the regulations," Rebiskie said. "It's a mandate, you can't get around it." Her work extends through areas including Asia, Latin America, Europe, the Middle East, and Africa.
Building a career, "You make a lot of friends along the way," she said. "A lot of times, I've followed former coworkers" to other companies. "They know your work ethic. It's about good relationships. It's all about good connections."
Following FHS graduation, Rebiskie attended what is now MState-Wadena, and then at the encouragement of friends went to college in St. Cloud for a year.
"I hated it, just hated it," she said. "That's when I went to the Cities and started working."
After her time as a military spouse, she returned to the metro area, working in the suburbs and then downtown. She transitioned to working part of her time from home, and "started fulltime work from home when COVID hit."
"I actually found a new job when COVID hit, that would be permanently working from home no matter what happened after COVID," she said. Being hired during the pandemic, she said, was a unique experience.
"It's nice working from home," she said. "Now I have a proper office downstairs, with a view of the backyard. COVID really did help businesses realize people can work from home…It's not for everyone, but I'm happy (working) at home."
In her personal time, Rebiskie said, "I love to garden, and I love to bake." She added COVID "had put a little damper" on her baking, because she'd bring goodies to share at work. "Any chance I get to (bake) though, I'm all about it."
"I have a kitchen full of cookbooks," she said. "I read those just like other people read books, and when we do travel, I always like going to grocery stores. It's always so interesting" to see what's different in other parts of the world, such as unrefrigerated eggs in Mexico.
"When the grandkids come over, the flour container comes out," she said. She braves the challenge of having little hands plunge into it, when she's told, "But it's so soft."
Rebiskie said her husband has been retired for a while.
"I suppose I could take my work with me (and live elsewhere). Home doesn't have to be here, but I don't want to be away from those grandkids for that long. They're so receptive at this age. I know that's going to change someday, I'm going to take advantage of this time for as long as I can," she said.