Hamm comes full circle in taking over CornerStone
News | Published on March 28, 2023 at 7:47pm EDT | Author: Chad Koenen
0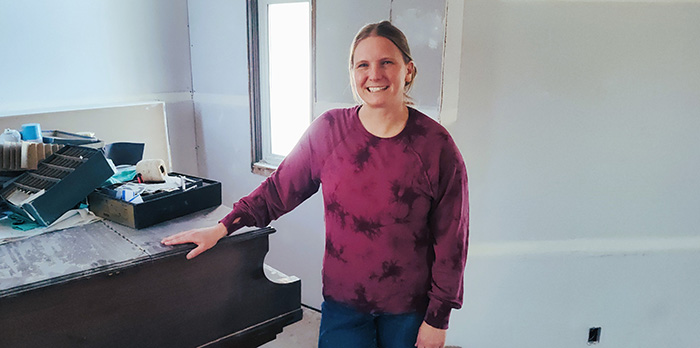 Lifelong connections lead new director back to youth center
By Robert Willams
Editor
On Monday, April 3, CornerStone Community and Youth Center will have a new executive director in Frazee native Mackenzie Hamm.
Hamm has a lifelong connection to the former Frazee United Methodist Church that houses CornerStone, as a member of the congregation since childhood.
"This was my church," she said.
United Methodist's gift of the building is really the starting point for CornerStone after a previously planned location fell through.
"We met as a congregation and it has always been one of our missions to support the youth in Frazee and we felt like this was the right way to go."
Long before being a part of that decision, Hamm had a premonition in college at St. Cloud State University about her future. In completing her Recreation Administration degree she had a final project to develop a business plan for a hypothetical organization.
"I chose the non-profit side of things and I based it out of this church and I called it Kenzie's Kids Korner. It was no joke; I did the whole thing. It seems crazy but there has to be a part of me that thought I could do it back in college."
After graduating, Hamm and her husband Mike took jobs in the Fargo-Moorhead metro.
She began working at non-profits while completing an internship for the Fargo Youth Commission that transitioned into the Boys & Girls Clubs of the Red River Valley and eventually she worked for the YMCA, until the family moved back to Frazee.
"I've been in all the non-profits from there and the work was always intertwined with my degree," said Hamm.
The move back to Frazee brought her to a position as a full-time Support Ministries Coordinator at First Lutheran Church in Detroit Lakes organizing a large group of volunteers and working directly with the homeless population.
The pandemic caused a big need for emergency sheltering and through a grant Hamm was able to put homeless people up in hotels until they could find more permanent solutions.
"Throughout all of that, a lot of individuals would open up to me," she said. "I would ask them, 'How do you get in this position in life?' There were a handful of them that said this is all I've known since my youth. A lot of things kept bringing me back to their youth."
In a way, CornerStone allows Hamm the opportunity to get to the root of the problems she saw with the struggling adults she was helping.
"That's what I am hoping," said Hamm. "If you have people that care and support you, most of the times when tragedy hits you've got people to fall back on and forgive you and help you."
Hamm takes over for director Karen Pifher, who will remain on the board. Prior to the hire, Hamm and her family were already CornerStone volunteers.
"I thought this was amazing," she said. "I'm going to be a supporter of this and it was just a goose-bumpy type thing."
Mike and Mackenzie have five children: son Liam and daughters Faith, Hope, Grace and Serenity. How the girls got their names stem from the family's own brush with tragedy.
The couple's first-born daughter Nizhoni Lee passed away shortly after birth. Nizhoni is beautiful in Ojibwe and her name was passed on to each of the girls as their respective middle names.
"We named Faith and honestly, we weren't going to keep going," said Hamm. "It was one of those things, let's name our first daughter Faith Nizhone and then when we found out we're having another girl, what do we do for a name? Then we had Hope and once you do Faith and Hope…"
Along came Liam, Grace and Serenity. Liam got his own connection to Nizhoni with the middle name Lee so all five kids had a connection. The one disconnect—where did Liam come from?
"Everybody always goes, 'how'd you get Liam?" said Hamm.
Unlike the girls, it has nothing to do with virtue but has an esoteric notion of some level of virtuosity. Amusingly, it turns out Mike really liked Liam Gallagher from the band Oasis. Liam is like his very own "Wonderwall" in the middle of four sisters.
Another real wonder to Hamm taking the director position is the connection her family has to the building. Happy and sad life moments have occurred in her new workplace and lifelong place of worship.
"We had Nizhoni's funeral here and I remember being so emotional," she said.
The entire Hamm family was involved with setting up one of the early public activities after the Youth Center got up and running last year, the Halloween Haunted House.
The event was a big success, but there were still questions for Kenzie on leaving her position in DL for a new pursuit.
"How do you know when you should take a different opportunity?" she said. "I felt like I was making an impact; how do you leave a job where you're making an impact? That's what the scary part was."
Those conversations with struggling adults that pointed at many of their problems beginning in childhood led to a connection with helping youth in the community she grew up in, making the decision to join CornerStone easier.
"I had to do a lot of soul searching and going alright, yeah I want to go back to this," she said. "It always kind of came back to the youth. What they said to me, what they didn't have was a feeling of a community really supporting you and things like that. On the youth side of things here, I can make an impact."
Finding a way to bring youth together with adults is one of Hamm's big ground-level aims.
"This is an exciting kind of stress," said Hamm. "It's a tough one to put the feelings into each of your jobs. I'm sure I'm going to see situations that are going to be tough here too, but the one thing I'm really excited about is that I miss when I used to take care of my grandma and take her to the Y with me. I miss the intergenerational atmosphere of the kids and the adults. I don't know how things are going to go, but I really do hope that we get to see a lot of adults interacting with kids. There are plenty of kids in this community that don't have grandparents, don't have aunts and uncles and it's just nice to have other people. I'm excited to hear their stories, excited to hear what they want to do. I think these kids are exposed to so much more, they can dream big."
Pifher's willingness to remain on the board and work with Hamm through the initial stages was welcome.
"A huge factor is that Karen is going to still be on the board—so she'll be this knowledge base along with the rest of the board," said Hamm. "Karen is obviously amazing and the whole board—they are a rockstar team and I have been so impressed with all they have done."
The CornerStone board consists of: Youth Director Katie Grindall; Board President Ryan Stockstrom; Vice President Heather Ware Nelson; Treasurer Ken Miosek; Secretary Karen Mitchell; and board members Albert Doll, Amy Kilde, Taylor Drewes, along with Pifher.
"I looked at who there was as a team and I know their passion behind it and I know they're background, education and knowledge about all this," said Hamm. "They're so strong. I don't know everything. I have to learn a lot and I will work hard to get everywhere but I know I have a good team I can rely on and they're just as passionate to see it succeed as I am."
Initial work is going to consist of the completion of the upstairs renovation that will become the bistro, entertainment and retail center.
"The major part will be overseeing the whole implementation of upstairs and downstairs," said Hamm. "I'll have to be careful because I'm such a kid at heart. I have to make sure I see the entire picture of the arts, retail, bistro upstairs and the youth functions downstairs."
The downstairs youth center is nearly completed and already hosting weekly activities, along with being available for party or gathering rentals outside of regular youth hours.
Pifher gave a target date for the bistro of June 1 at a recent presentation to the Frazee Community Club. The bistro and retail center will be large factors in the financial viability of CornerStone's future. That future is beginning on steady ground as Pifher was very influential in setting up the non-profit with a strong fiscal base to begin operations. CornerStone has also been the benefactor of many contributions from Frazee and the surrounding communities.
"It was so impressive when I could sit down and see where we're at financially," said Hamm. "All the work they've done has really impressed me."
The renovation has been a big project and delays have been an issue when looking at the project from just the outside. In seeing the many interior changes, the timeframe makes a lot more sense.
"When you're starting from ground zero and dollar zero I think it's hard for people to understand," said Hamm. "That's how organizations like this get started. They did a great job of taking their time and figuring out how are we going to sustain this? We don't want it to just open up and not stay open."
During her interview process, one of Hamm's questions was if CornerStone was based off of a similar youth center model.
"The unique thing about this is this is going to be a model and that's what it is," said Hamm.