Lola Bachmann is taking 30-year-old spatula and heading home
News | Published on March 28, 2023 at 7:44pm EDT | Author: Chad Koenen
0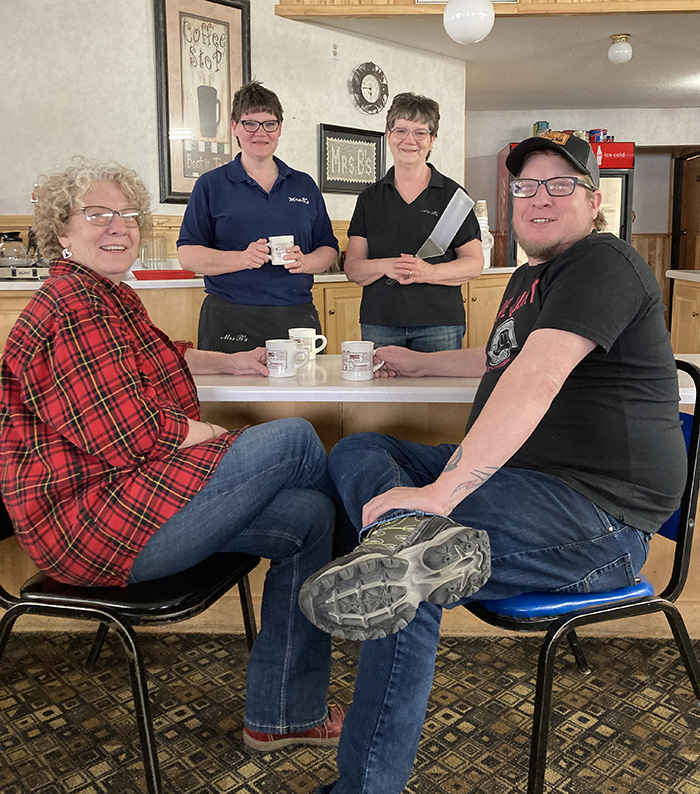 Perham's iconic Mrs. B's will reopen as Nashes' Mama T's
By Lori Fischer Thorp
Correspondent
Pulling up a seat with restaurateurs Lola Bachmann, her daughter Missy Bachmann, Tori Nash and her son Josh Nash feels like sitting down for a family meal.
There is a lot of banter, laughter and affection. "This is why I was here 30 years (this coming June)," said Lola, who wielded her 30-year-old spatula to prepare Mrs. B's final meals this past Sunday, March 26.
"I was waiting for the right people," she said. She and her husband Jon listed the Perham restaurant for sale last year.
The Bachmanns are both Frazee 1971 graduates and live in rural Frazee, where they raised their four daughters and one son. Lola accumulated experiences working at Grover's in Detroit Lakes while attending Chef's training at MState, owning Frazee's City Limits for two years, and being at Stone Hearth for four years after that.
"Now you're telling my age," she said.
Those years combined to give her the strengths to succeed in Mrs. B's. The community's love for the place shows in touches like a customer-crafted "Mrs. B's" needlework hanging behind the front counter.
Over time, all of the Bachmann children and some of their grandchildren have spent time working there. Missy has been a mainstay, leaving briefly several times, and then returning.
"I'm the permanent light fixture," Missy said. "My boys were born and raised here."
Customers would take turns holding her older son when he was a baby and business was hopping, and when he became older "he would walk around with a deck of cards until someone said, 'Sit down, I'll play cards with you.'"
Her younger son excelled in chatting. "Someone would ask what he'd done last night," she said, he'd launch into a story, and she'd tell the customer, "I warned you."
That brand of homey rapport led to the upcoming ownership transition. At the initial time of the listing, the Nashes, who live in rural Perham, were deeply involved in the hospitality industry at Lakeside Golf Course, plus their water well drilling company, Geo-tech of Minnesota.
Tori and her husband Steve have—conversely to the Bachmanns—four sons and a daughter, in addition to nine grandchildren. "If that's not serendipity!" Tori said of the coincidence between the two families.
"This has always been their breakfast place," Tori said of her children and grandchildren.
Over the past year, the Nashes asked the Bachmanns about updates on the sale.
One day in February, Tori also asked Missy about her timing to go visit her son, who's in the military. Missy responded, "When you come work for me," and the ownership transition quickly became the logical path.
"It's tough running a business," Tori said, so the Nash family experience in working together was an asset. Taking this opportunity, she said, "was always in the back of our minds."
Josh agreed, saying "I've never felt anything so natural. Me and Mom always talked about owning a restaurant together. My passion has always been cooking."
"You're basically going to start living with her now," Lola told them. "When you're in this business, the doors are locked."
Missy agreed, saying she's been questioned by children, "Where is your bed?"
Lola said, "The only part I didn't have with him (Josh) was working with him" at the restaurant before the sale took place. "Then I could dump it on him," she joked.
"I'm really happy," Lola said of the positive regard between the family teams.
They've been proceeding with necessary legal paperwork, but when part of the process mentioned compiling an inventory, the two parties gave the attorney some ribbing.
"I get it, lawyers have to be lawyers," said Tori, but she also told the attorney, "See, this is one big family."
Besides, Tori said, "I don't know if she has any good spatulas." Lola's 30-year old spatula, along with her collection of vintage metal food cans, are among the few items that will leave the restaurant when Lola does.
The cans, Missy said, "are conversation pieces. People tell me how they carried their lard can to school with their lunch."
As news of the change has spread, customers have expressed how important this environment is to them. More than one person has asked, "Did you tell them how to make my coffee?"
"We have a good family coming in," the Bachmanns have reassured people, though that didn't register with the little girl who cried on Friday when she was told Mrs. B would be retiring.
Mrs. B's has hosted a lot of regular groups through the years. At first, the business days ran 5:30 a.m. to 10 p.m., seven days a week. Lola said they made gradual changes, opening fewer hours because the intense schedule was "just too much. We never closed a day until COVID," she said.
The state's announcement of in-restaurant eating closures came shortly before the next food order truck arrived. "Take it back," Missy told the driver.
That was the toughest time in 30 years of business, Lola said. Once they were able to reopen, they adapted their schedule to six days, closing on Tuesdays. That particular day was chosen because they didn't want to adversely affect any regular customer groups.
"People were so good about coming back" after the pandemic eased, Lola said.
"I can't say I have a favorite dish," she said, "but I can tell you how many fried eggs I've made. I estimated roughly 450,450 at least," which doesn't include eggs for omelets, baking or other uses. That's a lot of eggs for her spatula to have handled, and other Bachmann implements are tuckered, too.
"My running shoes are worn out, and they don't make the parts anymore," Lola said. "I'm just happy that I succeeded all these years, and I'm going out just the way that I wanted to. It's going to somebody who wants it just like I wanted it, and I think I have that. I know I have that."
"You do have that," Tori responded.
Fortunately, the Nashes know the secret to Mrs. B's coffee.
"There's nothing better than well water," Tori said.
Her mom and other relatives are planning on pitching in to do everything from hauling in a huge old cast iron stove, to providing family photos for display.
One granddaughter is driving a hard bargain, though.
"You're not taking off the ham scramble skillet (from the menu), are you, Grandma?" she said.
Josh said, "I do some pretty good pulled pork and barbecue." He and Tori "both make good soups."
"You have to know what you're good at," she said.
There's not "one specific meal," Josh said, "but when they enjoy it, when it's plated well, maybe they take a picture of it—there's that saying, 'Cameras always eat first,' that's free advertising, as well."
"I can hardly wait," Tori said. Both she and Lola agree that it's the perfect time for this to happen, and they also know a lot of "blood, sweat and tears" goes into success.
It's possible the toughest job is already behind the Nashes, who had some "heated discussions at the dining room table" about possible business names. Tori pulled her winning card: "I'm the mama," she told them, so they plan to open Mama T's DownHome Kitchen in April, once everything is ready. The name is also a nod to Steve Nash's Oklahoma roots.
"I know (customers are) going to miss this place being open for a few weeks," Josh said. The Nashes will wait to announce an opening date to avoid confusion.
"This is always going to be Mrs. B's," Tori said. "She is an icon. New people will come in, but this will always be Mrs. B's." As she envisions that first day in operation, she's going to carve out time to "put the coffee pot on, sit down and take a breath."
"And I'm just going to sit home and drink coffee," Lola said.
Both families and the restaurant's fans are winning. "I needed somebody to come in, just like you did," Lola told Tori.
"We're not going to do anything that they wouldn't be proud of, other than making it our own," Tori said.
Once Lola has had some time to drink coffee at home, she'll be back as a customer.
"We'll be here for them," she said, "just like they were here for us."