Multi-use facility helps cement Pelican as 'Gateway' to Heart of Lakes Trail
News | Published on March 28, 2023 at 7:38pm EDT | Author: Chad Koenen
0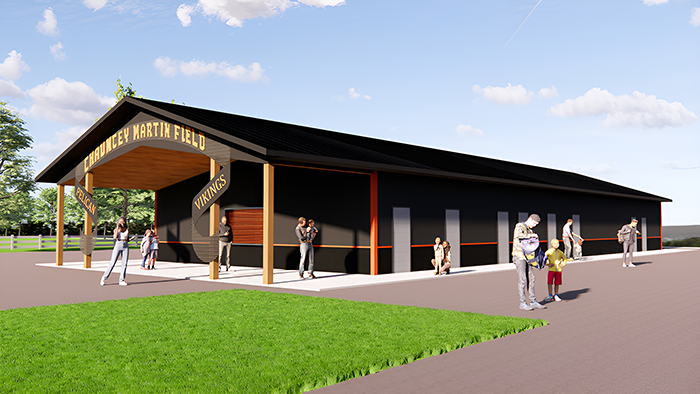 Frazee, Vergas attempting to connect to Heartland Trail
A new Pelican Rapids trailhead for the Heart of Lakes Trail and multi-use building will be Grand Central Station – the plans call for a distinctive, traditional train depot appearance.
Committees in both Frazee and Vergas are currently working on designs to connect the Heart of Lakes Trail to Vergas and subsequently add another section from Vergas to Frazee to link up with The Heartland Trail.
The Pelican Rapids School Board had a first glimpse of the building. At 100 by 40 feet, including a 15-foot covered patio area, it's a substantial structure. And it includes some appealing design features, with orange and black Pelican Viking colors.
Pelican schools facilities superintendent Trevor Steeves displayed the initial drawings, floor plans, and renderings at the March 20 school board session.
Perham-based BHH prepared the plans.
The building is a unique, three-government collaboration. Otter Tail County budgeted for some form of trailhead for the new recreation path—which starts in Pelican Rapids and winds to Maplewood State Park, and beyond.
Meanwhile, the Pelican schools also had plans to replace its aging concession stand and storage structure by the football field.
Finally, Pelican city had also been contemplating a central headquarters for trail users.
Combining three pools of money, the result is a building more expansive than any one entity could afford individually. Plus, the building will further cement Pelican's enviable position as the "gateway to the Heart of Lakes Trail and Maplewood State Park."
Information will be available to bidders and contractors by early April. Numbers should be in by mid-April, said Steeves—noting that there will be a concerted effort to work with local builders and contractors.
Board member Greg Larson suggested that the facility be used for a modest, smaller space gathering area as well—if feasible. The warming house portion, at about 900 square feet, could possibly be used for certain smaller youth events, he noted, further suggesting a ping pong table or other recreation feature for use during the off-season, when not a skating warming house.
Editor's note: This story appears courtesy of the Pelican Rapids Press.