Needed funds raised for FHS Kaotic Robotics team
News | Published on March 28, 2023 at 7:40pm EDT | Author: Chad Koenen
0
By Robert Williams
Editor
Robotics, as an activity, makes hockey look like nothing in terms of cost.
The cost to compete is eye-opening. Frazee-Vergas high school's team, Kaotic Robotics, held their lone public fundraiser at the Event Center Saturday, March 25.
"The community here is great," said Lead Mentor Eric Schaefer. "I would do this every year and do it for nothing."
The entire team of students is in charge of running the annual event.
"This is stuff that all of those kids put together," said Schaefer. "All the stuff that was donated the kids went out and got it."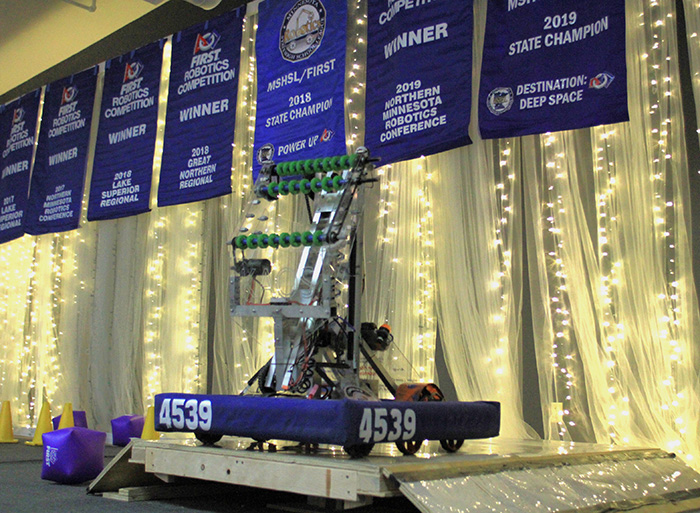 At the fundraiser, relative expenses were displayed to show just how much teams depend on financial support from their families to local and regional businesses.
Per year, the team spends $4,200 on the robot alone; $6,800 on transportation; $8,800 on hotels and meals and a whopping $10,000 on competition fees.
"Those numbers are pretty nuts," Schaefer said.
Another sign read, "Every time we put our robot on the field it costs $1,500."
The numbers were further broken down over the course of 11 seasons of robotics, the total cost is $330,000 and the total distance traveled to compete in that timeframe equates to 16,500 miles.
Schaefer noted the fundraiser is imperative to the team's success, along with the appreciated donations teams get from businesses like BTD and Team Industries, as well as, a lengthy list of area organizations and foundations.
"We rely pretty heavily on our corporate sponsors," said Schaefer.
The next stop of the season will bring the team outside the borders of Minnesota again this year. Kaotic is competing March 29-April 1 at the 54-team Seven Rivers Regional in LaCrosse, Wisconsin.
"So far, it's been good, Schaefer said. "We've made some modifications to our robot. We learned we had to be able to intake things rather than just try to pick them up. We needed to be able to drive over them. We call it, 'touch it and own it.' Once we touch it, it's ours. Somebody's not going to be able to make you drop it. For every game piece, sometimes, that's easier said than done."
To support KAOTIC Robotics visit kaoticrobotics.org and the team also posts updates from competitions on Facebook and Instagram.