Reviewing insurance policies a must each year
News | Published on April 3, 2023 at 11:52pm EDT | Author: Chad Koenen
0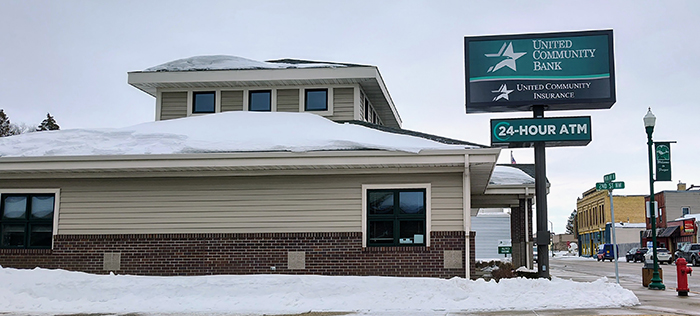 Stelzer offers guidance during changing times at UCI
By Robert Williams
Editor
United Community Insurance Agent Rita Stelzer has three decades of experience in providing insurance coverage and advises her customers to routinely review their policies as costs rise in both the housing and automobile markets. Those rising costs are definitely affecting insurance premiums.
"There are going to be a lot of changes coming up," said Stelzer. "Just to give people a heads up to not be overly shocked when they see their renewals coming through."
Locally, weather impacts from last summer's hail and tornadoes to ice dams during the spring melt are affecting prices.
"The weather has been just crazy lately," said Stelzer.
Even weather that occurs elsewhere in the country can affect insurance policies nationwide.
"It all impacts everybody," she said.
Add in inflation and the lingering effects of the pandemic and some customers could be dealing with rate increases of 10-17 percent to counter the previously mentioned factors, along with the cost of materials, when it comes to home or vehicle repairs, along with rising labor costs.
"It's hard to say if costs are going to come down or not. Right now, they're not," Stelzer said.
Her best advice is not to ignore the policy and only pay attention to renewal bills.
"Take a review on things," said Stelzer. "There are things you can do."
Personal finances are a big factor.
"A lot of times people don't realize your credit score is huge," Stelzer said. "You have to watch that. If you've never gotten a report, go get one."
Credit scores became a deciding factor on insurance prices a decade ago, instituted by Progressive.
"They were proving if you had higher credit you're going to take care of your vehicles and home more," Stelzer said. "Statistically, it was showing that you were a better consumer."
The majority of companies run credit scores every three years. They won't debit you if your score worsens, but they will credit you if it improves.
"It's one thing we try to monitor; we run it every year," Stelzer said.
While hawking one's credit score is relatively common with younger generations, there are groups of consumers who are negatively affected by not eyeballing their score or credit report often.
"In the same sense, you can have an 80-year-old woman who doesn't have a credit card; she has no credit, so she's getting dinged," said Stelzer. "You come across that too and that's not really fair because she pays cash or writes checks."
Many other factors can help or hurt insurance customers.
"It's not just your credit," Stelzer said. "Insurance scoring is based on payment history, driving history and other things. There are credits you can get as well. I'm a big believer in defensive drivers. You get a 10% discount and it's just a four or eight-hour class. That's an easy thing to do."
The Minnesota Highway Safety Center is currently offering 55+ Defensive Driver Courses. Completion of an eight-hour course qualifies for the discount. To maintain the discount, drivers must complete a four-hour refresher every three years. The cost of the four-hour refresher course is $24 and the eight-hour course is $28. Courses are also available to be completed online at driverdiscountonline.com. For more information or to register, visit mnsafetycenter.org or driverdiscountprogram.com or call 1-888-234-1294.
Multiple policies also allow for savings and monitoring one's deductibles is crucial.
"Deductibles are going to be one thing that everyone is going to have to take a look at," said Stelzer. "They're going to have to prepare themselves, especially when your premium is going up $300; that's a way to counteract that."
One of the biggest changes noticed by Stelzer over three decades in the business are increases in deductibles.
"When I started 28 years ago, they were a hundred bucks," she said. "People turned in storm doors, anything, because they had a $100 deductible. Then $500, then to a thousand, now $2,500 is becoming the norm. If you've got a $500,000 home, you're going to save that $250 on a premium because you're only going to claim the big stuff. You're not going to claim little stuff."
Agencies have other specific policies with lower deductibles for equipment breakdown, service line coverage, recreational vehicles or jewelry.
"A lot of times people don't realize their policy doesn't include recreational vehicles; you have to insure those," said Stelzer. "They just automatically think my homeowner's is going to cover that."
Other policy credits come from home upgrades to infrastructure areas like roof, electric, heat and plumbing.
"Roofs are huge, because that is probably 70 percent of claims," she said.
According to Stelzer, new roofs are only covered for 15 years for replacement cost. After 15 years, they go to actual value. There are additional credits for upgrading to a metal roof.
It all comes down to annually assessing one's coverage against one's property and needs.
"We're very proactive here about reviewing because people have changes every year, because you've added something, gotten rid of something, all of a sudden you've got a new boat," said Stelzer. "In order for us to protect you, we have to know what you have."
Stelzer also highlighted the advantages of having a local agent versus using online services, phone insurance apps. Do-it-yourself insurance policies can be full of pitfalls.
"They're doing it themselves; they're buying their own insurance. Scary," she said. "They don't know what they are buying."
A local agent can explain the absolute necessities when it comes to proper coverage from property damage and injury protection.
"We're advisors; it's your policy, your home, your vehicles, it's up to you what you want to insure," she said. "We're here to guide and advise you. In the same sense, a lot of times customers don't understand what they're buying or insuring. They're values are not where they should be. They should be a lot higher than they are because if something happened they're going to be short by who-knows-what? $70-80,000. If something tragic happens and you need to rebuild you're not going to be close to being able to do it."
A big picture perspective is essential to being properly covered.
"Customers definitely look at the cost, but they need to look at the whole picture—all the impacts that come with it too," Stelzer said. "We're here to do whatever we can to try to explain and take care of you and hopefully, make things more understandable and protect you.