Design Center a big success for Summers in first year 
News | Published on April 4, 2023 at 6:11pm EDT | Author: Chad Koenen
0
Company hosted anniversary events during Maple Syrup Fest
By Robert Willams
Editor
This April will mark the one-year anniversary of Summers Construction Design Center in Vergas and a lot can change in a year.
"It's been a bit of a whirlwind," Joy Summers said. "I can't put into words exactly what I thought this business would be but it's definitely more than that."
The Summers thought they had a bead on exactly what their business would but both are surprised at what it has actually become.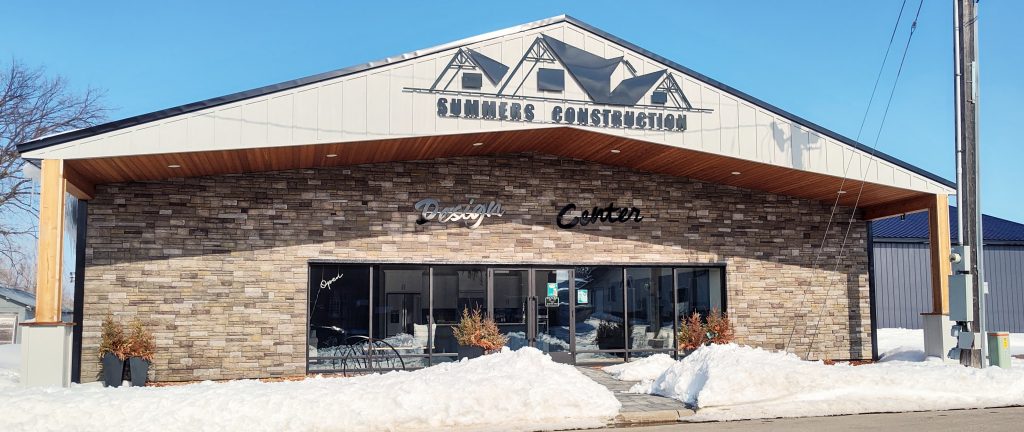 "Yeah, I think I felt like this would be a pretty easy add-on to our construction business," Mike Summers said. "We were already walking people through building custom homes so I didn't see it being that different. Now a year later, I walk in here and I'm really excited about the direction we're heading. It's so much more than I thought it would be."
In an interview with the Forum just prior to opening in 2022, Joy talked about how the prior year of planning consistently evolved and she looked forward to the business evolving in much the same manner.
"If there's a need for something and it makes sense for us to carry it and offer it to people, we're going to add it," she said. "It's kind of like Christmas every day right now with the orders coming in. We've got furniture and artwork and area rugs, fun décor and greenery. It's just amazing how a realistic looking artificial plant can change a space! It's made our interior design projects so much easier since people can see things up close and pick them up. A big reason we built this in the first place was for people to have a hands-on experience with their projects."
The variety allows for the couple to enjoy their work while running the construction business, a residential and commercial cleaning company, the RE/MAX Vergas real estate office next door, along with the design center.
"We started the Design Center knowing we'd have some basics like flooring, tile, kitchens and bathrooms," said Mike. "We already worked with Franklin Fence for most of our exteriors and I think we just kept kind of filling out that construction process. So, when you walk in, you not only see the full custom kitchen and multiple examples of bathrooms and islands, now we've got three examples of fireplaces, all finished off differently, we've got all kinds of window treatment options, and ring security systems. We just built up some walls to show off the new décor we've got coming in so it's fun walking in and seeing changes all the time."
The Summers had a rather unique challenge upon opening last year.
"Immediately, we had such a great response and we were heading into summer, so the construction crew was already booked for the year," said Joy. "So, the hardest part was responding to people looking for construction and letting them know we wouldn't be getting to their project immediately."
"Obviously, these are great problems to have and shows what an amazing community we're part of," Mike said.
One big improvement over the last year has been product availability and supply chains and that has a positive effect on business.
"Yeah, now we're almost to summer again, we're scheduling construction projects for winter of 2023 and summer 2024 but we're only a couple weeks out for flooring, tile, blinds and interior design projects," Joy said. "Product availability has gotten so much better and there are lots of things we can get to pretty quickly."
With business success come staffing needs and the Summers have multiple job openings in all aspects of their business. They also lost designer Angela Lindsey who moved out of state.
"She leaves a huge hole in our team, said Joy. "We definitely miss her. We're here a lot but we're pulled in a lot of directions so we're in the search for a new manager to oversee the Design Center. It's a tough one to fill because it's really a diverse role since we really have a lot going on here."
The other businesses are also in need.
"Staffing a busy construction company is a constant need," Mike said. "Every year we have a few high school and college guys that work just for the summer and of course, their lives change a lot in those years. So, even though I have a really great group of guys that have been with me a long time, the younger ones, they get married or graduate and move out of state, there is always a bit of a revolving door. We're always looking for more workers on the construction side of things. And as our cleaning company continues to grow, we can usually use cleaners too."
Daughter Kayla Mayer manages the RE/MAX Lakes Region Vergas office.
"We couldn't do it without our awesome team," Mike said. "Kayla is a detail person and that is exactly what you want on your team with everything that goes into a real estate transaction. She is constantly watching for listings for our buyers and regularly checks in with people to make sure we're on the right track. She's not afraid to do the legwork to help sellers get all the information they need for a successful sale."
While the Summers are spending more time in the Design Center than usual, they continue to work real estate transactions every day.
"Knowing values, looking at what's for sale every day really helps on the construction side too," said Joy. "When people come in wanting to do a project, we can tell them if they are talking about putting more money into a property than they'll get back out of it."
A surprise newcomer is also making a big contribution to the success.
"Casey Canton was working for us part-time for the last year," said Joy. "Her role has probably changed the most. She originally came to us before we were even open or knew what we needed and she just jumped into whatever we had going on which I appreciate so much about her. She had prior experience with design and was taking classes so we knew that's where she would end up but since Angela moved, she's taken on a much more prominent role and is really thriving. She's full-time and right now is probably the smiling face you'll see when you walk in the door. She has a great eye for design and we're thrilled that she is sticking with us as we change and expand."
All of the coming revamping and new offerings are on the horizon because of the incredible response the Summers received upon opening.
"I think right off the bat last year, we were blown away at the turnout at our grand opening, Mike said. "We had several hundred people more than the population of Vergas which was just awesome. Then, for a while, I was surprised every day that people walked in the doors. I still smile and get excited every time the door opens."
"The grand opening is crazy to even think back on," said Joy. "It was so awesome! I am still amazed at the commitment of people to shop local. Vergas is just the best town and the amount of people that are so happy to see us here and are willing to support the businesses we have in town, honestly, just makes me feel so good! We appreciate that so much!"
The Design Center held an Anniversary Sale during Maple Syrup Festival on Saturday, April 1,along with local artisans displaying items for sale at the company's first Vendor Faire outside RE/MAX.
"We're super excited about showcasing some of the people that we use for custom projects," said Joy.
The anniversary marks a very successful first year for another budding business in Vergas and the town has as much to do with that success as the Summers' team.
"Vergas is our home," said Joy. "I know I've said it before but that's because it's true. "I am so proud of our little town! I feel like we're looking better than ever, our events are successful, our houses are selling. It's a great time to be part of what's going on in Vergas. The people that are walking in our doors, either real estate or the Design Center, are our neighbors, friends and family. We really want to help people walk through the changes in life and help carry some of the load. We're capable of making these scary and big life changes easier for people. That's really what we want to do."