Bunnis in the running to get back on the road
News | Published on April 5, 2023 at 8:53am EDT | Author: Chad Koenen
0
Cancer survivor in pursuit of a Dream Chopper
By Robert Willams
Editor
Frazee native and Class of 1981 graduate Bill Bunnis is attempting to earn a dream chopper build through a veterans fundraiser while in recovery from prostate cancer.
Dream Chopper supports Hope For The Warriors (HOPE) in their mission to provide resources and services promoting well-being, financial stability and community connection for post-9/11 service members, veterans and military families nationwide.
The build will be done by Orange County Choppers (OCC), a world-famous custom motorcycle manufacturer founded in 1999 by Paul Teutul Sr. OCC has been at the center of the hit TV-reality series "American Chopper." Paul and his team of custom fabricators design, engineer, and manufacture unique choppers—and they'll be helping the winner of Dream Chopper do just the same.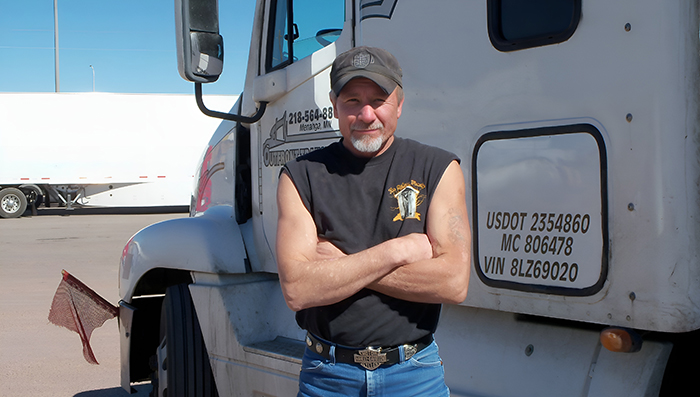 "I figured what the heck, so I signed up for it and got on Facebook and mentioned it to all my friends," said Bunnis. "I need votes every single day until this thing is over, everybody who I can get to vote just gets me further ahead."
The contest runs until May 5. Bunnis made it through the first two stages and is now ranked second in the top 15 of the current round.
"I just don't have the funds or anything like that to go buy one myself," he said. "This is just my opportunity. If I can get it for free, I'll be back on a bike."
Bunnis, 59, has plenty of reasons to want to get back on a bike and hit the road from working on motors his entire life to his current recovery from cancer.
He was diagnosed with prostate cancer in December of 2021 and 2022 was rife with procedures.
In April, doctors performed a radical prostatectomy, where a surgeon removes the entire prostate gland plus some of the tissue around it. Bunnis also had 32 lymph nodes removed at the same time with one being found to be cancerous. While under anesthesia for 7.5 hours during the procedure, doctors also repaired a hernia.
A couple weeks later, Bunnis suffered an abscess in his stomach, which included another procedure to insert a tube for drainage. Struggles continued with a life-threatening case of sepsis, an infection that can trigger a chain reaction throughout the body. Infections that lead to sepsis most often start in the lung, urinary tract, skin, or gastrointestinal tract.
A port was implanted in his armpit for intravenous treatment, which involved Bunnis having to administer the medication through to port himself twice per day.
Bunnis completed 25 radiation sessions making trips to Fargo five times per week for five weeks.
Currently, Bunnis is on a lighter schedule of doctor visits for treatment.
"Pretty much," he said. "I go back every six months to meet with my radiation doctor and they are going to run me through a CT scan and they'll be checking me every six months that way to see if there is any cancer."
Bunnis is also caring for others while undergoing treatment.
"When I got diagnosed with cancer I was on layoff and then I didn't go back to work at all," he said.
He lives with his girlfriend of 17 years and her brother, who is handicapped and needs daily care.
"Somebody has to stay home and take care of him," said Bunnis. "So, I take care of him all day long while she goes to work."
Recovery has not been easy, but improvements in his health have been steady since the beginning of treatment, albeit slowly.
"I could go back to work right now," said Bunnis. "After they removed the prostate, it took a long time to be able to hold my bladder and stuff like that."
Radiation compounded those issues, but Bill has seen a positive improvement since.
"I really got lucky I guess, because some guys end up with a catheter for the rest of their life," he said. "I'm just as normal as I used to be now."
Cancer was not a big surprise for Bunnis upon being diagnosed. He expected it, given his family history.
"With me, I was just waiting for the time I was going to be diagnosed with cancer," he said. "Everybody in my family, my mom (breast cancer), dad (acute leukemia), grandpa (lung cancer), grandma (stomach cancer) and one of my uncles (brain tumor), they all died from a different type of cancer."
His brush with the disease is a big motivating factor in wanting to get back on a bike. Bunnis has been into cars and bikes, motors of any kind, since childhood.
"Every day I've been alive, I've been working on something odd," he said. "If it wasn't a car; it was a motorcycle. I always had to have something that stood out. I've had a '73 and '77 El Camino, a '74 Oldsmobile Delta 88 Royale Convertible. My first vehicle I ever bought was a 1958 Chevy pickup. His motorcycle collection has included two different Harley Davidsons.
"I was always busy working on snowmobiles, mini bikes and stuff like that. I didn't have time for girls. After I graduated high school and became a mechanic, we could bring our own cars in at the Vo-Tech so I was trying to find anything weird to take in there to work on because I wanted to be different than anybody else. I ended up graduating top of my class just because of that. I was taking on the hardest projects that there were and still getting by doing it."
Bunnis paid his way through two years of vocational school to be an auto mechanic. He worked in the field for five years before getting into over the road trucking.
"I pulled just about every kind of trailer there was and hauled houses for Dynamic Homes," he said. "You name, I've probably done it."
His trucking work led to getting behind the controls of every kind of large industrial equipment out there.
"It was fun because everywhere you went those guys would not load or unload anything off your trailer so you had to get up on this thing and figure out how to run it," he said.
Bunnis sold his Harleys to make ends meet and getting back on a chopper is now a possibility only through potentially winning the Dream Chopper contest. A win would be a way to put some of the stress from cancer recovery in the rearview mirrors.
"It takes your mind off everything when you're riding around on one of them," he said.
Bunnis is easy to find at facebook.com/bill.bunnis, where he posts links to the build contest daily. Friends can place votes for free each day using their Facebook login. More information is also available at dreamchopper.com/2023/bill-bunnis