FFD Relief Association auction set for April 15
News | Published on April 10, 2023 at 5:38pm EDT | Author: frazeevergas
0
Department taking sealed bids on 1994 truck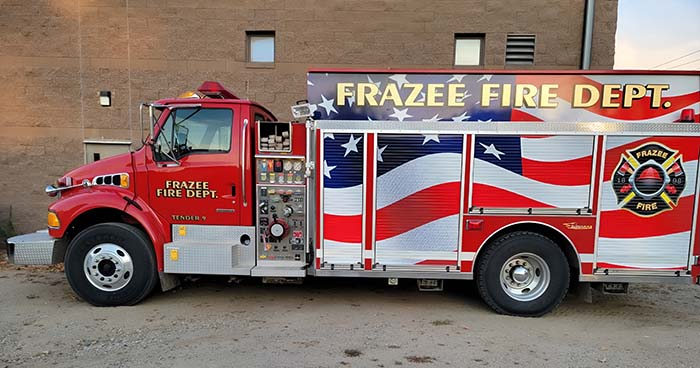 By Robert Williams
Editor
The 15th Annual Frazee Fire Department Relief Association Auction will be held on Saturday, April 15, from 5-9 p.m., at the Frazee Event Center.
Last year's event was the first in three years post-pandemic and provided a much-needed financial boost to the department to replace aging equipment and purchase necessities and gear for firefighters.
"A lot of the money from the auction will be going towards our new grass truck, new utility truck, potentially things like lights, sirens, decals, and also a new enclosed trailer," said Frazee Fire Chief Nathan Matejka.
The three years prior, the department had to make use of other forms of fundraising. The auction is by far the department's biggest fundraiser.
Money from the auction goes directly to a fire department fund, rather than through the city
A small portion of the funds go to group activities to build camaraderie and reward the efforts of the firefighters with needed activities to boost morale. Retention is a major key to keeping the all-volunteer crew staffed.
The financial boost to the department also helps replace aging equipment and purchase necessities and gear for firefighters. Personal gear for firefighters, like coats and pants alone cost $2,500, add another $1,000 for a complete set.
The four-hour event features local food provided by the Frazee Fly Girls Booster Club.
There will also be the usual live auction and silent auction, along with a variety of games drawings and raffles. There will be goody-filled purses that come with a chance for a gun, a wine pull, multiple gun raffles, a 50/50 drawing, and a chance for a gallon of milk or ice cream for a year
Johnson Performance will handle all gun raffles. Cash options will be available and all transfers will be done at the auction.
Retired Frazee firefighter Shawn Ohman continues his service to the department and Frazee by organizing the event each year.
"Shawn contributes greatly to the fire department by heading up and putting together the auction for us," said Matejka. "He does a tremendous job doing it!"
Truck for sale
The Frazee Fire Department is also selling a 1994 F-350 XL by sealed bid.
Public viewing will be available from 3-5 p.m., during the auction.
Bids will not be accepted the night of the auction. All bids are to be mailed or dropped off at City Hall (PO Box 387 ~ 222 Main Ave West Frazee MN) in a sealed envelope by 6 p.m., Monday, May 1. No late bids will be accepted.
Submissions must include the bidder's full name, phone number, physical and mailing address, and full bid amount in whole dollars.
Bids will be opened at the Frazee City Council meeting on Monday, May 8.
The council reserves the right to accept or reject any or all bids.
The winning bidder will be notified by phone on May 9, and will have two weeks to make arrangements to complete purchase, title transfer, and pick up the vehicle. Failure to complete this process may lead to the loss of the sale, and council may move on to the next bidder in line or select another option for sale.