M State announces vision for growth and sustainability
News | Published on April 10, 2023 at 5:35pm EDT | Author: frazeevergas
0
Campus offerings aligned with community, workforce needs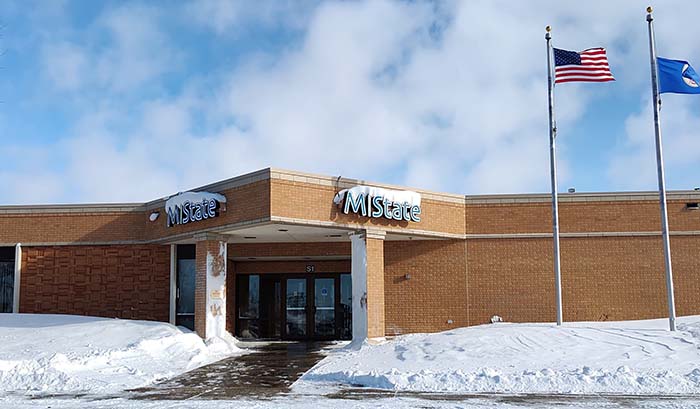 M State announces a bold and innovative vision for the college's future—a vision that gives rise to imminent change across the college's four campuses in Detroit Lakes, Fergus Falls, Moorhead and Wadena.
M State leaders have been meeting since the beginning of the school year with employees, advisory council members, and regional business and community leaders to engage in conversations about the college, its academic offerings, and how it can best support the communities it serves. The college reviewed student enrollment patterns and facility needs as well as the economies of its local communities, population growth and housing realities.
"We look for new program opportunities every year, and programs change over time, but the pandemic caused us to take a deeper dive this year, to examine M State's program offerings and how they align with the projections and needs of our communities," said M State President Carrie Brimhall. "We wanted to determine a specific educational 'niche' for each of our four campuses. The planning process was very intentional and comprehensive."
The outcome of that process is a broad academic plan that calls for new or reimagined programming, along with targeted investments in the most in-demand programs and initiatives, to best meet student, community and workforce needs and ensure M State's growth and sustainability well into the future.
The plan is expected to be rolled out over the next two to three years. It entails facility upgrades and academic program adjustments, such as the introduction of new programs and/or relocation of programs from one campus to another, across all four M State campuses.
• Detroit Lakes: This campus will have a stronger focus on manufacturing, healthcare and workforce training. Program and facility use adjustments, including the relocation of some programs to other M State campuses, will aid in this evolution.
• Fergus Falls: This campus will sharpen its focus on the student experience, particularly for student athletes, and will adjust its academic offerings to further align with local workforce needs. Programs such as Business, Early Childhood and Echocardiography will be newly offered in Fergus Falls, and some student housing facility upgrades are planned.
• Moorhead: As M State's most populous and diverse campus, the Moorhead campus will maintain its focus on non-traditional students, transfer education, and careers related to engineering, public safety, healthcare, transportation, business and construction. The campus will work to increase its presence in IT, healthcare and workforce development.
• Wadena: The Wadena campus will continue to specialize in spa services, energy careers and construction trades, with expanded programming and community partnerships to support further growth in those areas.
"We are excited to re-imagine our presence in our campus communities," said Brimhall. "We see the changes at M State as an opportunity to adapt and better support our regional economy, which we believe will propel us into an even stronger future."
M State's plans for collegewide growth and investment include a bold expansion of the college's
connections with area high schools, additional workforce training opportunities through M State's Workforce Development Solutions division, and re-honed and expanded healthcare programming at all four campuses.
"We understand there is great demand in healthcare, and it will only increase. We will continue to build and develop healthcare simulation labs on our four campuses and work with our industry partners to adjust and enhance the way we offer our healthcare programs," said Brimhall. "We want to ensure a steady pipeline of students can enter the healthcare field."
Many of M State's plans are still developing, and the college will continue to seek out and collect community input as more details are determined. The college will work with existing students as needed to ensure program changes have little to no impact on their individual academic plans.
"We continue to be committed to hiring the best people, focusing on quality academics and meeting the needs of our students at our four campus locations and online," said Brimhall. "We know the students we serve today will continue to need us to serve them as a whole person. Our focus will continue to be, 'A success story for every student.'"
A member of the Minnesota State system of colleges and universities, M State serves more than 6,500 students in credit courses each year in over 70 career and liberal arts programs online and in-person. The college also partners with communities to provide workforce development services and other responsive training programs to 500 businesses and 9,000 participants.