Miss Frazee duo team up to boost Care Closet drive
News | Published on April 10, 2023 at 5:50pm EDT | Author: frazeevergas
0
Courneya and George relish volunteering in their community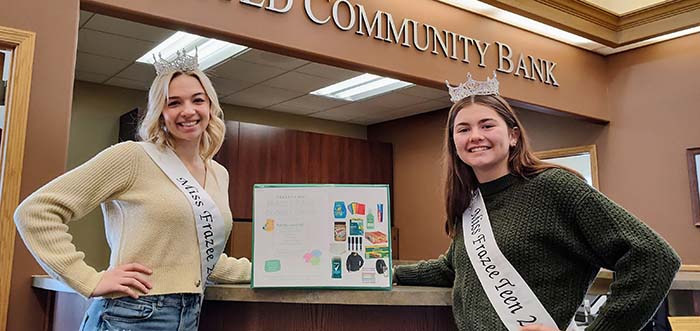 By Robert Williams
Editor
Miss Frazee Marcella George and Miss Frazee Teen Katie Courneya are leading a donation drive for the Frazee Care Closet at the high school with collection boxes scattered around town.  ¶  Frazee-Vergas High School paraprofessional Dani Adams and science teacher Tavia Bachmann created the Care Closet with other members of staff and the district's Parent Teacher Organization. The Closet is a resource for students to get essential items they need while at school.  ¶  Marcella ran a similar campaign around town last year to help students and she and Katie had an easy blueprint to do some good for their fellow students.  ¶  "It's like my back-to-school drive from last year, but we just made it the Frazee Care Closet edition," said George.  ¶  Adams approached both George and Courneya about finding ways to get more supplies for the Closet.  ¶  "I had already done it before and Katie knows how I did it so it was easy to already know what we're supposed to do, what we can do, who can help us and putting boxes where we can," said George. "It was nice to be able to change the name but keep it the same."
The Care Closet Drive boxes can be found at United Community Bank, the Yak Shack, Seip Drug and Frazee Family Foods. Monetary donations can also be dropped off at the Yak Shack. The drive runs until the last day of school in late May.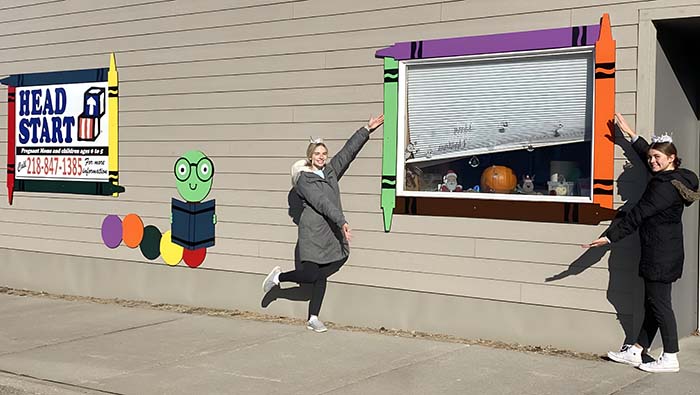 Items needed are new clothing, easy meal options, snacks, toiletries, hats and gloves, school supplies, etc.
"I think it's really important, especially since Frazee is a community that might need it more," said Courneya. "I think it's amazing that they put this together."
Adams introduced the Care Closet to the community via Facebook in January and in a Forum feature story in March with Lori Fischer Thorp.
"No matter how the economy is doing, there will always be families struggling with the basic necessities," Adams said. "Building an in-school care closet will give the students in need the ability to discreetly pick and choose the clothing and basic necessities they may need and are proud to wear."
In its first few weeks the Care Closet was already making a difference for students.
"I love it," George said. "I love that they are not only venturing out to help other people, but they have a wish list of things that people need in the community. Frazee is a small town; we don't get a lot of opportunities, so when a big opportunity like this happens you have to take it."
Both Courneya and George have made big efforts themselves to be positive influences and contributors to their community. From reading to elementary classes to helping serve diners at the Veterans Appreciation Dinner.
"I loved doing that; it was so cool," said Courneya.
The crowned duo have made consistent efforts to show off the true meaning of being Miss Frazee and Miss Frazee Teen.
"We've been staying so busy," said George. "It's so great because our community is so welcoming to us and we're very vocal and into our community. We're not introverts, that's for sure. You can't be."
The responsibilities of being town royalty are not all about glamor, crowns and gowns.
"Whenever we're doing something we're never in our crown and sash; it's always a community volunteering kind of thing," said George.
For Courneya, the Miss Frazee Teen crown has allowed her to expand on being community-minded.
"I've always loved doing community work so this has given me extra time to do it," she said.
Earning the crown was a big surprise for the soon-to-be high school freshman.
"I didn't even think I was going to win," said Courneya. "It's been so much fun. It's literally been my favorite experience ever."
As a senior beginning to plan for post high school where she will be attending the University of North Dakota after graduation, Marcella has found a kindred spirit in Katie and the two have enjoyed supporting their community together as a team.
"Not only do Katie and I live less than a mile from each other, it's just so fun getting to know her," said George. "She's an eighth-grader, so I never see her in classes, but it's just so fun. I'm happy that we have a good relationship."
For both girls, the nine months since being crowned have flown by and they plan to cram as much fun and community volunteering as they can in the remaining time as town royalty.
"Just the other day me and my mom were talking and she asked me, 'What do you want to do with your time left?'" said George. "I've got to do as much as I can. I'm only Miss Frazee once! Everyone has been telling me to do as much as you can before your time is over."
Both girls relish their time spent together. They have also branched out individually on their own crown projects. A look at either's Facebook pages shows a span of cake walks, donations to the Childrens' Hospital in Minneapolis, painting projects at Head Start, spreading Christmas cheer decorating trees around town, holiday toy drives, the list goes on and on.
"The bigger things we work on together," said Courneya.
The Miss Frazees can be seen next when the Old Time Variety Dances return to the Frazee Event Center and they're looking forward to learning the polka.
"You feel good when you volunteer; there's nothing bad about it," said George.
Donations to the Frazee Care Closet can also be made online via an Amazon Wish List at amazon.com/hz/wishlist/ls/3H6574GVZC46A