PHS highlights Jacket Manufacturing program
News | Published on April 10, 2023 at 5:31pm EDT | Author: frazeevergas
0
Fully-run business is led by Perham High School students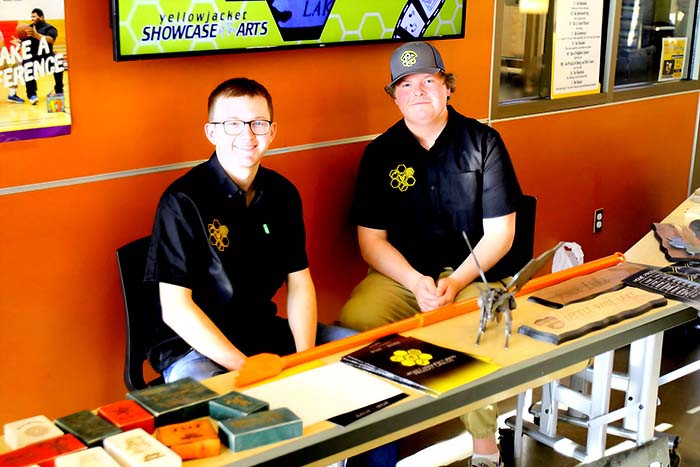 By Jason Groth
Perham Public Schools
Since its inception, Jacket Manufacturing has set the bar for student run businesses in the state of Minnesota. Becoming one of the first programs of its kind in Minnesota, it set the standard for student-run businesses in the state. More than 30 schools have toured or visited Jacket Manufacturing to learn from its business model.  
The concept came from Darrin Swanson of Kit Masters, who is one of the program's partners. They took a trip to Cardinal Manufacturing in Wisconsin and came away impressed and liking the look of it. With the building of a new school, the new shop was a perfect fit and Jacket Manufacturing was off and running. 
Under the supervision of Jon Skow, Jacket Manufacturing is a fully-run business by its students. The first year, Skow handpicked the students for the program, but since then, students must apply and go through an interview process to join Jacket Manufacturing. 
"You learn everything around here, from the shop to the business side of it," Junior Tait Bormann said. "Right now, my focus is the business side of it, trying to always be positive and that we have a steady income."
Bormann spoke with many different businesses in his role and many of them have said it is a great program and it is exactly what it is like out there. Bormann started his ninth and 10th grade school years in the shop side, before transitioning to the business side of Jacket Manufacturing. 
"I started at the bottom and worked my way up," Bormann said. "It feels pretty good to grow up with the business." 
Bormann said when he started Jacket Manufacturing, he did not think he would be on the business side but said it is cool overseeing things from when he first started. 
Junior Brock Melgard followed the same path as Bormann and now they both help oversee the business side of Jacket Manufacturing. 
Melgard said his favorite part is learning all about business.
"It's a class, but it's more just a business," Melgard said. "I'm learning more in this than taking a business class."
Melgard and Bormann both hope to run their own business when they are done with high school and believe what they are learning in Jacket Manufacturing will help them down the road. 
"When I started, I just liked the shop," Melgard said. "Once I heard, we could probably take this part over, that would be perfect, learn more about taking over a business and all that goes with that."
Skow said every student finds a niche within the program. Students learn soft skills along with the skills that come with running a business. 
"Some of them think they want to weld and after a while they realize it is not for me. If they are good with math, they will be in the business office," Skow said. "I hate to profile but all these kids except for a few that are working on it get good grades. It is not that I pick them because they get good grades, it seems like good grades are the byproduct of the kids we want in the program."
Jacket Manufacturing allows students to work with Laser Engravers, Belt Sanders, Plasma Cutters, CNC Routers, CNC Mills and learn skills in welding. 
Skow said the program has three-ring binders full of stuff they can make. He said some of the products are mass production, but most of the work is one-off things that local companies are unable to work on due to profitability. 
"The students charge for labor and materials and the money they generate goes into their budget specifically for Jacket Manufacturing," Skow said. "(That money) can be used for machines, tools and things like that."
Most of the work done with Jacket Manufacturing happens during the school day. It is a two-block class (two, 55-minute periods) with a half hour of Power Hour in between. 
"These guys are in my Power Hour and some of the kids do their homework in the Power Hour, a lot of them, if they don't have homework, will be out here banging away," Skow said. "If they have stuff to do, they do it. When you behave like that, the clock goes in the right direction, instead of the wrong direction."
Currently, Jacket Manufacturing is selling Metal Lake signs, Cutting Boards, Square Metal Signs, Wood Duck Boxes, Wooden Flags and Cedar Salmon Planks, which are used to infuse incredible smoked, cedar flavor into grilled salmon. 
Jacket Manufacturing is on a bit of a rebound. The COVID-19 Pandemic caused several huge setbacks as Distance Learning is a misnomer when it comes to business, according to Skow. However, after losing time because of the pandemic, the class has rebounded and is back into full swing. 
Skow said the feedback from the community has been amazing. The adults that have toured the facilities have been impressed with the work of the students during those presentations. 
"It is amazing. Kit Masters, BTD, Lund Boats and IFS are all business partners of ours and the reason they are giving us support is because everyone is hurting for skilled labor. Everyone that goes through this program whether it is working in the business office, welding, woodworking, or whatever end up going to work for some of our business partners, but not all of them," Skow said. "The kids obviously love it because there is a certain amount of freedom with it. It is not like a sit-down, boring class. I am not the dictator; I am a facilitator."
More information on products and services Jacket Manufacturing has to offer can be found at www.jacket-manufacturing.com
Editor's note: While the Frazee-Vergas school district looks to ramp up its Career and Technical Education (CTE) program with a new hire, this story is an example of some of the CTE offerings that are available in neighboring schools. This story appears with permission, courtesy of Jason Groth, Community Relations Director at Perham Public Schools.