Eclectic group forms Vergas Arts Club
News | Published on April 18, 2023 at 5:03pm EDT | Author: frazeevergas
0
Funtime Band opens as first sponsored event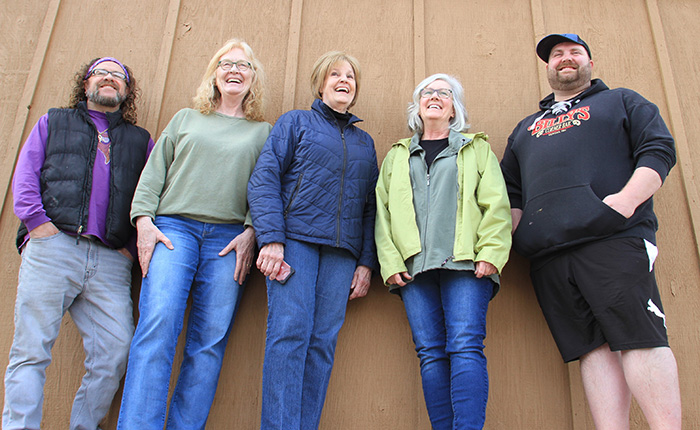 By Robert Williams
Editor
When one ponders mayoral duties, art is not the first thing that comes to mind, but in a village like Vergas it comes with the territory. Mayor Julie Bruhn introduced the Downtown Art Camp for kids 16-and-under two years ago and that act has led to the new Vergas Arts Club, a subgroup of the Community Club led by president Carol Albright.
"In small towns like this, you can say, 'how about we do this? We've got an idea,' and the next second, you're in charge; you can do anything and you can pick your people," Albright laughed.
Mayor Bruhn had asked Albright to help facilitate the Downtown Art Camp and the idea to form an Arts Club was created.
Albright advertised a need for volunteers for the club in the city newsletter and had soon pieced together a team. Albright is a retired art teacher. She is joined by singer/songwriter Damian D. Anderson the vice president, treasurer James Stenger—a freelance theatre artist, secretary Karrie Schultz, retired Early Childhood Family Education and School Readiness instructor, Helena Johnson co-owner of Forest Edge Gallery, along with avid supporters Connie Lee and Mayor Bruhn.
"We have an amazing collection and wonderful assortment of varied backgrounds," said Albright.
Putting together people with different disciplines to form the group is a lot like how Bruhn created the art camp.
In an August 2021 interview with West Central Initiative's Rick Schara as part of his Live Wide Open series, Bruhn said the idea was "pieced together" after seeing a picture in a garden newsletter of a garden art display by varied artists and reading an article about a town offering downtown art projects at the businesses. 
"It struck me that a variation of this would be cool to do in Vergas as a kickoff to summer for area youth," Bruhn said.
Albright and Bruhn pitched the idea to the Community Club and the Art Camp was born, just like the Arts Club is now. The Community Club provided startup funds and also made the Arts Club a subgroup.
The Arts Club was created late last fall with official meetings in December and officers elected in January. The Vergas Arts Club wants to create events that provide a positive art-making experience for everyone and much of their aim is to fill the quieter months in town while picking key events during the busier season to join.
"It's evolved, but we're working on what we want to do and for who and all that stuff," Stenger said. "We're trying to figure out what we can do. Fortunately, Vergas is active. We're trying to fill in those kind of void months, like this weekend having an event."
The Arts Club is sponsoring some heavy hitters to get their first event going. The Chmielewski Funtime Band has been synonymous with polka music for more than 100 years.
"This event on Sunday will be a testament to that," Stenger said. "I think we're going to have a lot of people looking for something to do that'll come out."
The club plans to use the event as a tester and are very interested in feedback.
"We want to get some input from people on what the community wants to see or would like to do," Stenger said.
"We need some input from the public," said Albright. "We welcome anybody who is interested."
That feedback will help shape a rapidly growing list of ideas for future events.
"We have so many ideas it's hard not to get ahead of ourselves," Albright said.
Brainstorming sessions have led to a wide variety of possibilities from supporting people in the fiber arts—crafters, folk artists, crocheters, knitters and quilters—to supporting area galleries with an autumnal studio crawl, one of which would be Johnson's Forest Edge Gallery, where Helena and co-owner Patrick Shannon want to showcase artists they work with.
"That was another event that we talked about for the time," said Stenger. "Leaves changing, people getting out just to drive around and we could be a part of that too. There are some really unique studios."
Albright was keen on the fact that there are arts-related people all over the Vergas area and the club is here to address the needs of that group by spreading art around to the entire community.
Schultz mentioned how Albright coined the phrase that it's "all the arts for all people" as the club was forming.
"I don't think people necessarily have to be an artist to be involved in this or to participate," Schultz said. "To just appreciate it and we're hoping to explore a lot of different venues."
Schultz stressed one of her hopes is to allow children to explore and get exposure to the many forms art can take while providing equal entertainment and possibilities for adults.
"Painting, dancing, literature…and all the genres for different age groups that could spark something in anybody," she said.
"It's good for you too, physically and mentally," said Johnson.
For more information on the Arts Club contact Carol Albright at (218) 329-364 or the Community Club via Facebook. Future social media explorations are in the works for the Arts Club.
This year's Downtown Art Camp is scheduled for Saturday, June 10, from 8 a.m. to 5 p.m.
More information on Forest Edge Gallery can be found at www.forestedgeartgallery.com.