Students, parents advocate for non-renewed teacher
News | Published on April 18, 2023 at 5:00pm EDT | Author: frazeevergas
1
District hires new principal to replace Anna Potvin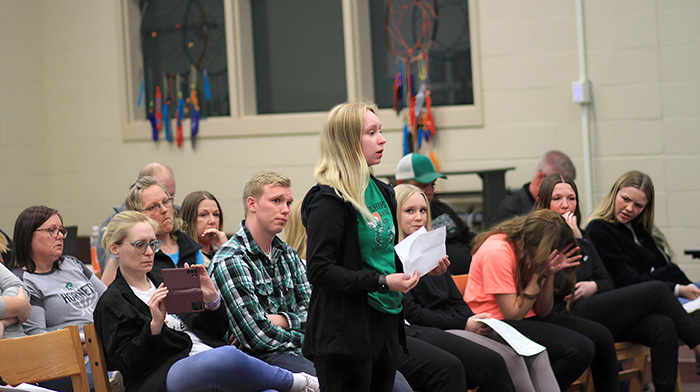 By Robert Williams
Editor
A group of 25 students and parents advocated for sixth grade teacher and head girls basketball coach Trey Heinsius, looking to spare him from a contract non-renewal due to budget cuts at the monthly meeting of the Frazee School Board.
Sophomores Hailee Olson and Sophia Strand spoke on behalf of the girls basketball program.
"Coach Heinsius has changed the girls program completely," said Olson. "We feel like every time we get someone good at Frazee, the school district gets rid of them for one reason or another. We, the students, believe the district never keeps the good or the great and instead settle for the average. Mr. Heinsius needs to stay."
"Trey was the biggest glimpse of hope this program has seen in a long time," said Strand. "A couple years ago we were scrambling to win one or two games a season and this year we were in every single game, pushing to the limits and finding new boundaries for ourselves. We needed someone to have that guiding hand to push us on the basketball court and that is what Trey has become."
Strand also emphasized Heinsius' care for the mental health of his players and students.
"We need Trey, not someone like him; we just need him," Strand said.
Both students pleaded with the board to renew Heinsius' contract.
Heather Olson, a mother of three Frazee-Vergas students, also addressed the board regarding the teaching side.
"If we have a teacher doing average, above average and not below and no improvement plan has been given to him, if I was in his shoes I would be asking why," she said.
Heinsius is completing his second year in the district.
"I just don't understand how we can just let the door shut without asking what are we doing?" said Heather Olson. "It would be different if he had improvements he had to make. What more do we want than young teachers in our school willing to go the extra mile?"
Olson continued by expounding on how it is difficult for the players and students, along with the decisions that have to be made and the spot school board members were in regarding the contract non-renewal.
Heinsius is one of six probationary teachers with contracts not being renewed, along with Kari Dahlgren, Chad Heimer, Amy Malikowski, Judy Rue and Roger Thorp.
School board chair Thaddeus Helmers allowed other parents to speak, including Tabiatha Branden, a parent with a daughter in Heinsius' sixth grade class.
"She strived in Mr. Heinsius' class," Branden said. "He is meeting her at her level and teaching them exactly what they need to learn. We need to look at the overall picture. If we're trying to grow this community, how can we do that better for all of our students? Listen to these girls that spoke. They're literally fighting for our future here."
Former district employee Nicole Strand also spoke on Heinsius' behalf.
"He is stepping up; he is there for our kids and now you want to send him away," she said. "Find the money. Make cuts from the top. Do something else. Don't get rid of somebody who gives a crap about our kids. He is renewing kids' love for sports and learning. Don't kick somebody out of our district and community who actually gives a crap. Find a way to keep him. We are all here because we all want Trey to stay."
Helmers did not have to let speakers who did not register to address the board, but did so until they were finished.
"We are in a budget tight year," he said. "When you cut teachers in a district, the non-tenured ones are the first to go. We all know that. Right now, we're waiting on the state and I speak for myself, not the board or the district. There are cuts coming. My intent is to keep the same number of teachers in the elementary school. That means my intent is that there will be elementary positions open and if Mr. Heinsius wants to continue to be a Hornet and reapply again. He is more than welcome to do so and I encourage him to do that."
Helmers' comments were met with blowback and questions from multiple parents and students.
The board chair did his best to explain that he understands the situation and the feelings of those who spoke. Multiple board members addressed the group with empathy, noting that it mattered to them that the kids came and spoke to the board directly.
Cuts are being made due to the elimination of Elementary and Secondary School Emergency Relief (ESSER) funding, which was signed into law in 2020 and 2021 as part of the CARES Act, the Coronavirus Response and Relief Supplemental Appropriations Act, and the American Rescue Plan.
Superintendent Terry Karger spoke on the reductions during his report.
Expiring ESSER contracts included the recently created student support coordinator, a district truancy officer and one mental health provider at each school.
The elementary school had an extra kindergarten section funded by ESSER making four classes. The rest of the classes in the school have three sections. The extra kindergarten teaching position was not renewed.
A high school physical education position was also not renewed, but the district is reposting for a 0.5 replacement, with hopes that state legislation provides funding to make the position full-time.
The district has a cost containment target of cutting $500,000. The five eliminated positions equate to $312,644, leaving $187,356 still to be cut, according to a revised budget posted in February.
The board's vote on the approval of a resolution to non-renew the six probationary teachers came 10 minutes after the conversation between the board and the group. The vote to non-renew passed by roll call vote 6-1 to tears from students. Clerk Daneele Shipman cast the lone dissenting vote.
The district recommended a continuing contract for elementary teacher David Foster.
New principal
Jason S. Smith, Dean of Students at Ulen-Hitterdal, will be the new principal at Frazee-Vergas high school, replacing Anna Potvin, who will complete her tenure this June.
Principal interviews were conducted with four other candidates from an original pool of nine by committee March 7-8.
The other candidates included: Hannah M. Frink-Levenhagen, Student Success Coordinator at Perham Public Schools; Barnesville teacher Scott Amundson; Detroit Lakes teacher Lisa Conzemius and Nevis principal Brian R. Michaelson.
The committee was made up of two school board members, elementary principal Travis Nagel, Karger and one teacher representative.
The Forum will have a feature interview with Mr. Smith in the April 25 issue.
Administration
Karger reported on working with the budget and facilities committee on moving forward with requests for proposals on roof work at both schools.
"We need to start working on our roofs," said Karger. "We've squeezed everything we can out of them."
The work is part of the long-term facility maintenance plan. A roof analysis by Herzog Roofing was completed in 2022 to bring the district's roofs up to date. The report found 80 percent of the roofs are no longer under warranty.
The roof project is spread out over a four-year plan based on greatest need first. Total estimated cost for the adhered roofing system project is $1.2 million with potential adjustments for inflation over the span.
Activities
Activities director Nick Courneya reported on winter activities, including participation numbers of graders 7-12.
Boys basketball 47
Girls basketball 32
Wrestling 28
Dance 21
Gymnastics (Detroit Lakes co-op) 7
Knowledge Bowl 16
Robotics 23
Musical 29
Courneya updated a couple changes in section placement. The Minnesota State High School League reassesses section alignments every two years. Beginning next season, boys basketball will move from 8AA to Section 6A. Baseball is moving from 8AA to Section 5A. District football assignments and schedules will likely be released in May.
Elementary enrollment
(Grade – March – April)
K – 60 – 60
1 – 59 – 59
2 – 56 – 57
3 – 58 – 59
4 – 58 – 58
5 – 68 – 68
6 – 74 – 75
Total 433 – 436
Hornet Pride
Special Education Teacher Ann Zitzow applied for two grants for field trips from Education Minnesota —one grant was for $2,358 and the second one was for $2,900.
Bruce and Jane Kunz donated 21 tickets for student to attend the Shrine Circus in Detroit Lakes.