Beyer continues positively impacting area children
News | Published on April 25, 2023 at 3:51pm EDT | Author: frazeevergas
0
Bethlehem Lutheran Church Cookie Walk on April 30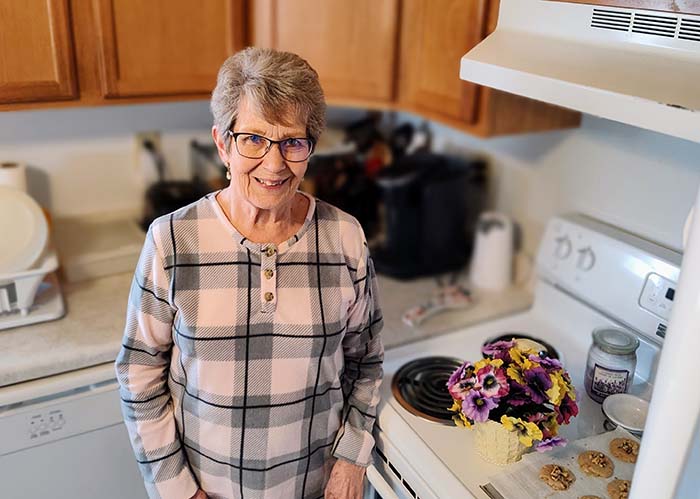 By Robert Williams
Editor
There are a few generations of people in Frazee and Vergas who had the good fortune of their childhoods being blessed and properly instructed at an early age by Mary Jane Beyer.
Mary Jane taught kindergarten in Frazee for a quarter-century between 1972 until she retired in 1996. She and her husband Leon, a social studies and civics teacher, moved to Frazee in 1964.
Beyer began teaching first and second grade here at a country school, before taking some time off during the births of the couple's four children.
During those years, she continued teaching elementary music, along with the gifted program and summers at Mahube.
"Hopefully, I made a difference in some of their lives. They made a difference in mine; I know that."

Mary Jane Beyer, retired Frazee kindergarten teacher
With May Day approaching, many of Beyer's former students, including the writer of this story, remember Mary Jane's May Day baskets—a family tradition she shared with her students.
"We absolutely did; we made May baskets," she said. "We didn't put the flowers in them like the original. We used candy treats or homemade cookies. Most of the students hadn't heard of it."
Beyer grew up as one of eight children in her South Dakota home.
"I lived in a small town, smaller than Frazee," she said.
Many of her former students will recall the different varieties of baskets made in kindergarten, from paper drinking cups, handmade boxes, or little baskets with sheared paper around the top.
"It looked like an ice cream cone," Beyer said.
May Day is a European festival of ancient origins marking the beginning of summer celebrated around the halfway point between the spring equinox and summer solstice. While the holiday has many meanings and a long history, Beyer weaved it into her curriculum as a multi-faceted learning process involving motor skills.
"It was an art project," she said. "It was a folding or learning project. When I did it with the class for the ones that I filled with them I would have them make a box."
Her creativity was something instilled by her own family.
"That's kind of how I grew up," she said. "If you want something, find a way to make it or do it. My dad was a mechanic; he didn't make a lot of money, but we never wanted for anything we needed."
The May baskets created lasting memories from many of her students and their parents, one in particular.
"One mother was so taken by the May Day basket experience that her girls had that she delivered a May basket to my house, I know for at least 20-25 years," Beyer said. "Every May Day there was a basket on my porch."
Beyer also has kept the tradition alive.
"I'm doing it this year," she said.
Beyer is sharing her May Day cheer creating baskets for her neighbors in the Senior Villas.
Part of Beyers kindergarten curriculum included other aspects of the holiday as well.
"Along with the May baskets, there's another tradition. I didn't do it every year, but the Maypole dance," she said.
Beyer had her student dancers weave crepe paper streamers around a Maypole.
"Each one got a streamer and typically you would do it boy girl, boy girl," she said. "Each had a streamer and the kids would be facing each other. The boys would take their streamer and go out around that girl and back in front of the next one. When you'd say girls they would go under over and when they got good at it they would keep going and it would weave all these streamers into a beautiful crazy quilt. Typically, if you're really good and didn't make a mistake on the way out you could keep a hold of your streamers, reverse it, and totally unwind it."
Again, there was a learning element for young students.
"It was teaching coordination, over-under, in and out and patterns," she said.
Mrs. Beyer always wanted to be a teacher but was raised in a time where that pursuit was fraught with prejudice during the '60's.
"When I was in college my freshman year, I was in the Dean's office and was looking for the pathway to become a math teacher," she said. "He looked at me and said, 'women don't become math teachers.' If he would have said that – it wouldn't have flown a few years later."
Teaching kindergarten-primary was her second choice.
"In retrospect, God is good. He guides us where we're supposed to be," she said.
Beyer graduated college while still a kid. She went to a small, country school where the teacher dictated when kids began attending. To avoid Mary Jane being the only first grader in her class, the teacher convinced her mother to let her start early. Beyer graduated high school when she was 16 and finished college in three years graduating at 19.
Despite having retired 27 years ago, Beyer continues to make impacts on the growing minds of fortunate children in Frazee.
"Through my sorority, I buy a book and go to the school and read it to the first grade classes, just things like that," she said.
She also continues to teach release time at Bethlehem Lutheran Church.
"To keep in touch with kids," she said.
The Beyer family also contributed to last week's record-setting awards nights at the high school where nearly $80,000 was given to students in the form of scholarships. One being the Leon Beyer Memorial Scholarship that was awarded to Allyson Bessler, in memory of Leon, who passed away a year ago.
Mary Jane will always be remembered by a half-century of lucky Frazee-Vergas students for her sweet and understanding nature. She is the perfect person to introduce learning behaviors for kids just beginning school or enjoying a break from school at the church. She has another sweet side to her. Beyer related information for this story from her kitchen which was filled with the aroma of baking and there were cookies everywhere.
"I do a lot of baking for things at the church; I like doing it," she said.
Those cookies have a destination as the Bethlehem Lutheran Women's Missionary League is hosting a Cookie Walk Sunday, April 30, from 8-10 a.m., or as long as the cookies last. All profits will go to Bethlehem Lutheran Church youth to attend Lutheran Island camp later this summer. The cookie walk will feature traditional and decorated cookies, $6 for a one pound box.
Bethlehem Lutheran Church is located at 210 East Maple Avenue.