Deep meanings continue dance studio success
NewsSports | Published on April 25, 2023 at 3:27pm EDT | Author: frazeevergas
0
NLDA Elite team qualifies for nationals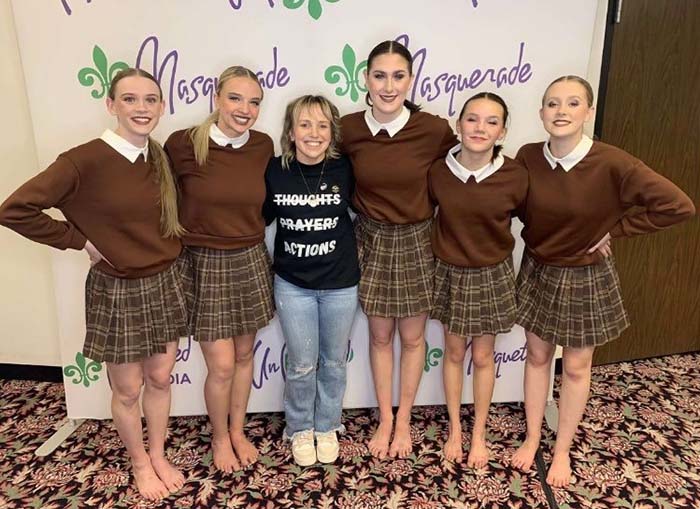 By Robert Williams
Editor
The Northern Lights Dance Academy's (NLDA) elite team collected a pile of titles, including the grand championship at the Triple S Regional Dance Competition March 31-April 2 at the Simley Performing Arts School in Inver Grove Heights.
The win automatically qualifies the team for Nationals in June.
The recent successes on the national stage are the results of negotiating a learning curve, figuring out how to be a better team and work together.
"I think the biggest thing is we've learned from our mistakes," said NLDA competition director Kiala Velde. "We've had some tough years and it's been my mistakes and even the team camaraderie. We've had issues and we come back every year and I feel like it's gotten easier. We know what we want and what our common goal is."
Velde has carved out a niche with her dancers by attaching meaningful and topical subjects to be interpreted through dance at competitions. Last year's "The Village" was created in honor of Velde's cousin's transgender son who ended his life last summer. It also has a personal meaning to the dancers after a Frazee-Vergas high school student ended their life last spring. That performance got the academy, Velde and the dancers national recognition at the Industry Dance Awards in Los Angeles.
This year's winning performance is "Thoughts and Prayers," with the topic being school shootings.
Velde's dancers appreciate the deep meanings behind their performances and the thought process that goes into the meaning and the choreography. Senior dancer Marcella George has been an NLDA dancer since she was two-years-old and a part of both winning performances over the past year.
"It's been really fun to tell that story and now getting to tell this story," said George. "She's (Velde) just so good at not being scared and she's very passionate; the message needs to get out there and people need to understand what's going on."
Being on the elite team is not all about fun. It's a serious spot to fill and there are times when technique and ability are outweighed by personality. There needs to be a perfect fit with everyone involved and a combined willingness to learn.
"It is a meshing thing, some dancers I know just won't enjoy that elite team," said Velde. "We have to put our ego aside and just do what's best for the team."
"We're so hardcore," said George.
Much of the team's success starts with the ability to be critiqued constructively on their performances from Velde and as importantly, fellow team members, even younger dancers.
The team that performed "The Village" last year is nearly identical to this year's team. Nobody brand new was added.
According to Velde, last year's team was not the most talented she has coached, but their team unity was so strong it translated to their performances.
"It's so important for us to have that bond," said George. "This year, we've made it a priority to have meals together and holiday team building moments together."
Joining George on the elite team are Stella Hunt, Hailey Selly, Paige Royer and Natalie Tusow.
The team also engages in journaling, among other group activities, and George noted how welcoming Velde makes the studio for the dancers.
"It's a whole 'nother family," George said.
The team has received random emails, Facebook posts, and international communications from other teams and dancerson how much "Thoughts and Prayers" meant to them.
"Even one of the judges said thank you for bringing this topic up," said Velde. "We haven't seen any negative comments."
Velde cites the fact that they are not taking on the gun control topic head on, especially, coming from an area renowned for hunting. It's about the reality of the subject, especially for the dancers.
"They go to school and they think about it," said Velde.
Both Velde and George admit the dance is morbid, there are guns cocking, gunshots in it, and stampeding feet and scenes from a school shooting. That morbidity is a big part of the plan and the purpose.
"I wanted it to be uncomfortable," said Velde. "These kids live with this every day."
"We wanted to leave them shook," said George. "And 100 percent, we're more in our feelings and emotions when there is something with that big of a meaning behind the music. I don't ever want to stop trying to make an impact on the world we live in."
The team had a second dance at Triple S titled, "What was she wearing?" about rape, sexual victimization and trafficking. That was the dance that netted the team the grand championship trophy.
The intense meaning behind their dances can sometimes have unusual effects on the audiences.
"You get done and then there is that silent moment where people don't know if they should clap," said Velde.
Regardless, both dances were effective as right behind "What was she wearing?" in the top spot from the judges was "Thoughts and Prayers."
Dancers also perform individually and NLDA dancers took nine of the top 10 solo spots.
"Obviously, awards are part of the fun," said Velde. "We did really well."
Building a winning culture at the academy is multi-faceted with deep meaning behind performances balanced out by a light-hearted safe space at the academy on top of knowing just how hard the girls have to train to reach such heights as regional championships and trips to national competitions.
"We never go in like we're going to get first place," said Velde. "We go in to try our best to get there. You're part of a legacy and this is what we came here to do, but you can't expect to win. Every day is a different day and every judge has a different opinion."
The Triple S Nationals will be held at The Wilderness Resort in Wisconsin Dells June 25-29.