Frazee HS students receive record amount of scholarships
News | Published on April 25, 2023 at 3:41pm EDT | Author: frazeevergas
0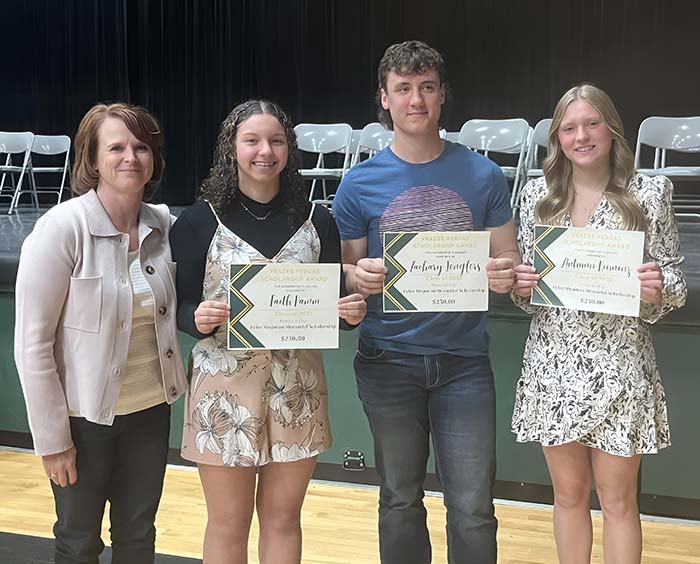 A record amount of money totaling $77,600 was given to Frazee-Vergas graduating seniors in the form of scholarships during the Class of 2023 Awards Ceremony on Monday, April 17 at the high school.
"Congratulations to all of our amazing Class of 2023," said counselor Ta Fett. "It is very humbling to see how much our community organizations, businesses, and personal donors give to our kids. And these kids were so incredibly grateful!"
Scholarships were given to 26 different Hornet seniors.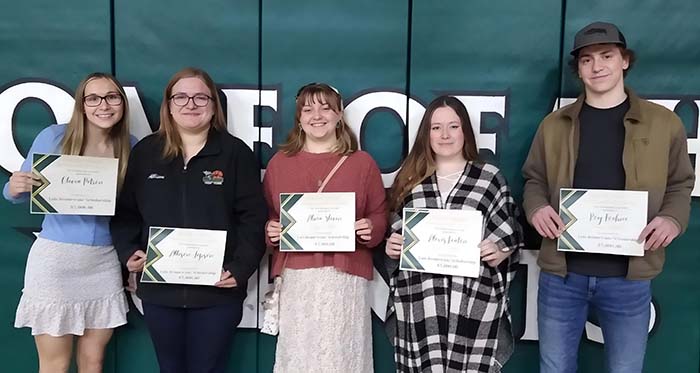 Alexa Mickelson – $750 Detroit Lakes Noon Rotary, $1,000 All in All
Alexis Heaton – $500 SSG Greg Riewer AmVets Post 612, $500 American Legion Auxiliary Unit 15, $250 Frazee VFW Post #7702, $5,000 Lois Rennewanz Scholarship
Allison Jepson – $500 United Community Bank, $5,000 Lois Rennewanz Scholarship, $500 Rodger Palmer FFA Scholarship
Allyson Bessler – $500 Leon Beyer Memorial Scholarship, $1,000 Frazee Lions Club
Alma Slevin – $5,000 Lois Rennewanz Scholarship
Autumn Hiemenz – $250 Tyler Shipman Memorial Scholarship, $1,250 Buhr/Medina Family Scholarship, $500 Vergas Insurance Agency, $1,000 Frazee Lions Club
Bailey Heinz – $500 Frazee Area Action Fund
Bailey Larsen -$1,000 Frazee Lions Club, $2,500 Buhr/Medina Family Scholarship, $350 Delores Smith Memorial Scholarship
Daniel Graham – $500 Frazee Education Association, $1,000 Frazee Lions Club, $1,000 Vernon and Helen Daggett Memorial, $1,250 Buhr/Medina Family Scholarship
Emily Aschnewitz – $500 Wolf Lake VFW Post #8165, $500 SSG Greg Riewer AmVets Post 612, $250 Frazee VFW Post #7702
Faith Hamm – $250 Tyler Shipman Memorial Scholarship, $750 Staff SGT Greg Riewer Memorial, $1,000 Vernon and Helen Daggett Memorial, $1,250 Buhr/Medina Family Scholarship
Gage Post – $500 Frazee Area Action Fund
Hunter Lyman – $500 Frazee Area Action Fund
Jake Nagel – $750 Detroit Lakes Noon Rotary, $500 Lake Region Electric Cooperative
Kale Ovsak – $2,500 Midwest Bank, $500 Vergas Lions, $500 Spanky's Stone Hearth
Kate Vigen – $2,500 Steve Daggett – Class of 1987, $1,000 Vernon and Helen Daggett Memorial
Krysten Halverson – $500 Frazee Education Association, $500 United Community Bank, $500 Donald and MIckey Eveslage Memorial
Madison Kern – $1,500 Lakeside Lodge Order Odd Fellows, $1,000 Detroit Lakes Breakfast Rotary
Madison Olson – $1,500 Detroit Lakes Breakfast Rotary, $500 Donald and Mickey Eveslage Memorial
Marcella George – $500 Vergas Lions, $250 Frazee-Vergas School Board, Super, $1,000 Vernon and Helen Daggett Memorial, $1,250 Perham Rotary Club
Max Matejka – $500 SSG Greg Riewer AmVets Post 612, $500 American Legion Post 15, $2,500 Buhr/Medina Family Scholarship, $500 Frazee Knights of Columbus
Max Rue – $500 Frazee Area Action Fund
Melody Justnes – $750 Detroit Lakes Noon Rotary, $1,000 Essentia Health St. Mary's, $500 Vergas Lions, $500 SJE Foundation, $3,000 Royale B and Eleanor Arvig Memorial
Olivia Petron – $5,000 Lois Rennewanz Scholarship, $500 Vergas State Bank
Roy Hoehne – $5,000 Lois Rennewanz Scholarship
Zachary Longfors – $250 Tyler Shipman Memorial Scholarship, $1,000 Frazee Lions Club, $500 Donald and Mickey Eveslage Memorial, $1,250 Buhr/Medina Family Scholarship
Total amount of scholarships $77,600