Fett Racing Sno-Cross season ends on a high note
News | Published on May 2, 2023 at 4:21pm EDT | Author: frazeevergas
0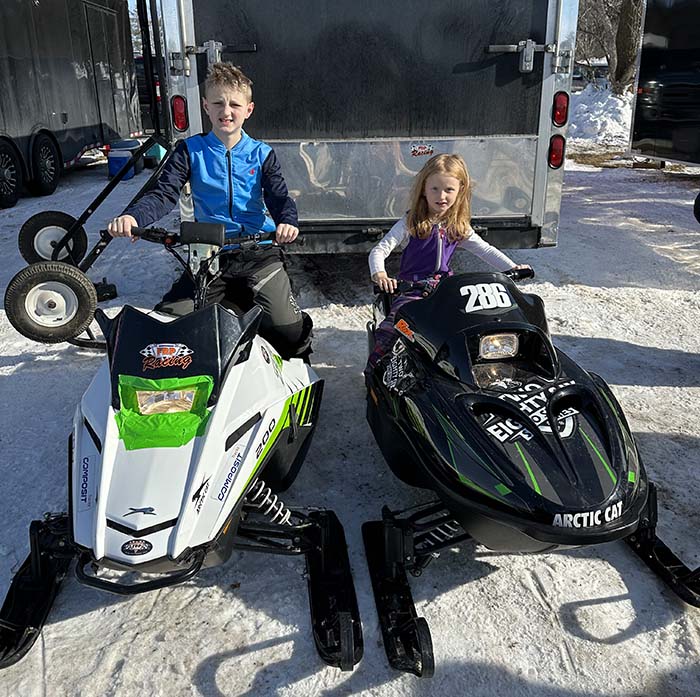 Fett siblings Chase (age 10) and Ivy (age 6) closed out the snowmobile race season on February 26 in Perham. They compete in the Two Eighty Six Sno Series which puts on 14 races at 4 different venues in the surrounding area. Each Saturday and Sunday is a separate event with trophies and points awarded each day, the points going toward year end Hi-Point Awards. Racing in Fargo, Fertile, Perham (two weekends each), and Finley, ND starting November 26-27 and ending February 25-26 made for a busy winter.
Chase races a pair of Arctic Cats, a 2018 ZR200 and a 2016 600SXR, and started the season with apprehension and it showed in his placings. With more practice and the advice/tuning of his experienced crew, Dad Spencer and Grandpa Dale, he started to spend more time on the podium.
Ivy watched the first weekend and then decided to try it on a rented Arctic Cat ZR120. She started in the Zoomies (beginner class to teach riders to understand flags and handle a sled in a close group) for 4 races before being moved up to the Amateur 120 where she has steadily improved.
Year-end overall finishing positions:
Chase
200 Stock B: First 
200 Ages 8-10: First
600 Ages 8-10: Ninth
600 Jr. C: Tenth
Ivy
Zoomie: 3 – Firsts, 1 – Second
120 Amateur Stock: Tenth
They will be attending the Year End Banquet and Awards at Thumper Pond in June. They would like to thank their parents, Spencer and Becca Fett, Arctic Cat, B&D Asphalt Maintenance, and Fett Brothers Performance for helping them achieve success in the competitive world of snocross racing. Check out their Facebook page Fett Racing for pictures and updates.