Ludtke honored by United Way
News | Published on May 2, 2023 at 5:02pm EDT | Author: frazeevergas
0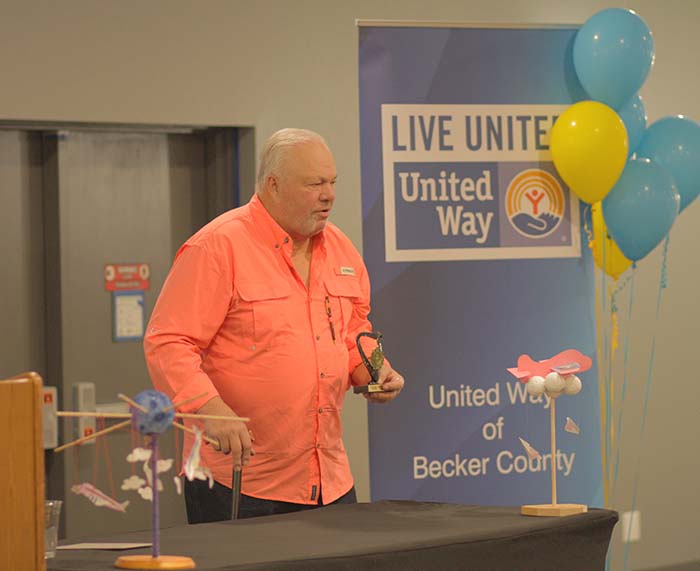 By Robert Williams
Editor
There was a big secret around Frazee over the past week that was finally shared with the one person who could not know what was happening on Thursday, April 27. Hank Ludtke was honored, in Detroit Lakes with the United Way of Becker County's Everyday Hero award.
Ludtke related his version of the secret during his acceptance speech, which on a personal level was a ruse. His daughter Samantha pulled off the surprise by claiming Hank had to attend a work function with her in Detroit Lakes.
"We got here and she said, 'Oh, it's next Thursday,'" said Ludtke. "I had something to do with Neighbor to Neighbor and they wanted me to come today, but I said, no, I have something I have to do with my daughter. So, here I am completely blindsided."
The Everyday Hero award is bestowed upon the community's unsung heroes—people who are looked up to, who inspire, and who quietly go about making a difference in the lives of others.
"It's not just me. There are all kinds of people who do this stuff everyday that make the whole area better and bless you for doing it," said Ludtke.
Ludtke's award introduction was a lengthy list of his many different titles, organization affiliations, and various contributions and volunteer efforts he does for the Frazee and Vergas communities and the county. He received a standing ovation from a packed room.
"There are a lot of people here who are more deserving than me who have come and gone over the years, but I really appreciate it and it's a big surprise," he said.
The award has been presented since 2002 in both an adult and youth category.
Past Everyday Heroes
2002 Joy Peterson
2003 Marcia Otte
2004 Brenda Houts
2005 Linda Livingston Wiedewitsch
2006 Cindy Sauer
2007 Tammie Jenson
2008 Sue Berg
2009 Becky Williams
2010 Michele Baker
2011 Rick Strozyk, Jeff Swanson
2012 Coleen Voeltz
2013 Amy Erickson, Ron Sprafka
2014 Diane Midthune
2015 Jay & Leah Schurman, Deb Tucker
2016 Marvin Anderson, Keith Heinlein, Laverne (Max) Maxwell
2017 Pat Benson
2018 Bobbi Jo Koons
2019 Duane Dunrud
2021 Terry Eiter
2022 Molly Fairbanks