Moen takes over GROW Frazee Vergas 
News | Published on May 2, 2023 at 5:04pm EDT | Author: frazeevergas
0
Coordinator advocating for students and parents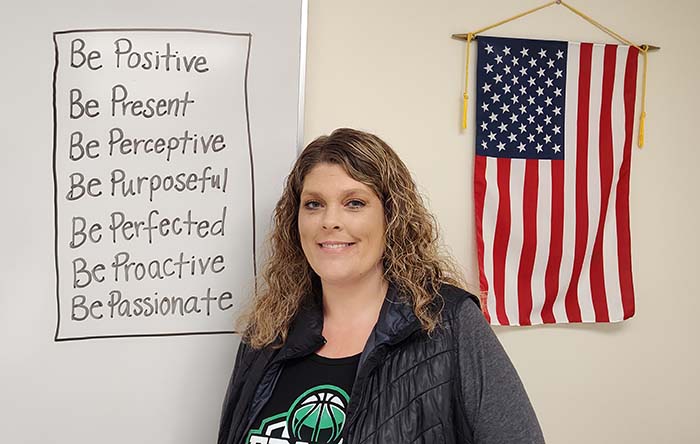 By Robert Williams
Editor
Heidi Moen is the new Positive Community Norms (PCN) grant coordinator and GROW Frazee Vergas (GFV) facilitator at the high school. She takes over for the grant's original coordinator LeeAnn Felix, who resigned in February.
The Frazee-Vergas School District received a PCN grant from the Minnesota Department of Human Services-Behavioral Health Division July of 2021 and a steering committee (GFV) has been working on how to best utilize the funds of the five-year grant to benefit youth in the surrounding community.
"There was a little bit of catching up to do, but because I had background in the grant and I was familiar with it, it was a pretty smooth transition," said Moen.
Moen was already on the GROW Frazee Vergas coalition board prior to Felix's resignation. Moen's background, and she brings 25 years of social work experience to the position having worked as a program supervisor for the Becker County Developmental Achievement Center and as a children's and adult mental health case manager at Solutions Behavioral Health in Detroit Lakes.
Moen has worked at the school the past two years as an administrative assistant to athletic director Nick Courneya. Part of taking that position was to dial down some of the work she had been doing to concentrate more on her family. Ironically, however, and the right timing, presented this opportunity.
"It's kind of funny because I took a step back when I came to work for the school," she said. "My youngest was going into seventh grade and my husband and I had decided that I was going to slow down with my career and focus on my youngest. My oldest is 24 and my youngest is 14 and I wanted to spend more time with my youngest."
The grant coordinator position presented itself and the couple had another discussion.
"It opened up and I thought about it," Moen said.
The timing was perfect with three years remaining on the grant and that would be the same timeframe for her daughter to be a senior at the high school.
"My husband said, 'You love being at the school and love working with the kids,'" said Moen. "It's my passion, community stuff, empowering the youth and parents. It's not about me. It's about them. It's their ability to change things, not mine."
Moen has made a change in creating safe spaces for students before and during school, turning her room at the school into a place for kids to gather. Combating substance abuse is at the core of the grant and GFV. Creating spaces for kids is a big part of that.
"That's part of my letting them know that they have a place and spot to be," said Moen. "It's one of my intentional things in hopes of reducing vaping. It's just kind of a safe space."
Another change is with the GFV steering committee. Moen has taken a facilitator role to those meetings which are run by former Frazee police officer Ryan Seeger and Essentia Health's Katie Poppler.
"The coalition meeting will be more community and parent-driven and run and I will just be there to give information," Moen said.
Having only been on the job for a fortnight, Moen is taking steps to introduce herself to the surrounding communities by attending city meetings in Frazee, Vergas and Wolf Lake to reintroduce the grant and what it is doing to positively impact those communities, along with visiting local businesses.
She has been spreading the GFV youth group's message of My Voice is Powerful (MVP) during the past week after the year anniversary of a student's death and the week before prom.
"I just stood out as they were walking into the school in the morning to greet them, offer them a bottle of water and a positive message letting them know how important they are and reminding them we're glad they are here and I couldn't wait to see them next Monday morning to because prom is this weekend," Moen said.
The response was positive feedback from kids.
"You wouldn't believe how many kids said later in the day that it was cool," Moen said. "Teachers, too, just reminding people that they are important, we want to see them and their voice matters. That's really, in essence, what the PCN grant and GROW is all about."
Getting parents involved is another aspect that Moen is concentrating on.
"We know parents care; they can be involved and make this work too," said Moen. "There is not one person that can fix every problem and you're not going to be at 100 percent. That's a misconception, but if you can reduce things one at a time, or work together. We don't have to be a positive Polly, but we don't have to be a negative Nancy. Let's meet in the middle and if you care about your community and you're raising your kids in this environment, you need to be part of the solution, not part of the problem. It's about the students and the kids' future and that's what I'm invested in."
With area youth organized and invested in GFV, the coming months are going to be about parental involvement for the coalition.
"I understand we may face some adversity, but when you've worked in the fields I've worked in, I'm ready for it, but I also understand that it's all in your approach," said Moen. "It's not a blame game and I'm ready to embrace the parents' ideas on what they feel the problems are and look forward to hearing their answers as to what we can do as a solution. Everyone has a passion and more than likely, it revolves around something with their kids. It's teamwork; it really is."