Noah Lamont flies in the face of career transitions
News | Published on May 2, 2023 at 4:50pm EDT | Author: frazeevergas
0
Frazee native sells glass business, becomes flight attendant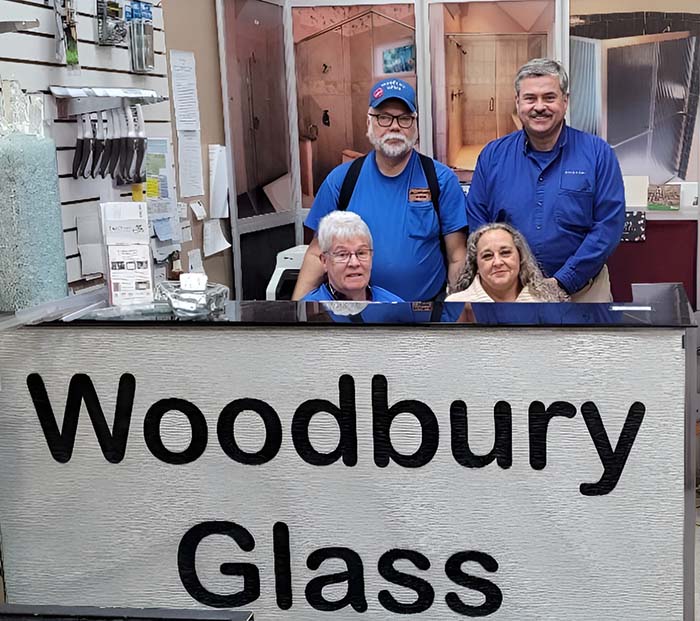 By Lori Fischer Thorp
Correspondent
Trying to transition upstream when he began college is Noah Lamont's explanation of his name change.  ¶  Anyone who attended Frazee-Vergas schools with him prior to his 1982 graduation likely remembers him as "Jim," which was also his dad's nickname.  ¶  When the eldest Lamont child headed to Minnesota State University-Moorhead, though, he adapted due to computers.   ¶  "The roster comes out with your name on it," he explained, and that name was "Noah."  ¶  That flexibility to pivot on something as essential as one's name is one of many times Lamont has recognized an opportunity for change.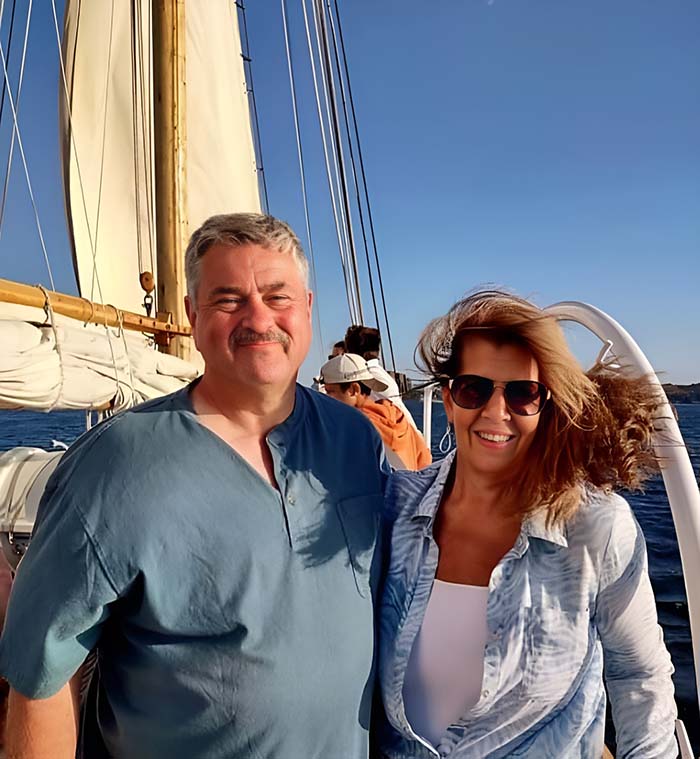 ¶ The Maplewood man has leaned into unique solutions throughout his work life, which ranged from working for an insurance company, to learning the glass business, to becoming a flight attendant. ¶ Early in his career, when he was in the insurance field, "the internet was just being born at that time. One of the things adjustors all had to do was claims, all pen on paper. You had to fax it to a glass shop. We didn't have emails at the time, but we had fax machines," he said.
Lamont saw an opportunity to streamline the task and created a website to step up the process.
Along that path, he met someone who owned a glass shop.
"I learned the glass business from him," Lamont said.
He wasn't interested in working with auto glass, so he focused on glass for houses and other structures when he launched his own business.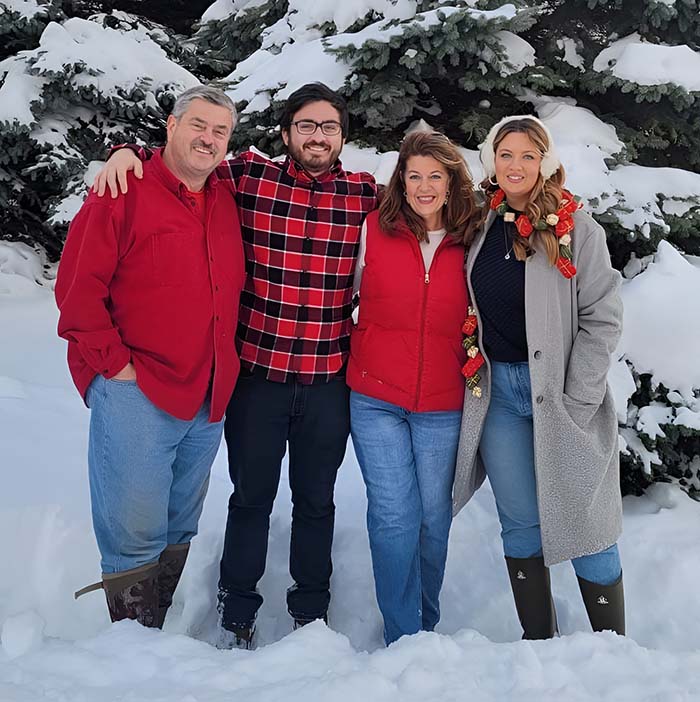 Woodbury Glass began in Lamont's garage with one employee, then grew to need bigger space, and still bigger space, and then a store front.
"You just keep showing up for 24 years, and then one day you're wondering wow, where did all that time go?," he said.
While his business was young, so was his family with wife Chris.
"When you own your own business, you have great flexibility depending on how busy you are," he said.
With that comes opportunities to do things such as "take the kids to school, but your total time invested is twice that of working for someone else," he said, and the challenge becomes balancing to get work tasks done.
He said he thinks about the concept of many new businesses failing in the first year as not so much failing "as people realizing the high volume of time needed." Groundwork laid in Frazee, in the early days of Computer Science classes, helped pave the way for his company to establish itself.
"One of the reasons why my glass shop was successful—even though we were tiny fish in comparison to the big players—was the website," he said.
Especially in the first five years, he added, "here in the cities, the yellow pages was the big thing" to generate business connections.
"If you were in there, you got business. God help you, if you ever signed up with them and tried to reduce your bill," he said.
Then, the advertising world began to change, and Lamont's company website led to more inquiries than Woodbury Glass could fulfill.
"When you're a small business, you can't take all of them," he said. "Some of the big jobs, no way could we do them, but they were nice to think about."
Chris retired from her career in 2020, and their children Rachel, now 27, and Charlie, now 23, had no interest in taking over the glass business. Lamont found himself needing not only health insurance coverage—which had been included in Chris's when she was employed—but also a change from the concerns of business ownership.
Then, within a week three people suggested to Lamont that Endeavor (formerly Mesaba Airlines) was hiring for airline attendants and has good benefit coverage.
"I wasn't hunting for a solution," he said, "but this thing crossed my path."
He applied, was hired and attended a full month of training in March 2021.
"Right then, there was hardly anybody on the flights, just four, five, six or maybe 20 people. It was just a different time," he said.
"The industry being what it is, there is a tremendous amount of flexibility," he said, including the ability to trade schedules. "It's unbelievable sometimes" how much latitude is given to scheduling, "and other times not. Midsummer is always super busy," he said.
"Seniority is everything," he added. "We only have 2200 employees, so I'm already about 50 percent seniority," due to a hiring gap lasting for about a decade.
In contrast to the glass business, where he said customers have extremely high and sometimes unrealistic expectations, such as not understanding that "repair" does not mean total replacement of a door, flying has yielded "very, very few customer concerns."
"For the most part, people are just happy to get out," he said. "They tend to be business people and families."
"In two years of flying, I had exactly two people who needed TSA involvement," he said. "99.9 percent of it is just being helpful. People are out of their element, they don't do this every day," they're in a strange world of luggage checks, and various airports, "worried they're going to miss their flights."
Some trips include short flights – such as going to Minot, N.D. six times in a day, "but it changes," he said, depending on the needs of flyers. Other destinations are farther away, such as New York City, N.Y.
"It's not all little, short flying," he said.
As he began flying, Lamont kept considering potential sale situations for Woodbury Glass, but each encountered barriers.
"Finally, after flying for about a year, I decided to pay money to a brokerage firm to help sell the business," he said.
That was the key to finding a buyer and getting through the Small Business Administration process, which took about six months.
"If it hadn't been for that brokerage firm, there's no way we'd have ever gotten that done," he said.
The process was completed this past Thanksgiving.
"I was thankful to sell that damn thing," he said.
Part of the essentials were that two long-term employees' situations with the new owners were ensured.
"We accomplished that," he said. "The new owner's doing his best to pick up where I left off, modernize, and add his own ideas. It continues on."
Now, he and Chris will be able to realize their dream of more travel.
It's a habit the Lamont family grew up with, both before, during, and after the four decades when they were a fixture in the Frazee-Vergas community.
"We were in Yellowstone when Mt. St. Helen's blew up," Lamont said. "There was ash all over everything. We had to turn around and head home."
He was the oldest of four children, followed by siblings Sara, Josh, and Jared. The family had moved to Frazee when their dad, Jim, was Frazee's school superintendent. Along with his wife Melva, the elder Lamonts were active volunteers in many local organizations.
"After his retirement from the school district, Jim "had about 71 jobs all at once," his son said. I'm doing something like that now," he joked.
Jim Lamont passed away in 2020, at age 89. Melva, 92, lives in Sartell, where she's still an avid reader and enjoys photos of and visits from her family.
When Noah and Chris Lamont are featured in the photos, they're often on a trip, which typically includes a place that has warmth when Minnesota does not.
"I've been in all 50 states," he said, and somehow—just hours from Minnesota's southern border—Chris has not been to Iowa.
Nor has she been to Italy, which Lamont said is next on the list.
"We have to see where her people came from," he said.
Sara Lamont was visited in Alaska by her parents and other family members on an RV trip which included a day cruise.
"It's been a while—we should go back there, too. Put that on the list," Lamont said.
After those locations have been toured, "we're going to work on continents," Lamont said.
"We haven't been to Asia, Africa, or South America," he said.
The next destination will be "whichever one's got the most seats open on the flight coming back. First, you have to make sure you can get home."