Vigen paces golfers in opening meet of the season
Sports | Published on May 2, 2023 at 4:25pm EDT | Author: frazeevergas
0
The boys finally got to get outside and swing a club. 
The golf team had gone out the day before and taken the green covers off and played 4 holes without putting and dodging snowbanks. The boys did well with little preparation at the Pelican Rapids meet.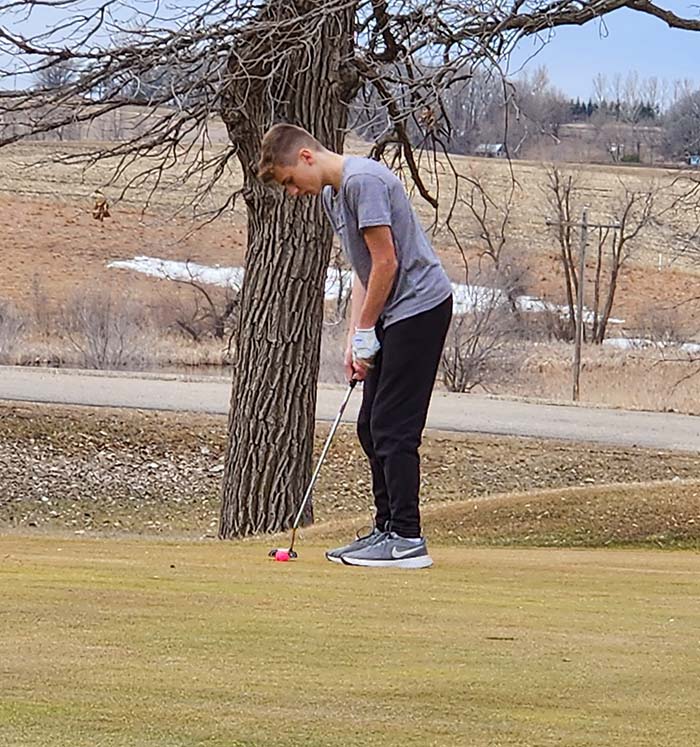 Adam Vigen led the way with a 92. He started strong with a 42 on the front. The weather changed and with him wearing shorts he ran out of gas, but still shot a respectable 50. 
Ben Reierson was second on the team with a 93. He was pleased with his round but felt he could have done better. The penalty strokes for out of bounds on the back nine made his score balloon a bit. He is a seventh grader so nerves may have played a part also. 
Cayden Wallin, a freshman on the team, shot a 107. His round was a little different than the other guys. He went out with some nerves early and shot a 60, but followed it up with a good score of 47.
Gavin Pope, another freshman, was steady on both rounds with a 111. He is a weightlifting phenom that is dedicated to getting better on the course. He had one stretch of three holes that made his totals get higher than he wanted. 
Max Rue, a senior, who decided to try golf this year shot a 112. He said he was nervous playing competitively, but head coach Jason Reierson said he thought he got the nerves out and showed good self control. He also suffered from a rough patch of holes which moved him away from his goals. 
Danny Winn is also trying golf for the first time this season. He said he is focusing on having fun and improving this year. He ended up shooting 133 on the day. 
Overall Reierson was very pleased with my guys. With more practice and better weather things will improve.