Berube named as President at VSB
News | Published on May 9, 2023 at 4:24pm EDT | Author: frazeevergas
0
Berube has served as Senior Lender for 15 tears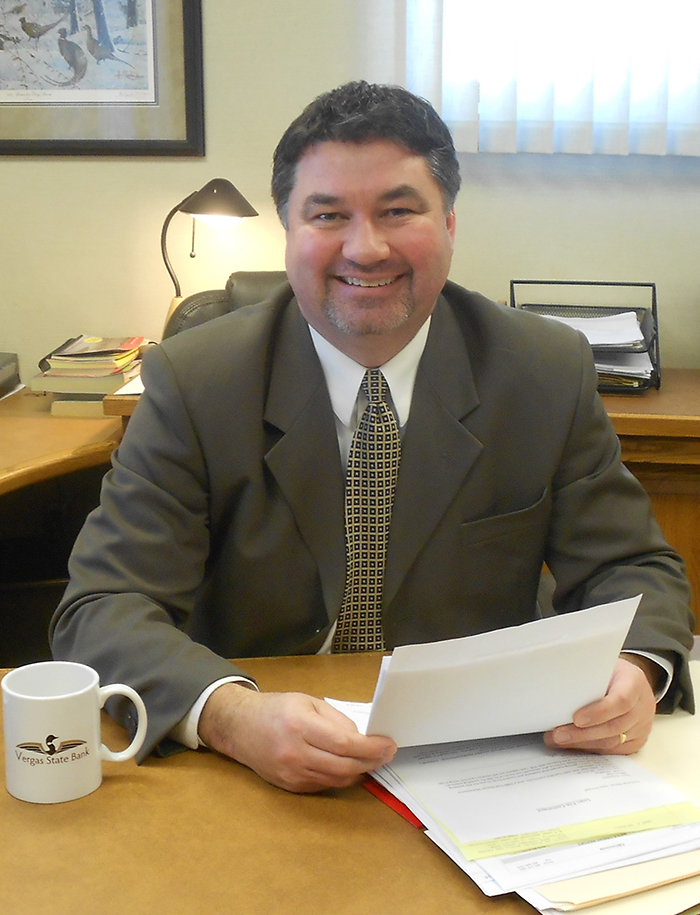 Lee Dahlgren, Chairman of the Board of Directors at the Vergas State Bank would like to announce that Senior Lender Daren Berube has been promoted to the position of President of the Vergas State Bank. The Dahlgren Family, owners of this Independent Community Bank, are pleased to have someone with the many years of banking experience that Daren has, to guide us into the future. They also take this opportunity to thank their loyal customers for entrusting us with their financial needs. 
Berube has served as Senior Lender for the past 15 years and has extensive experience in all types of lending and in particular Commercial and Residential Real Estate Mortgages. His banking career began at Pelican Valley State Bank in 1990. With 33 years of community bank experience, he brings that much needed voice stressing the importance of Community Banking especially in our rural areas. He joined the VSB Board of Directors in 2009.
Throughout his career, Berube has held various bank leadership and management positions. He brings a diverse knowledge of banking and finance to VSB. He has earned a reputation as being a solid and honest leader who strives to create a positive working environment for his staff and customers. Berube truly leads by example and has a passion for Community Banking with plans to build on the Vergas State Bank stability that has been vital to Vergas Main Street for over 100 years. 
"The Board of Directors has put a lot of faith in me and I am excited to get to work for the family-owned bank, for the Village of Vergas and surrounding area." Stated Berube.
A small-town boy from North Dakota, Berube is an avid Bison fan graduating from North Dakota State University in 1989. He and his wife Jennifer have 3 grown children, Alyssa, Mason and Madalin and are excited to welcome their first grandchild this spring.
Vergas State Bank is a locally owned bank that has provided financial services to the Otter Tail and Becker County area since 1909. FDIC Insured.