Buhr, Jepson earn State FFA Degrees
News | Published on May 9, 2023 at 4:39pm EDT | Author: frazeevergas
0
By Robert Williams
Editor
Frazee-Vergas High School seniors Allison Jepson and Jonathan Buhr earned State FFA Degrees this year. The degree is given to the top members of the State FFA Association and requires proven accomplishments in nine different categories from scholastic performance and finances to leadership ability and community service.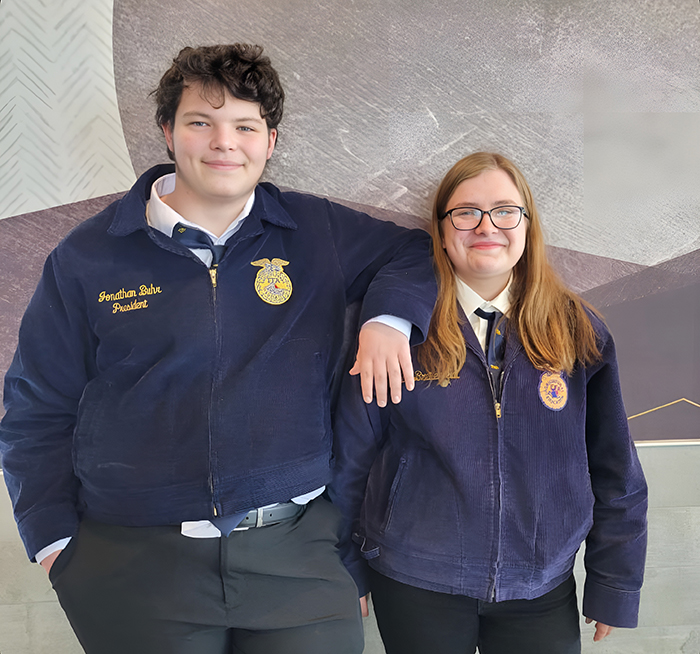 Buhr will be attending North Dakota State University pursuing degrees in architecture and engineering. Jepson is headed to the University of Minnesota-Crookston in the fall to study agriculture education with hopes of becoming an agriculture instructor.
"Jonathan has been the chapter president this last year and he's shown a lot of leadership," said ag iInstructor Trescha Mitchell. "I've sent him to a variety of leadership camps. He's got a very unique supervised agricultural experience to get his state degree. He's worked at SJE Rhombus, but a lot of his hours came from volunteering through robotics, FFA and the community. Allison, she's done it more traditionally, with her goats and the farm side of it. She hasn't really become truly, really active until the past couple years, which has been just awesome to see her blossom."
Both students have created impressive portfolios in acquiring the highest degree possible in high school. Post graduation, both can work toward the coveted American FFA Degree.
"Not many people get it," said Buhr. "Just your state degree is hard."
"It takes a lot of time," said Jepson.
FFA students need to earn specific degrees to get to the state level and those begin early in high school, or even middle school. Those degrees include the Discovery, Greenhand, and Chapter FFA Degrees.
"To do it right, you should be starting right away," said Buhr. "I was doing stuff with robotics and community service when I was a seventh grader."
"Seventh and eighth grade year are pretty much practice runs," said Jepson. "Ninth grade they start qualifying for state and you figure out what you like and compete in it through 12th grade."
Jepson took a somewhat laissez faire approach to a state degree until Mitchell asked her if she was going to get hers.
"I said, 'sure, let's do it,'" said Jepson. "It would have been a lot easier if we started filling stuff out in seventh grade with Mr. Hammer, but when I heard we were the only two, I was like, really? It's a lot of work but it's not that bad."
Buhr started during his junior year and credits his advisor for the motivation, as did Jepson.
"The reason why is because Mitchell pushed us," said Buhr. "I never thought I'd get to where I am today when I was a little eighth grader, but she definitely helped us get there."
"Pushed us out of our comfort zone all the time," said Jepson.
Mitchell has seen both students morph from middle school kids to leaders that are now influencing those younger grades.
"Seventh and eighth grade, Jonathan wasn't a stellar student," she said. "He had some anger issues and stuff like that, but being able to find his niche and finding what he has a liking for and how he can excel at that. Between robotics and FFA, I feel like those really drove him and kept him grounded here at school," said Mitchell. "Seeing all these seventh and eighth graders look up to them, like Jonathan, they can see where you can go and the potential. "They can see all the things Jonathan has done. He was at the capitol rubbing shoulders with legislators, just super cool to see these kids have that opportunity."
Jepson took a straight route from her homelife to pursuing a future in agriculture.
"Allie comes from a farm background and her mom is very supportive and dad pushes, it's one of those things where you have a traditional family," said Mitchell. "Knowing that she is going to become an ag teacher, that's pretty cool," said Mitchell.
Coming to that decision took some time.
"I have changed a lot; when I was in seventh and eighth grade I was telling myself I was going to be a vet and that's it," said Jepson. "In ninth grade, I learned more about the plant side of agriculture so I'm going to be an agronomist. This year, I got to spend time with the seventh graders and thought this is pretty fun. I can do this. I'm kind of excited to teach. Without FFA, I don't think I would have learned how much I like teaching about agriculture. It has pushed me outside my comfort zone. When I was in seventh and eighth grade I was like, there is no way I could ever be a teacher. Kids are too much. Mitchell has helped me do things I wouldn't have considered."
FFA has been a boon to both students and with the help of Mitchell, it has brought a focus for each on their futures.
"FFA definitely shaped me," said Buhr. "Ask anybody who knew me in eighth grade. I had no friends. I was one of the worst kids in the school. Mr. Hammer asked if I did anything for FFA and just said you're going to do poultry and it's in a week. Come in tonight and you're going to practice and that's all you get. I think I got last place, but FFA made me a leader; it gave me plenty of opportunities in the future and lots of opportunities now."
For Mitchell, watching her students excel is a justification for the work she does with them and the future is what she looks forward to.
"From the advisor standpoint, yes, it's great to see them in high school and doing those things, but it's the year 2, 3, 4, all the way up to year 10, seeing those kids and how they blossom and become members of the community," said Mitchell. "Money is not the factor in teaching, I love seeing kids become true successes."
Both kids give credit to the collection of ag instructors they've had since middle school, including Mitchell, and now retired advisors Ken Hammer and Doug Schwarzrock, both of whom are active in organizing and assisting the FFA alumni in Frazee. Those three instructors combine for a century of teaching knowledge and FFA experience.
"Now we've built a resume and have this structure for jobs and college and everything else that is to come," said Buhr.
Both Jepson and Buhr plan to enjoy their last summer before pursuing their careers, while expressing some reluctance to leave a school where both have found success and support. Those feelings are typical with graduation on the horizon, but both plan to be active these next few months before starting college.
"This summer, I'm thinking about doing more with the Becker County Fair," said Jepson. "I've never done anything with the fair but I've always wanted to. I always wanted to show cows or do some kind of showing. We're going to try that out and work and have some fun."
Buhr is returning to his job at SJE Rhombus where he utilizes his robotics background.
"I work in the PCA department where I put electronic parts on printed circuit boards," said Buhr. "It's like playing with legos, pretty much. I'll work there until I go back to college in August."
Jepson and Buhr will join the Frazee-Vergas FFA Chapter one last time as high school students at the annual banquet this week. More information on the local FFA program can be found at facebook.com/FrazeeVergasFFA.