Daggetts seek to impact by example
News | Published on May 9, 2023 at 4:30pm EDT | Author: frazeevergas
0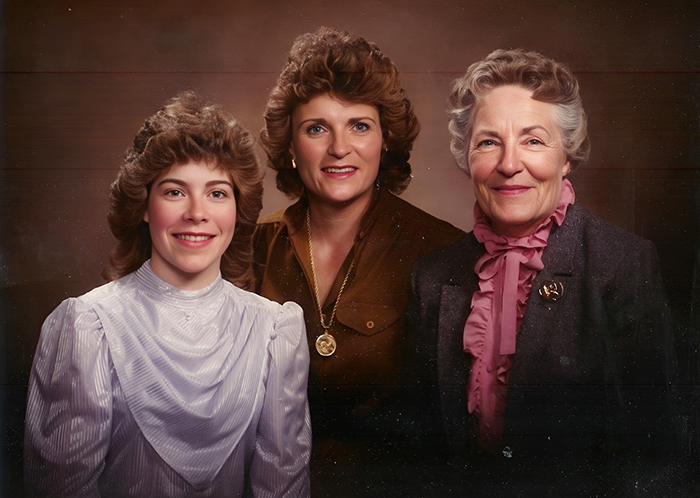 By Lori Fischer Thorp
Correspondent
Roxann Daggett and her daughter, Missy Daggett, are quick to point out, "We're not perfect."
"I'm so blessed to have such an amazing mom," Missy said, "but I wouldn't want to portray that we have everything figured out."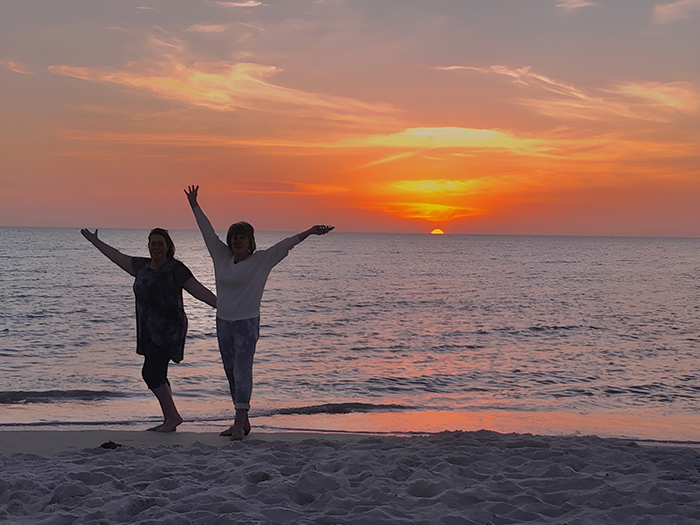 What they do have is a relationship that works well for them.
"I definitely love the word 'blessed,'" said Roxann, a 1965 Frazee graduate who lives in Naples, Fla. with her husband, Dave (FHS '61.) "I feel very blessed to have two wonderful children," Missy and Steve.
Missy's family includes husband, Jeff Clark, Nicollette, 19, and Charlie and Lainey, 17.
Steve and his wife Michelle live in Detroit Lakes, where he is president of Midwest Bank, and she is President of Lakeshirts. They have a son, Adam, and two daughters, Marin and Helena.
The Daggetts are Frazee natives and spend summers on Wymer Lake. "My children are connected there," Missy said. "For a while, my kids just thought we were related to everybody on Wymer Lake."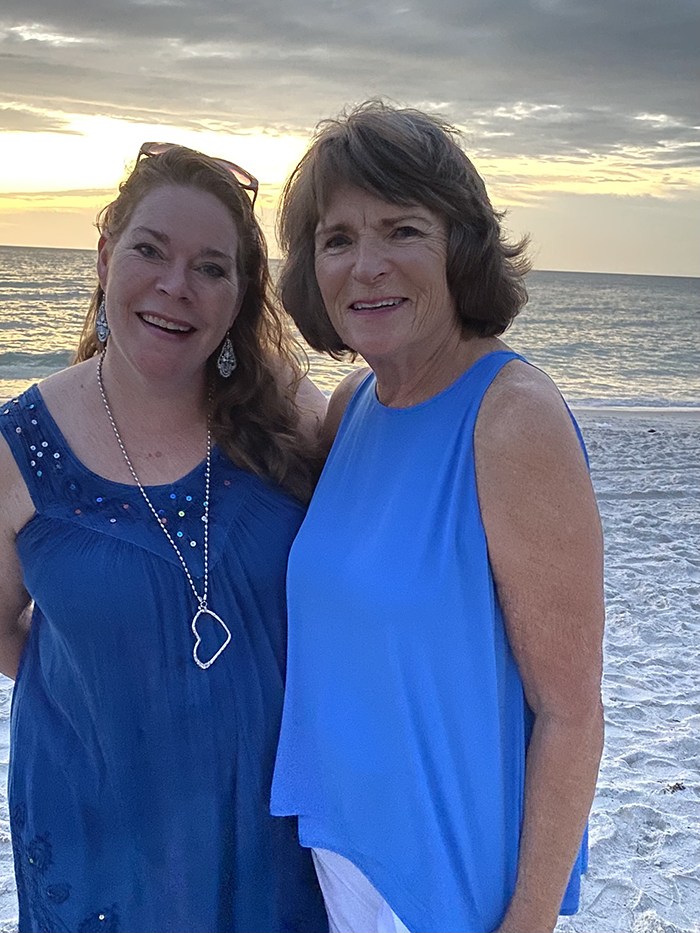 That small town balance is essential. "I said I will live anywhere as long as we still have a base in Frazee," she said.
Jeff and Missy (FHS '86) were living in Atlanta, Ga., when their children were born. Dave and Roxann would stop for visits on their way to and from Minnesota, and Missy would visit them in Naples "every chance I got."
On the day Missy said, "Mom, we're going to buy a house in Naples," Roxanne recalls thinking the social life they enjoy would become "a bit more limited."
That was disproved when Missy and Jeff relocated to a new community where Missy "became the social director for the community because her husband travels so much…God figures these things out," Roxann said.
She never thought Steve and Michelle would get a part-time home 10 miles away. "We can be with our family so many times," she said.
Missy said their message is about "the impact that a mother has. There's no relationship like the one between a mother and child…I know my mom and I are lucky, and I don't take it for granted. I speak to my mom and dad pretty much every day, and I get so irritated when they're travelling and I can't call them."
"At 53, I have friends who have lost their parents," she said. "I think of the things my mom has taught me. Faith is so important. She lives that by example, and I'm grateful that I've been able to follow that."
Roxann agrees the most important role of a mother "is to be an example to your children."
"My guidance in my life path comes from my faith in God," she said. "I want people to know that, because to me, that's the most important thing that I have."
Roxann's late parents, Vic and Minerva Anderson, gave her a solid groundwork.
"So many times," said Roxann, "you don't understand the reasons your mother might do certain things. Then, when you get to that point, you can understand why."
"I always knew she wanted the best for me," she said. "When I was getting my pilot's license, I knew my mother was praying the hardest."
Roxann cherishes her mother's statement in "a letter she sent me when I was in the legislature. 'I will love you forever,'" she said. "Even though she's in heaven, I know she still loves me."
Missy used that same phrase in a recent letter to Roxann and is confident it's mutual. "I know my mother will love me forever."
"It's a gift to have a mom who still looks out for you," she said, "to try to make your mountains into valleys."
It's important, Roxann said, to be able to share life's concerns "with someone you love."
Those concerns aren't always monumental. Missy said "My mom has been trying to convince me to fold the laundry right out of the dryer my whole life."
"I'll never be as organized as my mom," she said. "I run my classroom the way my mom would like me to run my house, but in my home life, I received my dad's more relaxed gene."
One helpful facet, Missy said, is "my husband actually likes my mom and dad." The four have travelled together, and despite some logistical stressors, "we still had such wonderful travel experiences with my parents."
Roxann was a stay-at-home mom, as were many of her peers. Missy works as a teacher. Looking back, she had expectations about her mother, and one story she shares might be typical of teenagers.
"I was in the library (at FHS)," she said, "and went to the payphone to call Mom. I needed something right away…She walked into the library, and later a friend commented that she'd never seen my mom dressed like that."
When she got home, Missy asked Roxann why she'd come to school wearing very casual clothing, and found out she'd been in the midst of cleaning out a closet under the stairs. "I realized then, 'Oh, you do have a life," Missy said.
Now, Missy marvels that Roxann earned her pilot's license when her children were small and Dave was "very involved at the (Daggett) Truck Line."
"I needed something," Roxann said. "I did it and I'm so glad I did, because it gave me the comfort to get out of the box, to have a challenge and accomplish that challenge."
That confidence led to becoming president of Minnesota's Jaycees Women (now Women of Today.) Her tenure earned the highest organizational state award attainable.
Later, she served in the state Minnesota legislature.
"My dad had a very demanding job," Missy said, but "my dad also supported my mom to do those things, because she set the example for me, to try things outside my comfort zone."
"I see that in Missy," Roxann said, "like when she said, 'I'll go teach school in Florida.' I was grateful that she took the challenge to do that."
"I planned to teach there about three months in a sub position," Missy said. "Five years later, I'm still there."
"I have a really good music room," she said, adding that 100 percent of the students in her school live in government housing.
None had ever had piano lessons, so Missy got a grant to provide lessons which concluded with a recital.
"My mom and dad were there and clapped for everyone, Mom baked cookies and we had lemonade," she said.
Both Missy and Roxann learned that sense of community, hospitality and caring at young ages.
"Grandma was the mom who would come in to school to help with Christmas parties," Missy said. "My mom was that mom, and I was that mom. Mom was so good at teaching me hospitality, in making people feel welcome. It's one of my favorite things."
Her friends "realize everything in the house doesn't have to be perfect. This is my circle and you're in it…there's my dog, there's dishes in the sink, but it's about being together and sharing."
Both women recall their parents hosting sledding parties when they were young.
"I have great memories of having people over," Missy said, so when her son Charlie was in his high school musical, she let him know he could invite some friends over. "Pretty soon we were having the cast party at our house."
"The school that my kids go to is unbelievably huge, with 2,800 students," Missy said. "It's extremely different from what we went through as Frazee High School Hornets."
"That's the thing, that sense of community," Roxann said. "Aren't we fortunate to still have that bond? We love Frazee, it's our base."
The pair recognize a family's base can be anywhere there is love and support. At that moment, Charlie entered the room seeking a ride to volunteer at the local zoo.
"I don't remember ever using the word "volunteering," said Missy, who recalls family involvement in school board, churches and events. "It was such a big part of our lives."
The small parts are equally priceless.
"She still bakes my birthday cake every single year," Missy said, adding the cake was a Becker County Fair prize-winner.
A newer tradition is that Thursday evenings, Roxann and Dave bring dinner for Missy's family, or drop it off at school. In return, Missy is an administrator on Roxanne's Class of 1965 Facebook page, and her children coach their grandparents through app and tech questions that crop up.
"I wish we would have started the dinners many years ago," Roxann said. It's all those connections which the pair cherish.
Reflecting on those pieces which exemplify motherhood, they agreed, "It's the constants in our lives."