Conservation tour returns to Fischer Century Farm
News | Published on May 16, 2023 at 5:21pm EDT | Author: frazeevergas
0
By Robert Williams
Editor
For the first time since 2019, area fifth grade students returned to Becker Soil and Water Conservation District's (SWCD) Conservation Tour at Fischer Century Farm in Frazee May 11-12.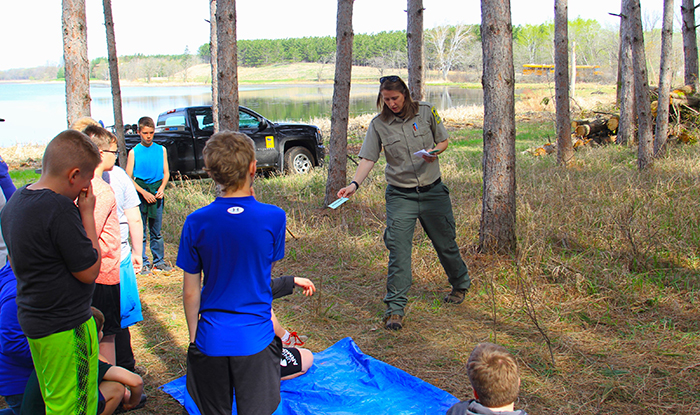 Over the course of two days, 350 fifth grade students from Frazee, Lake Park-Audubon, Circle of Life Academy, and Detroit Lakes' Rossman, Holy Rosary and Roosevelt schools got out of the classroom to enjoy some time in nature while learning.
The Thorp family has been hosting the event for more than a half century. Students visited five different stations learning about aquatic invasive species, forestry, logging, birding and water quality.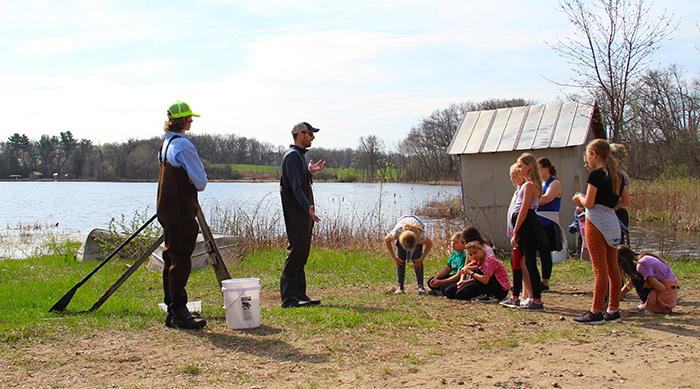 The tour introduces fifth grade students from three schools each day to what areas of conservation are available locally, according to SWCD Event Coordinator Christy Johnson.
"There is so much," she said. "Our water quality station will show the kids that bugs in your water actually means your water is healthy because the bugs want oxygen."
Students spend approximately 20 minutes learning at each station, get to walk through the woods and by beautiful lakeshore to learn about each subject area in an interactive manner with each presenter.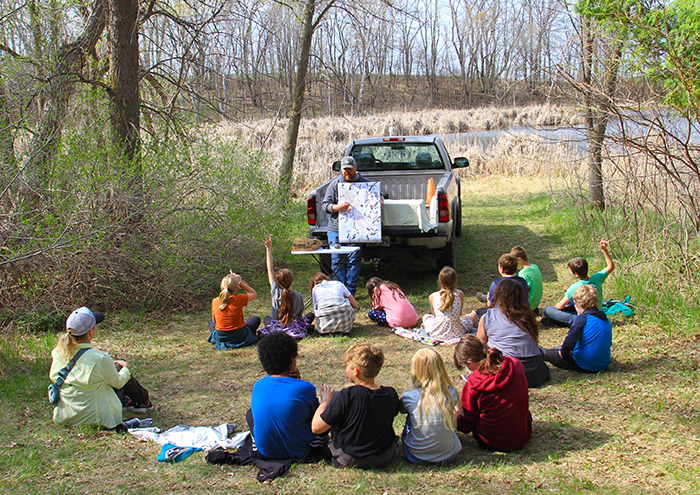 "The kids are so attentive and the station leaders are so good at what they do—they keep the students engaged," said Johnson. "We want to show them that it's easy to do little things to conserve our natural resources; show them tiny little things and what our natural resources actually are. This is an awesome way to teach kids what we have and how to help preserve it and we're so grateful to the Thorp family."
Current Fischer Century Farm owners Donald and Lori-Fischer Thorp hosted this year's event. The tour has a deep history with both the Becker SWCD, which celebrated its 75th anniversary in March, and with the family, dating back to the early 1970's.
"Our whole family has been here for many, many years and very involved," said Fischer-Thorp. "When mom and dad came back to live here one of the points was the topography, the variety in the landscape. They could get everything that they needed for this event. Here, they could do everything, a water station, a lumber station and it's all super interactive. That is what any learner needs is that deep engagement and the opportunity to be outside and do that is remarkable."
Lori's father Ike Fischer was a lifelong advocate of conservation and began that pursuit in a time when conservation was not a well-known or popular topic. Ike Fischer was a Burlington Township Supervisor for over 25 years; he created the East Becker County ski trails on the farm property, and conducted these Soil and Water Conservation District fifth grade school tours for 50 years. In fact, the Pelican River Watershed District still lists the tour as the "Ike Fischer Farm Tour" in their event listings.
Many area teachers embed the tour as part of their lessons and over the past 50 years, it has become something to look forward to for fifth graders and something younger kids get excited to participate in when they reach that age.
"Kindergartners know what it is," said Fischer-Thorp. "Students throughout Becker County and some students from outside the county as well will remember coming to this farm when they were in fifth grade. It's a piece of their history."
Guiding the students are tour leaders from current and retired SWCD employees to Becker County Environmental Services representatives, including longtime advocate Sandy Gunderson, Moriya Rufer, a Watershed Planner at Houston Engineering, and retired local teachers like Elaine Palmer.
For the Thorp and Fischer family members, the tour is a part of the long history of the farm.
"Our role has been to share, to host – this has pretty much been happening my whole life," said Fischer-Thorp.
The official paperwork on the property goes back to 1901 when the farm was owned by Herman and Thelka Fischer, allowing the property to gain the Century Farm distinction in 2001. Since the program began in 1976, more than 11,000 Minnesota farms have been recognized as Century Farms.
The family believes the property ownership dates back another two decades. The farm has exchanged hands four times since to: Albert and Emilie Bremer – 1910, George Bremer – 1929, Albert (Ike) and Martin (Bud) Fischer – 1952, Albert and H. Larene Fischer – 1986, Donald and Lori (Fischer) Thorp – present.
"Whatever has happened before us and whatever happens after us, that's what perpetuity is and that's why it's important to have this opportunity," said Fischer-Thorp. "Wherever the students might live, they might have this and they might not. It's a chance to share it together for a few hours."
A sixth generation of the family, Fischer-Thorp's grandson, was taking part of the tour in from his stroller and one day soon he'll continue the family's efforts to preserve their heritage of the land and the selfless acts of sharing the property and learning experiences with the students from around the region.
"That says something just about the world and what's important to people," said Fischer Thorp. "This is a lot of coordination, no matter what end you're on. It's a compilation of people's efforts over the years to work together; it's a very collaborative effort."