Local veteran takes a trip of a lifetime 
News | Published on May 16, 2023 at 5:00pm EDT | Author: frazeevergas
0
Sondness joins other veterans on the Honor Flight for a trip to Washington, D.C.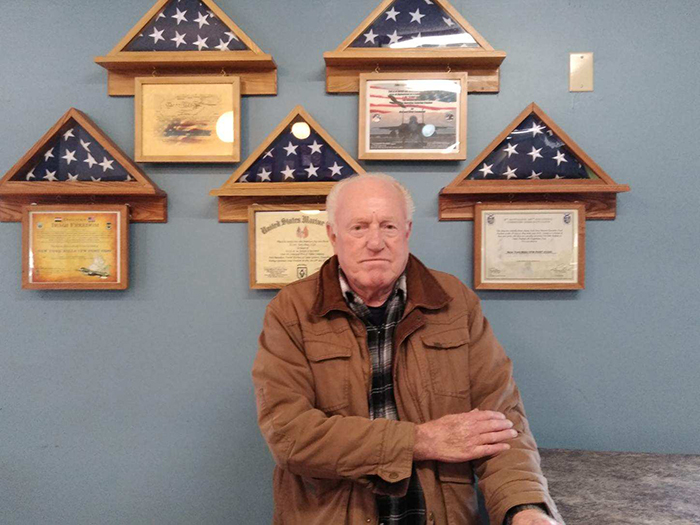 By Tucker Henderson
Reporter
There's a saying that states that 'freedom isn't free.' Well, that's especially true for the military veterans that experienced traumatic injuries or even death in the line of duty. The Honor Flight of North Dakota/Minnesota program has provided the opportunity for regional veterans to visit Washington, D.C. and take in the many military museums and the Vietnam Veterans Memorial wall.  ¶  Jon Sondness, Perham, was on the most recent flight out of Fargo, N.D. and was able to experience the trip with his brother, Brian.  ¶  "I asked him if he'd go along and he volunteered," said Jon.  ¶  "He was so excited about going that he was ready to go pack right away," said Jon's wife, Annette.  ¶  Upon arrival, there were crowds of thankful citizens welcoming the group to Washington.  ¶  "You would not believe the people out there that say 'thank you for your service,' said Jon. "They had a firetruck on either side and the plane drove in between them. They sprayed water over us as a tribute for us."  
"You just don't realize how many people really are thankful that these guys did all this," said Annette. 
Jon said that he "didn't do anything" and that others are more deserving of the credit for our freedom.
"I just did my time," said Jon. "It was a job at the time." 
It was Jon's wife, Annette, who set the ball rolling on his Honor Flight. She signed him up on the computer and a packet soon came in the mail with questionnaires and paperwork for him to fill out. 
"That took him a while to fill all that out," said Annette. "Then it started to get interesting. They had over 500 applicants."
The paperwork included sending in Jon's DD214, his discharge papers from the military, which detailed his time in the service and his honorable discharge from the Navy.
"She talked me into it," said Jon. "So I filled the paperwork out and I was chosen."
There were 90 veterans that went along on the Honor Flight that left the Fargo airport on Sunday, April 30. Over 50 volunteers joined the group and donated their time and talents to the organization of the trip.
"Everything is donated, everything is free," said Jon. "Those volunteers do a lot of work. They provided the duffle bags, meals were all free, rooms were free. All from donations. The Veterans Affairs in Fargo had doctors in case it was needed. Even though they hold a full-time job, they give up their time to do it."
"That is absolutely amazing," agreed Annette. "To think that there's that many volunteers, they work full-time, and then they do this extra. Those volunteers did so much for so many."
During the three-day trip, the veterans took in many of the sights the nation's capital has to offer. Jon listed off the World War II museum, the Navy museum, the Army museum, the Air Force museum, the FDR museum, as well as the Vietnam Veterans Memorial wall where Jon was able to get an etching of the name of his minister's son from his hometown of Verona, N.D.
They were also able to see the National Archives where the Declaration of Independence and the United States Constitution are kept. Fort McHenry, Fort McArthur as well as Arlington National Cemetery were a few of Jon's favorite stops along the way.
"Arlington has 400,000 graves there," said Jon. "It's massive and they're adding on. We saw the changing of the guards at the Tomb of the Unknown Soldier. The World War II museum was nice. They took a group picture of everybody there because that's where you could see the Washington Monument looking one way, the Capital, and it was close to the Vietnam wall."
Jon said the group rode on a chartered bus while they were touring the greater Washington, D.C. area.
"We were chartered on a bus and when we got to Fort McHenry, they had a 12 and a half minute movie going about how the Star Spangled Banner got started. You're standing there and you've got the movie up and right when it's done, the screen goes down and there's the original Fort McArthur in the background out the windows, in the distance. That was nice. There was a long walk up there, we walked up there, my brother went with me for an escort," he said. "You could look over Chesapeake Bay where the British bombed in 1814. That's where Francis Scott Key wrote the Star Spangled Banner, that's how it got started right there."
Jon's Navy service began when he enlisted and started to serve in January of 1966. He attended basic training in San Diego, Calif. and was soon after stationed in the Pacific Fleet in Long Beach-Lenmoore NAS, Calif. He also spent over two years aboard the CVAN-65, which was the first nuclear-powered aircraft carrier ever built.
"The ship was overbuilt because it was the first one," Jon said. "They had eight reactors on it, they only used two at a time and we were still up to 45 miles per hour. Each link of the anchor chain weighed 360 pounds."
Jon also shared some of the specifications of the ship. The ship had a displacement of 90,000 tons. The two anchors weighed 30 tons each and the ship was about an eighth of a mile long. It took 60,923 tons of structural steel to build the mammoth aircraft carrier.
"It's hard to imagine anything like that was even floating," said Annette. "They've gotta know what they're doing."
Working as a botswain mate and career counselor aboard the Bridge and Quarter Deck, Jon loved to see the different countries they visited and port cities they stopped at. It was in January of 1969 when, off the coast of Hawaii, a missile exploded on the deck of Jon's ship.
"We were on our way to Vietnam and stopped in Hawaii, which was normal," said Jon. "Seventy miles from Pearl Harbor, there is a deserted island that's used for the pilots to practice bombing before we went to Vietnam. It was a deserted island, so they were using live bombs. They had bombs on the airplanes and they were warming the airplanes up while they were sitting on the flight deck."
"They have a machine called a huffer that warmed the jet engines up," he said. "When they warm them up, it gets up to 1200-1500 degrees coming out of them. There's supposed to be a muffler to reduce the heat. Well, they found out afterwards one of them didn't have a muffler on and there was another airplane sitting a little ways away with a heat seeking missile. When it got so hot, it went off into the other airplane. They lost 15 airplanes, 17 were damaged real bad. Twenty-eight people were killed, two of them were my division."
Jon said that the flight deck, which was made of two and one eighth of an inch thick steel looked like a cardboard box had been kicked by a shoe after the explosion. It had been blown wide open by the missile.
"It's just something that happens, it was a mistake," said Jon somberly. "That's how they learn."
"A pretty expensive mistake," Annette agreed.
After the ship was fixed in the port of Pearl Harbor, they were sent off to continue their trip to Vietnam.
Another adventure on the U.S.S. Enterprise led to being a first responder to the seas around the Korean Peninsula when the U.S.S. Pueblo was captured by North Korea.
"We were the first ones there," said Jon. "We sailed around there for a month in cold weather. That was in 1968."
Jon was honorably discharged from the Navy in October of 1969 and worked in construction, manufacturing, and in research and development after his service.
Upon the return trip to Fargo, the veterans were surprised with a huge crowd welcoming them back home.
"You would not believe the people at the airport," said Jon. "There was, I would say, 1,000 people there or more. Fire trucks, National Guard, Army, Police vehicles, they were all dressed up. It was crazy."
The couple greatly appreciated the opportunity for Jon to experience the monuments and museums in the District of Columbia.
"I think it's something that everybody wants to see, but you don't just go to Washington, D.C.," said Annette. "It's something I've always wanted to see too. I think if anybody that can qualify and is thinking about it should definitely do it."
"If somebody got a chance to go, I would say go," said Jon. "It's a lot to see in a short time."