Otter Tail County to celebrate National Drug Court month
News | Published on May 16, 2023 at 4:55pm EDT | Author: frazeevergas
0
OTC is celebrating a new drug court to focus on recovery, stability health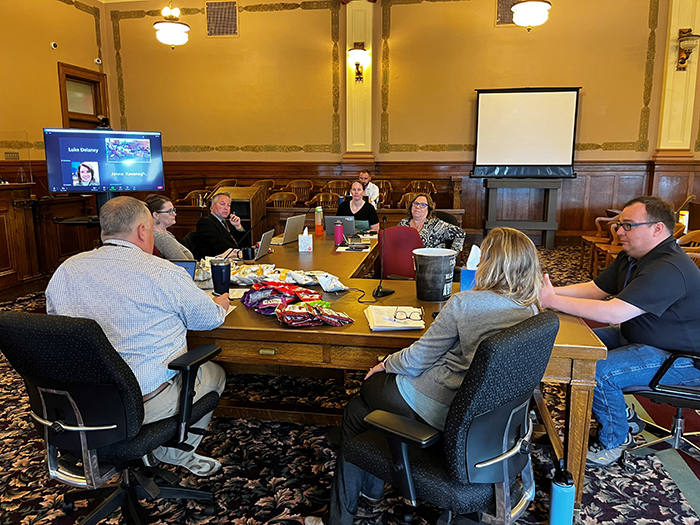 When one person rises out of addiction, everyone rises. May is National Treatment Court Month and the perfect opportunity to showcase how treatment courts save lives and make our communities safer. Otter Tail County is celebrating its new drug court as over the last year it has risen to lead people struggling with addiction into lives of recovery, stability, and health.
"This work is challenging, yet seeing clients begin to succeed and dramatically change their lives is rewarding," shared Hallie Metcalf, Probation Agent for the DWI, and Adult Drug Courts of Otter Tail County. "Our motto is 'nothing changes if nothing changes'. Our clients work hard at making changes to their everyday lives. Treatment court staff and I are here to support and give them the accountability they need to effectively guide them through the behavioral change process, leading to their success."
Treatment programs such as drug and DWI courts work to make roads and communities safer while providing accountability and treatment to help repeat impaired drivers get back on track. Treatment courts like the County's differ from traditional courts because the court works closely with prosecutors, public defenders, probation agents, social workers, and other justice system partners. For example, case planning and cognitive behavioral interventions are essential tools in guiding positive behavior change.
Otter Tail County Treatment Courts have the capacity for 20 participants for each program. Currently, there are 12 individuals active in the Drug Court program, and 23 in the DWI Court program. Of the 12 individuals in the Drug Court program, seven are male and five are female. The average age is 30, ranging from 22 to 47 years old. Over half of the individuals are in their twenties.
"Drug court has been a great way to go through the process of learning how to be clean with abundant accountability that lessons the longer you're in the program." This is one of many stories in Otter Tail County that demonstrate why treatment courts are so important in the effort to address addiction and related crime.
The program is funded by partners and a four-year grant from the Bureau of Justice Assistance, Adult Drug Court Discretionary Grant Program.
The five-phase program concentrates heavily on chemical use treatment, mental health, and life skills such as safe housing, education, employment, medical and dental needs, and other individual needs that are identified throughout the program. The program takes a minimum of 14 months to complete with the first graduations anticipated for December 2023.
Current clients in the program have been convicted of non-violent offenses such as felony fifth Degree drugs, driving under the influence, burglary, theft, and obstructing legal process.
The Otter Tail County Drug Treatment Court began in April 2022. The team includes the Otter Tail County Probation Department, Otter Tail County Attorney's Office, Otter Tail County Sheriff's Department, Otter Tail County Human Services, Minnesota Judicial Branch, Minnesota Department of Corrections, Defense Attorney Brian Geis, Nystrom & Associates, Lake Region Healthcare MAT Services, and the Fergus Falls Police Department
An Otter Tail County Surveillance Officer compliments the work of the Probation Agent by conducting random, unannounced field visits with drug/alcohol testing. These field visits are most often completed during non-traditional hours of nights and weekends. These field visits also ensure compliance with the curfew set by the Court. To learn more about Otter Tail County Treatment Courts visit ottertailcounty.gov/treatment-court/ or call (218) 998-8500.