Wirth retires after 38 joyful years at the elementary
News | Published on May 23, 2023 at 5:30pm EDT | Author: frazeevergas
0
Longtime teacher still enjoys learning, helping students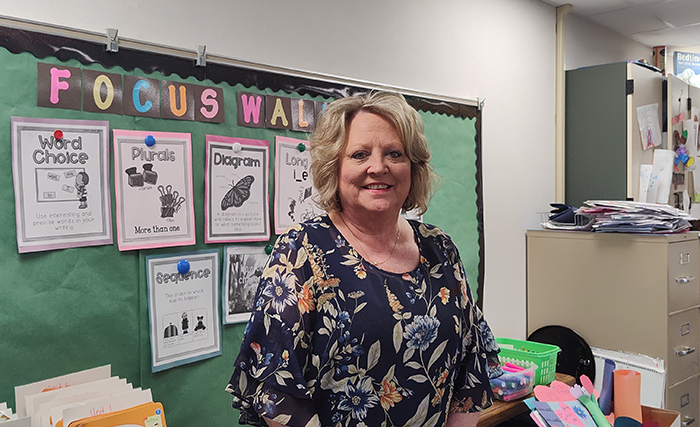 By Robert Williams
Editor
This week, Julie Wirth will leave her first grade classroom for the final time after teaching at Frazee-Vergas elementary for 38 years.
"It's just been a great career," she said.
Wirth grew up in Henderson, Minnesota, and graduated high school there. She got her teaching degree at nearby Mankato State University before beginning her career in 1984-85 with a third grade class in Lake Wilson.
Wirth began college as a business major, but influences from her own education turned her to teaching.
"I remember having a second teacher and wanting to be just like her," said Wirth. "I had some really good examples for teachers."
After one year at Lake Wilson, she transitioned to Frazee.
"In those days, we got a paper every week from the university," said Wirth. "It just had all the openings and I just applied."
Having grown up in southern Minnesota, Wirth had never been to Frazee before interviewing with then elementary principal Jerry Johnson.
"My dad had said it's in northern Minnesota, Julie, and when Jerry called me, what did I do? I had to get out a map and here I am near Mankato," Wirth laughed.
Johnson extended an interview despite the distance and told Wirth the district had a lot to offer.
She accepted the position in 1986 and taught kindergartners for 21 years and the following 17 years in first grade. Frazee-Vergas kindergarten staff at the time of her arrival consisted of the legendary Mary Jane Beyer and Marlys Peterson taught part-time.
"Mary Jane, she was a great mentor to me," said Wirth.
From that time to the present, much has changed in kindergarten and first grade instruction, especially curriculum. What was taught to first graders when Wirth began teaching is now standard kindergarten learning.
"Kindergarten really was mostly exposure to letters, literature, tying shoes was a goal, more social than academic," Wirth said. "I think a real early childhood push has brought on the all day kindergarten. When I first started we went to kindergarten every other day and we alternated Fridays so you had much less time in the classroom, as well."
The curriculum upgrades were noticeable personally.
"So often when I started teaching first grade, I was, 'I don't think I learned this when I was in first grade.' We really hit hard on nouns, adjectives, verbs," said Wirth.
Over four decades, technology has been the biggest change for both teachers and students.
"We didn't have computers; I didn't even have a phone in my room," said Wirth. "The technology just keeps getting better and better and that really has changed. We used to have a room full of these larger computers we would get to go to once a week and now we have tablets in our classroom."
Despite those changes, the fundamental aspects of learning at a young age still remain.
"The joy of learning is still there; I like to see that in the children," said Wirth. "They might think they want to be on the tablets a lot but they still like to do all the fun, craft projects and writing projects. Watching the children learn and when they're excited about learning or accomplishing something, it makes you feel good as well. That's the joy of the elementary school; every day, especially in first grade, there is something new that we teach and new skills."
Wirth credits part of that joy to her current team and past kindergarten and first grade teachers she has worked with over four decades, which is a far smaller number than one would expect. After Beyer and Peterson, there were kindergarten teachers Tonya Mahoney and Sheila Ziegler and instructors Kathy Peichel, Dave Schneider, Gery LaFrieniere, Brandi Trapp, and currently: JerriAnne Burton and Russ Hackel.
"I've been really lucky; JerriAnne Burton and Russ Hackel have been my teammates and we have worked really well together for our first grade years together," she said.
Wirth's big secret on how to be consistently successful for nearly 40 years is straight logic and not about herself at all. It's all about her students.
"I just think about what do they need to be successful? What do they need to get along with the group of children in the classroom?," said Wirth. "Whatever they need."
Wirth's advice to new teachers is to be over-prepared, trust your students and take control.
"Each situation is different but just give them direction; tell the kids what you expect and they'll come through," she said. "It doesn't take very long to be in a classroom to decide that you need to be in control of it. You guys are not running me over."
Living proof of being over-prepared, Wirth was exactly that in announcing her retirement.
"Actually, I wrote my retirement letter last year," she said. "I just couldn't take it to Mr. Nagel. It wasn't the right time."
Teachers have a February 1 deadline to submit resignations.
"This year I turned 62 so I thought maybe it's the thing to do," she said. "I took my letter in and at first I was kind of like I don't know if it was right or not, but now I feel it's really right. It's all good."
Retirement will also come with a buffer of time before the start of next school year to really sink in.
"Summer will be the same and it's kind of nice to know I have that routine, but come September will be the real decision maker," Wirth said. "I don't feel like I'm going to sub. I have no idea. I'm just going to do things that I haven't been able to do or have time to do because the classroom was always first."
Wirth also considered working two more years to reach 40 years at the school, but, "then one day I got brave and took my letter down to Travis."
"I did make the right decision," she said. "I am really going to miss the children; they bring joy every day and warm my heart, but I don't know that I'll miss the workload. I leave Frazee with a joyful heart. It's hard not to find joy in an elementary school every day. There's some kind of joy. Yes, we have problems, but the first graders are so happy to come to school and be with their friends. I like the joy of an elementary school."
Julie and Kelly, her husband of 25 years, plan to enjoy their retirement in Frazee at their Eagle Lake residence.