Forest Edge opens for the summer season
News | Published on May 30, 2023 at 5:24pm EDT | Author: frazeevergas
0
'This is the best place at the end of a gravel road'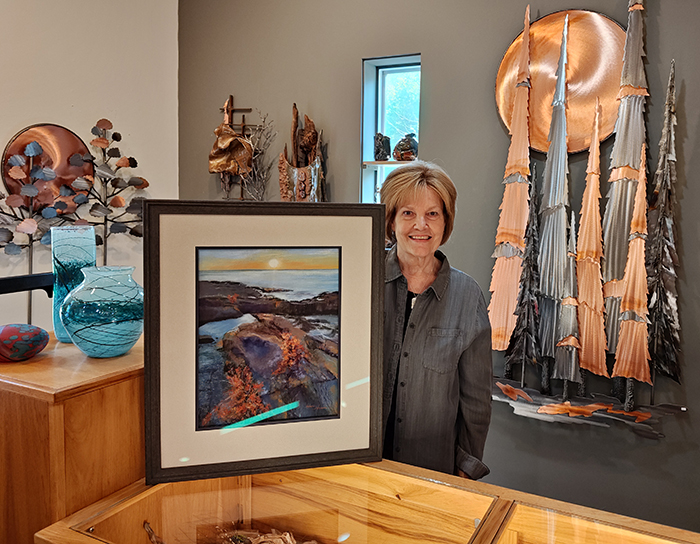 By Robert Williams
Editor
For first-time visitors, pulling into Forest Edge Gallery is a sight to behold and a beckoning oasis for art lovers at the edge of where pasture meets the woods.  ¶  Metal artist and potter Patrick Shannon and painter and jewelry maker Helena Johnson opened up Forest Edge Gallery for the season over Memorial Day weekend, bringing another summer of business at the hidden gem just outside of Vergas.  ¶  The gallery has long been a place for locals to shop, along with being a destination stop for those in the know to show off the art created by the couple and many other artists since 2005.  ¶  "We love this area. A lot of our customers bring their summer guests out here to see the place," said Johnson. "We have a lot of people that do that, which is really nice. They have bought something here and they're proud of what they got and they want to show the place off. They come out and let their company see where this is and what's going on."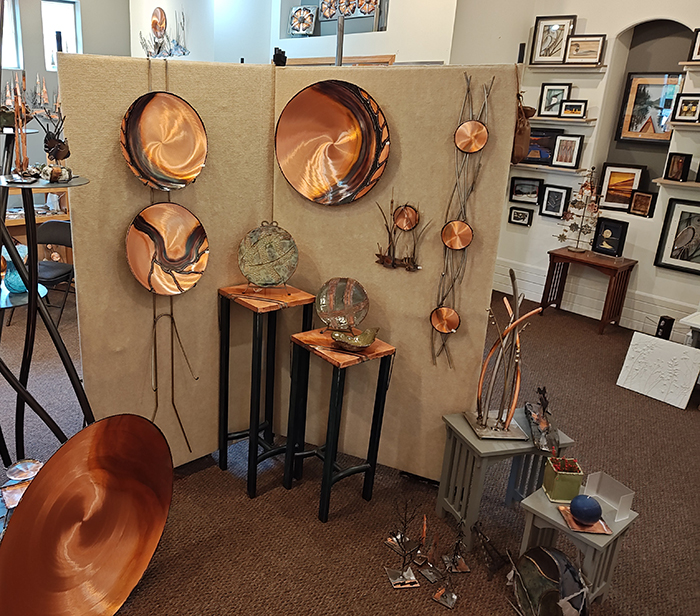 The gallery also hosts Women's Wednesdays, which will be held once per month this season, along with live music events starring Frank Weible.
The property around the gallery has been in the Shannon family for years and the couple have been there for four decades. The actual gallery building came to being after Johnson and Shannon founded their careers traveling the country.
"We were both artists and doing shows, a lot of them in the southwest in New Mexico, Arizona and Colorado," said Johnson.
Closer to home, the couple also showcased their wares in Bismarck, Minot, the Pequot Lakes area and the Twin Cities.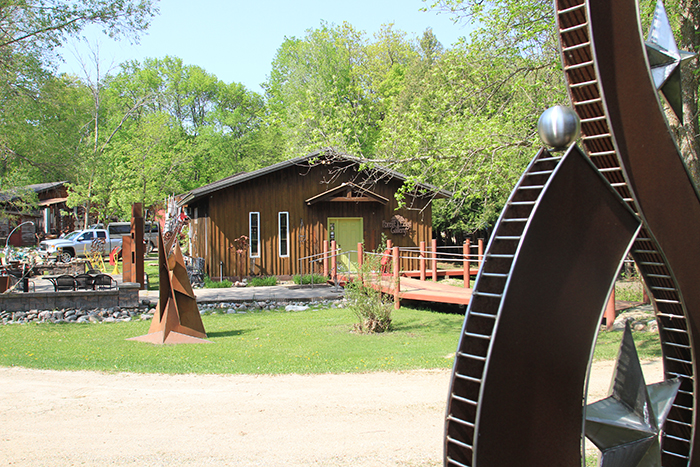 Patrick was working pottery mostly and spent 3-4 months as a caretaker for a former high school teacher in California who was suffering from cancer.
"It was in the winter, in January, and we were kind of free from shows and stuff, so we went out there and Pat bought a welder like he couldn't get one in Minnesota," Johnson laughed.
That welder helped him get his start in metal work.
In 1999, an order from Fargo for a clothing rack with a copper disc and a kokopelli for a store of the same name added metal work onto Shannon's 26-year pottery career at the time.
"That was the beginning of the copper and metal part of our lives," said Johnson.
Both Shannon and Johnson have art backgrounds that go back to their childhoods and families. Shannon pursued an art degree at Moorhead State University, while Johnson studied home economics at North Dakota State University. A retail management career led Johnson back to college to study art.
Eventually, the decision was made to build the gallery in Vergas.
"We had no idea what to really expect but it turned out to be a really good thing."

Helena Johnson on building a gallery in Vergas
The gallery allowed the couple to get off the road and not have to travel from show to show across the country. It also allowed more time to create art.
Early work at the gallery consisted of the copper plates and other metal work and evolved over time, including finding success for large, commissioned pieces.
"That's a big part of our business," said Johnson.
Some of Shannon's larger works can be seen at area hospitals in Wadena, Perham and Detroit Lakes.
The commission side of the business has attracted customers from corporate customers to municipal and residential.
The exterior area of the gallery is a display of incredible sculpture gardens and one of the larger pieces currently showcased there is scheduled for delivery to an Arkansas trail between a community center and the local university.
The customer had visited the gallery two years ago and its name held an ironic sense to the purchase.
"She said the area that it is going in is at the edge of a forest. "She had to have a piece from Forest Edge."

Helena Johnson
Three other large creations are destined for a beautification project in Hatton, North Dakota.
That level of business and success begs the question, how do people find out about a gallery tucked away in the woods northwest of Vergas?
"Word of mouth has really gotten us a lot of people," said Johnson.
The art sells itself.
The gallery has appeared in a number of magazines and the couple utilize local media, summer tourist periodicals and social media.
"It's a variety of things that have worked," she said.
Shannon and Johnson have created their own market and target demographic and those customers beget other customers. They also share the gallery with up to a dozen other area artists, including painter Kris Domier, Deanna Nelson who creates nature-inspired, cast floral impressions, fused glass artist Marlys Buckholtz Pearson and Vergas-based artisan Karla Urbach, who joins Johnson in a passion for creating jewelry.
"We usually have 10-12 artists that we represent besides ourselves," said Johnson.
Despite not being in town, Vergas helps contribute to the flow of business at the gallery.
"Most of the time we're busy, but our season doesn't really get rolling until mid-June when the tourists come," said Johnson. "There are a lot of activities in Vergas that help bring people this way."
Johnson and Shannon will be bringing the Forest Edge to Vergas itself for Shops and Hops on Saturday, June 3.
"I think that's going to be a really fun event because we've never had one at this time of year, which should bring people to town earlier than normal," she said. "There is a lot going on here; it's tremendous, I think."
The gallery has donated many art pieces as part of a Vergas beautification project that include flower planters by city hall, stars by the Loon's Nest, the fish in Tin Can Alley and the Hairyman by the Loon. The awards for Looney Days' biggest event, the Weiner Dog races, are also a Shannon creation.
"That's one of the real wonderful things about Vergas; every business cares about their neighbor's business and they all share information," said Johnson.
While the Vergas tourist season is a big factor in helping the gallery profit, it is the customers and the art that keep people coming back.
"It's a fun, fun business to be in and you meet people and so many people have interesting stories," Johnson said. "We have the best customers in the world. They come out here happy and we try to make them happier when they leave. Somebody said that one day when she was leaving, she said 'this is the best place at the end of a gravel road; I just can't believe it's here.'"
For more information and a schedule of upcoming events visit forestedgeartgallery.com, or the gallery's pages on Facebook and Instagram.