Helmers' Stand by Me lightens load for families fighting childhood cancer
News | Published on May 30, 2023 at 10:32am EDT | Author: Robert Williams
0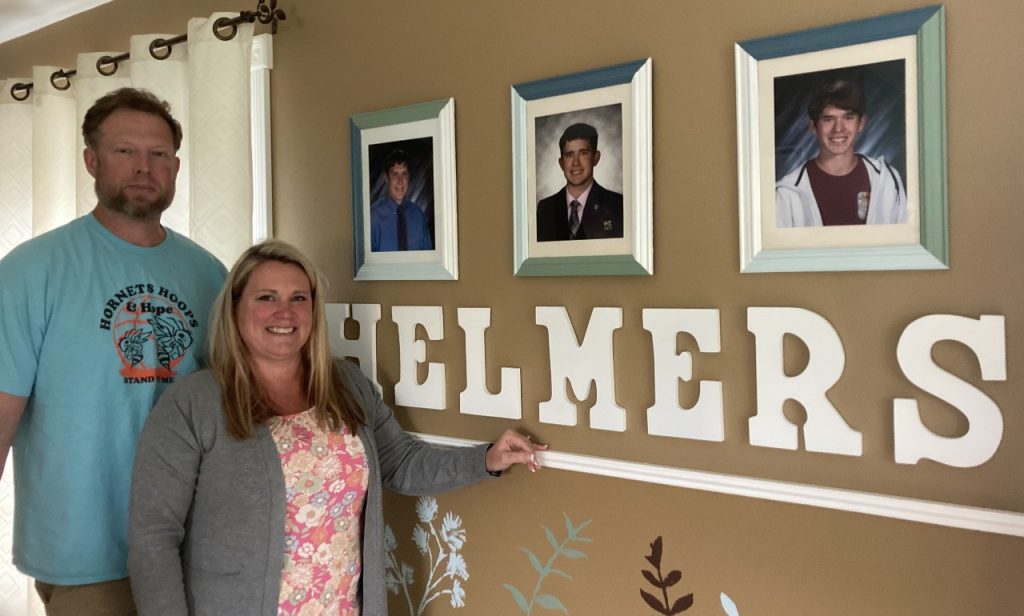 Charity seeks donations and shoppers for June 9-10 garage sale
By Lori Fischer Thorp
Kristin and Thaddeus Helmers have first-hand perspectives on the impact of childhood cancer.
Their oldest son, Vincent, was diagnosed with brain cancer in his senior year at Frazee High School.
"I learned a lot from him," said Kristin, who quit her job so she could be with Vincent through all of the processes and keep home fires burning for the couple's younger sons, Lewis and Alex, now 20 and 17.
Meanwhile, Thad continued his Army career to sustain income and health insurance, and the family began a huge journey.
Vincent "didn't want me to quit my job," Kristin said. "He cried, he said, 'You love your job,' but I said 'Mommas take care of their babies.'"
In spring 2019, Vincent underwent brain surgery, and he was comatose for two weeks.
Lying there in his hospital bed, his blood pressure would become elevated, and the only thing that stabilized it was the feeling of one of his parents, holding his hand.
That precious physical presence became the driving force behind Stand by Me, a 501(c)(3) charity which steps up to pay essential bills for families who have older children, up to age 25, with childhood cancer. A patient who meets the age criteria can have any type of cancer.
"Vincent had that big heart," Kristin said. "He wanted to help people." Following the initial surgery, Vincent was in a wheelchair and working to relearn how to talk and hold his head up, and "there was a little boy next to Vincent, getting chemo and his mom couldn't be there because she had to work."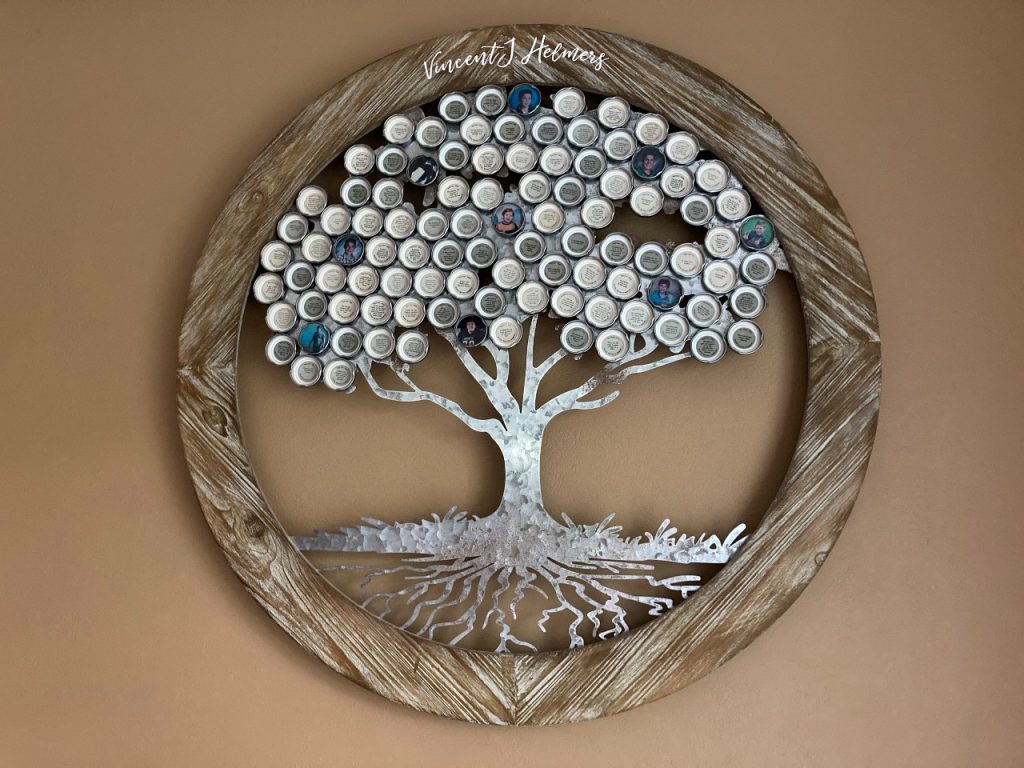 Vincent's empathy was impacted and led to the establishment of the charity. With their teamwork based in the Army background of standing by one another, the Helmers family decided they could help make a difference in others' lives.
"We were lucky," Thad said. "We didn't know what we had until it was time."
Their Army family rallied around them and hosted a pancake feed fund-raiser.
"We didn't ask, it just started happening, and when you live in a smaller, rural community people just pull together," Kristin said.
Still, with Kristin not having an income, the Helmers talked to the hospital social worker about possible financial support. They were turned down for one application and learned there is very little available for families whose children are undergoing childhood cancer treatment, especially in Vincent's age range.
"The age hurt the most is 18-20," they said. "They might not have the best health insurance, they don't have a lot of money, and parents aren't of the age where they can leave a job. How does a college-age kid get through that?"
"Worrying about money, and needing that money pulls the parent out of the situation (of being physically present for their child)," said Thad. "A few of the families we've helped were single parent families. I can't imagine how that would be, it would be very hard."
Stand by Me currently works with the Roger Maris Cancer Center, and they're also looking at partnering with Lake Region in Fergus Falls.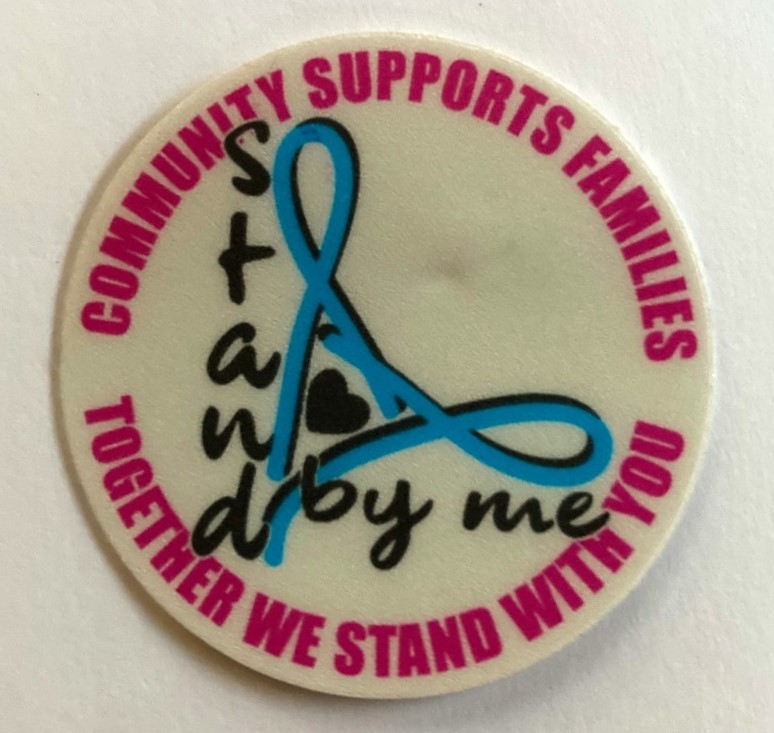 "We're kind of expanding our range," Thad said. He added that other bigger organizations do a lot of support in the Fargo area. "I don't want to be a big organization," Thad said. "I just want to be a small organization, something we can manage on our own."
"The smaller communities, those are the ones that need it," Kristin said.
"We've helped people all over the Lakes country," Thad said. "We've paid people's mortgages, rent, car insurance, and bills for necessities." Health care social workers help them complete and submit a grant application with basic details.
Once a grant is approved, Stand by Me pays bills directly to creditors. Thad was even able to pay a grant recipient's car payment on a vehicle they had purchased in Texas.
"We actually have money in there right now, and we'd like to help someone," Kristin said.
Revenue is replenished by fund-raisers such as a 2020 dinner and silent auction, rummage sales, and the annual Hornet Hoops & Hope coordinated by FHS student Sophia Strand. "They are just very generous," Kristin said of that event.
Donations can also be made directly to the organization's account at United Community Bank.
The organization does not currently have an accessible website. "We don't like having that overhead," Thad explained. Promotions are done through the charity's FaceBook page.
The next fund-raiser will be a garage sale during Frazee's All-City sale, Friday and Saturday, June 9 and 10, at the Helmers home, 32299 Co. Hwy. 10. They're asking for donations and hoping shoppers are interested in a good buy as well as donation impact.
"Make an offer, the stuff is going to go, no matter what," Thad said. Unsold items will be donated to the Detroit Lakes Boys & Girls Thrift Store.
"We accept donations up until the evening before," he said. To make arrangements, contact Stand by Me on FaceBook Messenger.
Proceeds "will be used for people who could use it. . . . and really, we're blessed to get anything to help the families," Kristin said.
The Helmers are all about recognizing their own blessings, in which Vincent excelled.
Even the day before his January 9, 2020 death, Kristin said, "He was always cracking jokes – he always found that silver lining, which is pretty amazing to learn so young."
"The crazy thing is that Vincent got to hand out the first and second checks (from Stand by Me)," she said. "Just the joy on his face, giving those checks, it was absolutely priceless."
"When he handed out the first check, we had to go to Mayo for some tests, and Landon said, 'Good luck on your tests,'" and he said, 'Yup.' They had never met until that day. It was pretty cool. The next one was one of the boys who had been in the hospital when Vincent was, and they used to have Nerf wars in hospital hallways. It was cool how they built that bond."
Ties like that continue for them.
"Living in this community has been really good for our family. When you go through something like that, just having those connections with people," is vital, Kristin said.
As a couple, "We really are (a team)," she said. "We always have been. Every morning, we walk two hours . . . We used to drill on the same weekend. Being in the military helped us appreciate when we can be around each other . . . We just have that family bond."
Lewis makes the seven-hour drive from Iowa State and back several times a year, and Alex is a busy FHS incoming senior.
"We have that connectedness," Kristin said. She and Thad believe appreciation is essential, and that others also "have a lot for which they can be thankful."
"Since Vincent has passed away, I've changed a lot," Thad said. He retired from the military because the focus on money and career no longer felt like a priority.
"I see people complain about the littlest things," he said. Whatever the situation, "It's not everything. You need to step back and assess."
Thad is now working at the Veterans Administration in Fargo. "That's been a big transition," Kristin said. She was able to regain the job she left when Vincent became ill.
"I don't take things for granted . . . to do family stuff, to spend a little more on a vacation," Kristin said. "We're making sure we have that time, together."
"We have decided that we are taking family trips every six months," she said, with the goal to "just enjoy different scenery as a family."
"Vincent, before he passed, really, really wanted to go to Florida again," she said. "He didn't make it, but we went, and yes, it was tough, but it was good we went."
"Enjoy the moment," she concluded. "Whether you're military or not, we all have the opportunity."
NOTE: Stand by Me's garage sale runs Friday, June 9 , 8 a.m.-5 p.m. and Saturday, June 10, 8 a.m.-12 p.m. To donate items, contact them on Facebook Messenger.