Spring to summer sale at Backyard in Perham
News | Published on May 30, 2023 at 4:30pm EDT | Author: frazeevergas
0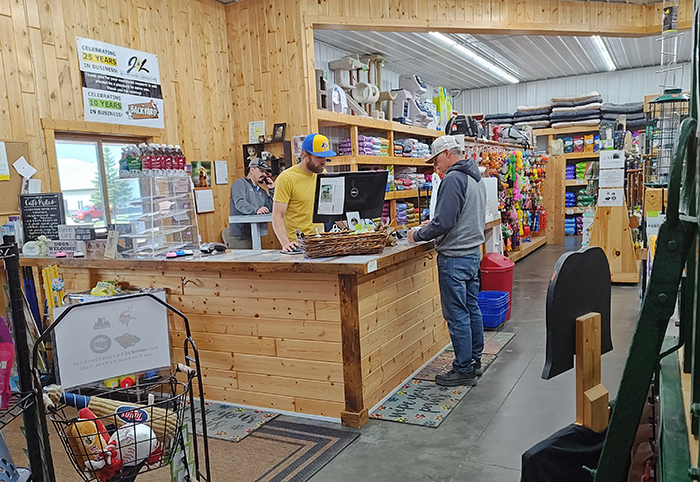 By Robert Williams
Editor
The Backyard in Perham began business catering to a niche market of providing bulk stations of food plots for feeding deer and other wildlife. As spring transitions into summer, customers are flocking to get seed and feed.
"We're busy now with seed and feed; we're pushing out a lot of seed: the corn, soybeans, alfalfa, that's kind of our bread and butter where we started from," said manager Taylor Doll. "A lot of pasture mixes and food plots for customers. A lot of people are planting clovers, different brassicas; we do things like chicory and we've had a lot of customers coming in for this type of product to put in the ground"
The Backyard has a couple items for small gardens: seed potatoes and onion sets, but specialize more in bigger planting products.
"Ones that have any type of acreage, whether it's small or big, they're filling up on this kind of stuff," said Doll.
Select pet food, bird seed, bird feeders, grass seed and fertilizers are currently on sale and turnips and radishes will be on the shelves as summer approaches.
The store also provides delivery service for larger orders, going as far as Ada and Thief River Falls.
"We do a lot of delivering. Once that snow melts, people want their seed. The big punch is about over but the next couple weeks we'll have people wanting to put seed in. It's a busy time for us."

Taylor Doll, manager of The Backyard
The Backyard is also a full-cycle pet care business with multiple facilities for grooming, boarding and playcare. The store is seeing a lot of foot traffic, the two-legged and four-legged variety, as grooming wait times can be weeks and some appointments are being made months out.
"We added our third groomer, Erika, in February, and she's been terrific," Doll said. "We're lucky to have three fantastic groomers that know what they're doing, know all the breeds, so we get a lot of repeat business back."
The Backyard is currently seeking a fourth groomer and that quest also comes with a search for more space.
"We do need another groomer," Doll said. "They all do a fantastic job, but there's not a lot of groomers in the area. We're flooded with grooming, which is a good thing."
The grooming area of the store was expanded last year to house all three groomers and more changes may be on the way to house a fourth grooming station.
"We're talking about ways to expand the store," said Doll.
Boarding and playcare have also been very busy. Facebook users get creative and amusing posts of all the daycare pups.
Turf was added to the playcare's outdoor portion of the facility.
"Dogs love it; it keeps them clean," said Doll. "You don't have to worry about mud and dirt. That's been a really good thing for us."
Late summer or early fall, plans are to add new flooring to the kenneled indoor portion where there is currently just concrete.
"It'll be a rubber-like floor," Doll said. "It'll be easier on the dog's joints and better for our employees too."
The Backyard continues to evolve with service plans to add obedience training in the future, as well.
"We will cover that, we're just trying to get set up and find the perfect person for that," said Doll.
All the information on seed, feed and food plots, professional grooming services, pet boarding and playcare is available at thebackyardperham.com.
"We want to answer the questions the customers have," Doll said. "That's one of our expertise areas. If you come here we're not just going to point you to a spot; we're going to answer your questions and get you what you need."