Wiseman, Halverson earn all-conference honors in HOL
Sports | Published on May 30, 2023 at 4:43pm EDT | Author: frazeevergas
0
Hornets take fourth place in HOL Conference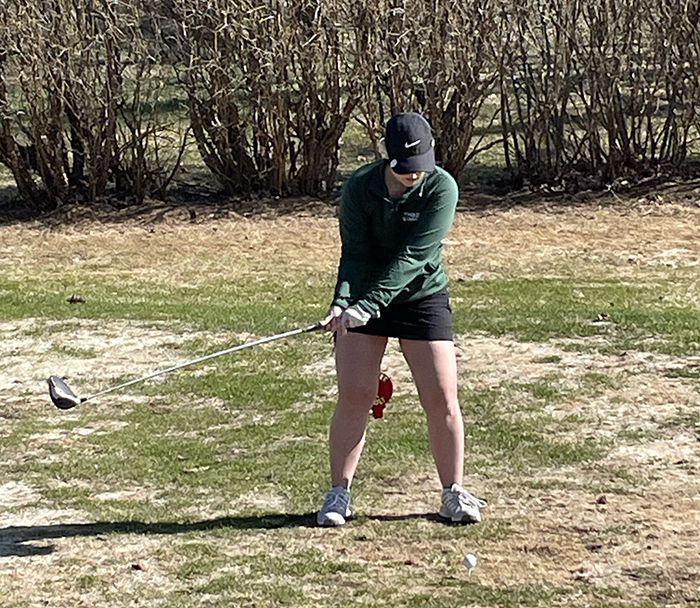 The Frazee Hornet girls golf team has been very busy like all area sports teams thanks to the late spring. The Hornet golfers played in eight golf tournaments in just 20 days with all the tournaments being Heart O'Lakes Conference tournaments.
The season got underway on May 2 with the Frazee HOL Conference meet, which was a 9-hole meet. The golf course opened just three days before the first tournament, which offered very limited outdoor practice for the Frazee golfers. Despite the limited practice time the golf team had a nice showing by coming in at fourth place out of seven teams. Hawley won the team title led by medalist Sophie Cook with a 42.
For Frazee, Emma Wiseman led the way with a third place finish with a score of 50. She was followed by Krysten Halverson and Lilly Adams each with a 59, Gracie Fales had a 62, Liberty Peterson had a 67 and Onalea Maijala had a 68.
On May 4, Breckenridge hosted at the Bois de Sioux golf club. Cook was the medalist with a 37 as Hawley won the team title again. Frazee finished in fourth place once again with Wiseman leading the way with a fifth place finish with a score of 46. Halverson followed with a 52, Fales had a 55, Ella Perala had a 65, Adams a 66 and Peterson a 74.
On May 9 Pelican Rapids hosted at Birchwood golf course. Cook and Ivy Tickel both of Hawley shared medalist honors with a 42 as Hawley won the team title. Frazee tied for fifth place with Pelican Rapids. Scores for Frazee were Wiseman 47, Perala 57, Halverson 59, Adams 60, Fales 62 and Maijala a 67.
Frazee traveled to Hawley on May 11 for their first 18 hole meet of the season. Hawley took home the team championship with Cook earning medalist honors with a 77. The Hornets finished in fourth place and Frazee was led by Fales with a 105. She was followed by Halverson with a 107, Perala a 109, Wiseman a 111 and Adams with a 120.
May 15 saw the Hornets travel to Barnesville for another 18 hole meet. Cook was medalist with a score of 72 as Hawley once again took the team title. Wiseman led Frazee to another fourth place finish with a score of 98. Fales added a 104, Haverson had 105, Rylee Stock and Perala had 112, and Adams had a 114.
DGF hosted a 9-hole meet at Moorhead Country Club on May 16. Cook continued her good play with a 36 to lead Hawley again to the team title. Wiseman and Halverson led Frazee with scores of 52 as Frazee settled fourth place again. Fales had a 54, Stock had a 65, Perala 66, and Adams had a 67.
Perham hosted the final regular season meet with 18 holes at Perham Lakeside on May 17. Cook led Hawley to the team title again as she took home medalist honors with a 79. Wiseman led Frazee with a 97 as the Lady Hornets took home fourth place. Other Frazee scores included Halverson 98, Fales, 106, Stock 124, Adams 125 and Perala 134.
The final HOL meet was held at Wildflower golf course on May 22. Cook took home medalist honors in the 18 hole meet with an 81. Halverson led the Lady Hornets to another fourth place finish with a career low 97. Wiseman had a 102, Stock a 117, Adams a 123 and Perala a 125.
Hawley was crowned the HOL team champions after taking first place in every tournament during the season. Cook was the individual conference champion with a dominating performance that saw her finish 32 strokes ahead of second place.
The Hornets steady performance earned them fourth place for the season behind Hawley, Perham and Barnesville. Following Frazee, was DGF, Pelican Rapids and Breckenridge.
The top 16 players are awarded HOL all-conference based on scoring averages for the season. Frazee finished with two players on the team with Wiseman finishing in ninth place and Halverson in 13th.
Halverson's career low round at Wildflower vaulted her into the top 16 and it is also her third time making the all-conference team. Wiseman made the all-conference team for the second time.
Frazee will be at Headwaters golf course in Park Rapids on May 31 for sub-section play. Should the team or any individuals advance from there, the section meet will be at Bemidji Town & Country Club June 5-6.