Former VFW manager faces four felony theft charges
News | Published on June 1, 2023 at 1:24pm EDT | Author: Robert Williams
0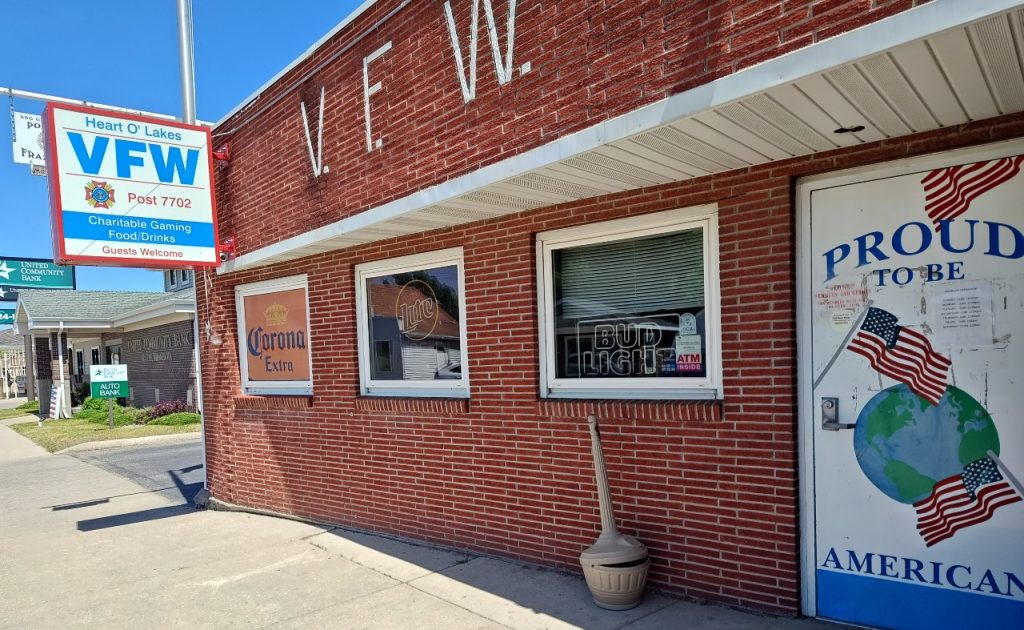 Complaint includes gross misdemeanor gambling charge
By Robert Williams, Editor
The former club manager of the Frazee-Vergas Veterans of Foreign Wars Post 7702 has been charged in Becker County District Court with four felonies and a gross misdemeanor in relation to theft and fraud in 2021 and 2022.
Anne Tonette Omundson, 47, of Frazee has been charged with two felony counts of theft by swindle, another charge of felony theft and a charge of felony unemployment benefits – false representation. She also faces a gross misdemeanor charge of gambling fraud-claims prize by fraud.
Omundson was employed as the VFW club manager from 2019 through February 2022.
Theft of cash
According to the complaint, from March 2021 through February 2022, cash deposits were not made on some occasions for many days and sometimes weeks. Further investigations that involved interviews with fellow employees and video surveillance footage proved Omundson was the lone cash-handler.
Over the 11-month period, missing monthly cash deposits ranged from $231.51 to as high as $8,723.56.
The VFW has gaming in the form of e-tabs. E-tabs are the electronic form of manual pull tabs. E-tab gaming was allowed from opening to 1 a.m. closing time. There were four e-tablets. One of the e-tablets would go missing for weeks at a time. Omundson told a worker that one e-tablet was not working and was placed in the office. However, the worker would find the missing e-tablet tucked behind some beer stock and not in the office. The worker observed Omundson playing the e-tabs after hours.
Frazee Police requested from the e-tab provider, Electronic Game Solutions Inc., all electronic gaming logs from May 2021 through March 2022 during the hours of 1 and 3 a.m. VFW employees were prohibited from using the e-tab gaming system after closing hours. The gaming logs showed the date, time, employee, signature and other information from May 2021 through March 2022.
Over that approximately 10-month period from the two-hour window after close, Omundson's name and signature were recorded on multiple dates and times playing the gaming e-tabs. She spent $20,099.75 playing over the 10 months.
Theft from scholarship fund
The VFW had a separate scholarship fund bank account with a July 2021 balance of $6,322.
On September 16, 30, and October 28, 2021, a total of $6,250 was electronically withdrawn from the scholarship bank account and deposited into the VFW's bank account for the bar.
The bar bank account was used by Omundson to run the bar business. She was given the ability to use the online banking application. The bank records showed the withdrawals were labeled "short term payroll transfer-internet from savings to checking."
Omundson was not authorized to withdraw any money from the scholarship bank account. No one was authorized to transfer funds to the VFW bar account. Omundson had access to
the online scholarship bank account and was the only person who could have taken the funds out. Only two other persons were authorized to transfer funds in bank accounts. They both were interviewed and stated they did not authorize any transfer from the scholarship fund bank account.
Unemployment fraud
A Bureau of Criminal Apprehension Agent reported that from January 3, 2021 through March 7, 2021, Omundson received a total of $6,850 in unemployment benefits. A Frazee Police Officer found the VFW payroll records showed Omundson worked 70 hours a pay period and received a total of $5,219.90 from January 3, 2021 through March 7, 2021. Omundson did not report any hours or income earned as required when she filled out the weekly questionnaire for unemployment benefits. Her omissions of earned income or hours worked are material misrepresentations.
Gambling fraud
Pull tab records show Omundson using another person's initials to cash in pull-tab winnings three times, once on January 29, and two times on February 13, 2022. The pull-tab records show the winner's name, and the employee "Anne Omundson."
Omundson stated that the initials were of a friend who let her use her name when Omundson won on the pull tabs. The friend stated that she did not give anyone permission to use her personal information and that Omundson had access to her personal information. The total amount Omundson received using the friend's initials was $800.
Omundson was scheduled for her next hearing Thursday, June 1, but failed to appear, according to court records. Failure to appear for duly scheduled court appearances may result in additional criminal charges, and in addition to any arrest warrant that may otherwise be issued by the Court.