First-year officer Pausch receives commendation
News | Published on June 6, 2023 at 4:33pm EDT | Author: frazeevergas
0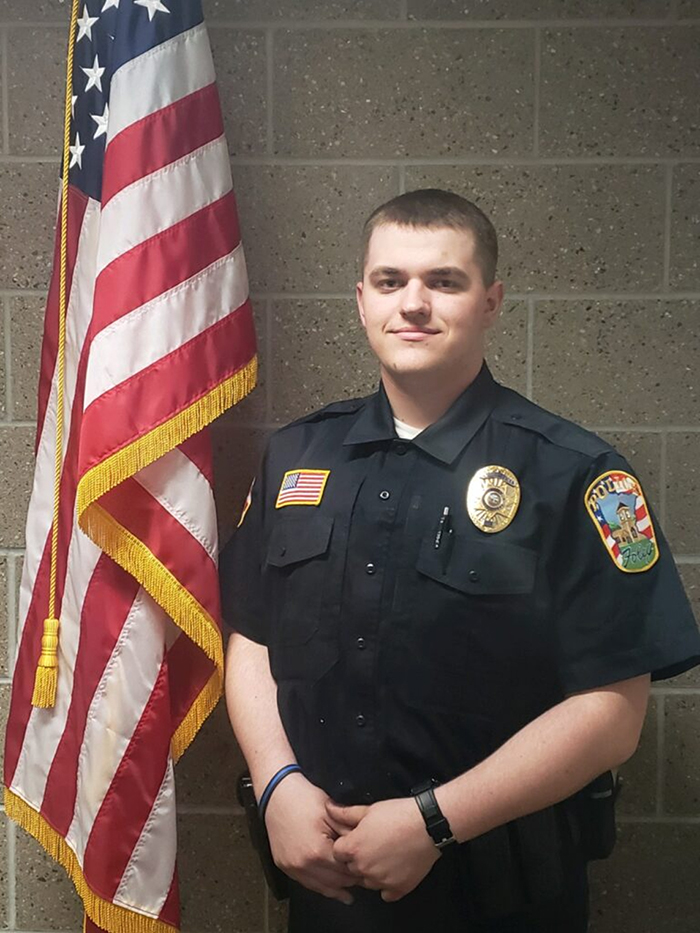 By Robert Williams
Editor
First-year Foley Police Officer Cody Pausch recently received a commendation from Foley Police Chief Katie McMillin for his efforts in diffusing a school runway situation.
The incident happened on Wednesday, May 17, when a report of a child attempting to run away from the school in Foley. According to the commendation, the child was initially contained to the inside of the school, but as staff attempted to direct the student back to class he ran outside.
Prior to the student running outside, Chief McMillin attempted to assist the school staff; however, the student was terrified of police and that did not help the situation. Chief McMillin then stood back at a safe distance and observed staff.
"I was working the road and taking calls as usual," said Pausch. "My chief was working as the school resource officer at Foley Public Schools when she called out saying there was a student who left the school and started running toward State Highway 23."
School staff followed out the doors, as Chief McMillin ran to hopefully cut the student off and get the child's name. The child proceeded to run across Penn Street and in between the apartments towards Highway 23 and then westbound along the highway.
Assistance was provided by Deputy Tim Kosel, Investigator John Kahl, and Investigator Aid Glover from the Benton County Sheriff's Office/Court House. The student ultimately decided to stop and sit down in the grass along the Sheriff's Office entrance where Officer Pausch and Kosel, Kahl, and Glover met up with the student.
"I responded from the police department and by the time I got there school staff kind of had the student surrounded and were trying to talk to him," said Pausch. "He was very scared and nervous. Once I got there I got flagged down and started talking to the student, who was super scared of law enforcement, really didn't want to get close and thinking I was going to arrest him or whatever."
A Foley School Principal was at the scene and attempted to speak with the student but was not having any success. Officer Pausch used a stuffed pig from his squad car to connect with the child and diffuse the situation.
"What happened was I have a stuffed pig I keep in my squad car with me," said Pausch. "To ease the student's nerves, I took my handgun and my tazer and locked them in my squad car, took my stuffed pig and brought it with me and I went out, got down on a knee and started talking to him from a distance, 20-30-feet. Eventually, I took my handcuffs off, my belt, threw them in the grass, took off my vest. Once I took off my bullet-resistant vest the student let me walk up to him. As I was walking up to him, I was just talking to him, asking if he was okay and asking his name. I was able to sit next to him and the student and I talked for about 15-20 minutes or so. By the time we got him calmed down, he was happy, wanted to talk to me and hold my stuffed pig. He ended up naming my pig and we got him back to where he needed to be."
The child finally calmed down enough to go home with his mother who had arrived on scene.
Pausch is a twin and he and his brother had four younger siblings growing up, which gave him an instinct into the situation. He also engaged frequently with the Foley community making connections with both children and adults.
"My twin brother and I are the oldest of six kids, so we had four younger siblings," he said. "On top of that, I do a lot of community engagement events with the police department, going out and spending time with people, especially the youth in the community."
For Pausch, it was just another day on the job. Officers have to be prepared to handle whatever situation arises.
"It's always interesting; I've done so many interesting things this last year," he said. "You can go from a domestic in progress to something like this, a child that ran away. You just never know what's going to happen."
Chief McMillin praised Pausch's efforts of being a calming force and de-escalating the situation in her commendation.
"I would like to take this time to commend you on a job well done," she said. "The rapport you created with this child helped diffuse this situation. If the child had decided to get up and run again it is unknown what could have happened. Your action and quick response to this call made me proud to have you as one of my officers."
Pausch grew up in Pelican Rapids where he was home-schooled. He played baseball and football for Frazee-Vergas high school. He knew he wanted to be a police officer since he was 16-years-old and is a Law Enforcement graduate of Alexandria Technical & Community College.