Heisler opens up Dusty Trail Auto on Highway 10
News | Published on June 13, 2023 at 4:56pm EDT | Author: frazeevergas
0
Multi-vehicle repair shop and used ATV sales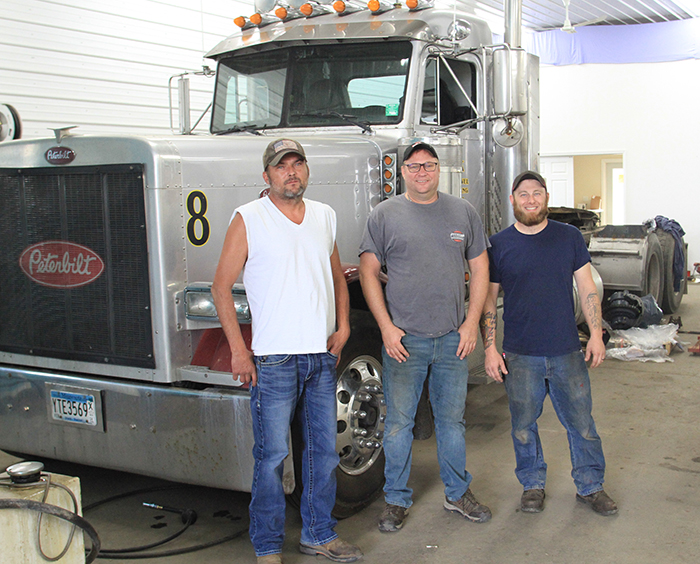 By Robert Williams
Editor
Dustin Heisler found a shop smack in the middle of his hometown of Vergas, Frazee and Perham for his new business Dusty Trail Auto.
The shop is located in the building that formerly housed Amie Erickson's Prairie Embroidery and Tumble Force Gymnastics.
"We're kind of in the middle; we're Perham, Frazee, Vergas and that's good," said Heisler.
Erickson and Heisler had a working relationship with Erickson making all the company's shirts for years.
Erickson was planning to close her gymnastics gym prior to last year's final season of competition, but had no concrete plans on what to do with the building.
"I just told her to let me know and I didn't think anything of it because I thought there were going to be so many people after it," said Heisler.
Last winter talk about the building became more serious between the two.
Heisler made an offer and quickly forgot about it.
"I thought yeah, it ain't ever going to happen," he said.
Erickson called up and said if Heisler was serious about it she was serious about it. Heisler started renovations and moved in six weeks ago with lifelong mechanics Gene Bartnes and Kyler Groft on staff.
"We moved in here in April but we had a lot of dirt work to get done and kind of officially opened at the end of May," he said. "It's just been word-of-mouth. I haven't done much advertising yet. The main thing was getting the parking lot done and we did some dirt work in the back to get semi trailers in the back."
Another big part of the renovation was installing an airplane hangar door to get a full 14-feet opening in the back of the building for trucks.
Dusty Trail Auto's work offered on cars and trucks are relatively the same thing—basic maintenance and repair.
"We'll do anything the customer's need; we kind of do a little bit of everything," said Heisler. "For the most part, we try to keep it simple. We're not going to do engine overhauls and stuff like that."
Another aspect of the business is selling used ATVs. Heisler pushes ATV and side-by-side repairs and maintenance to his lifelong friend Butch Zitzow of Butch's Custom Services and Repair in Vergas. Zitzow played an amusing role in how Heisler's business got its name. Dusty Trails Auto's moniker stems from childhood hijinx.
"Butch and Larry Hoffman, this is back in high school, they came over to my place for a couple beers," said Heisler. "We were joking around. Dusty Trail is over by Lake Seven somewhere and I jokingly said, 'you guys should go steal me that sign.' Those two guys came over the next night with the sign. So, I put that sign up at the end of my road because I didn't want to get in any trouble about it. It's been there forever and now on Google Earth, when you get directions to my house, it recognizes Dusty Trail. It'll tell you to head north on Dusty Trail road. It was just kind of a joke. I started selling tires out of my house because I have my trucking stuff there and they said I had to have a name for it. It just popped in my head, Dusty Trail Auto. Those guys still laugh at that today."
The trucking side of the business was a family affair that began with Dustin's father Marv Heisler. Dustin has been running his trucking business, DJ Heisler, Inc., out of his Vergas home for the past three decades.
"My dad had trucks and was a truck driver and I just kind of fell into it," Heisler said. "Now I do both out of the office here," he said.
The shop provided a needed space to service his own fleet, along with having enough space to expand to serve the public also.
"I have trucks of my own and it's so hard getting anything in anywhere, so we do a lot of our own stuff," he said. "But we have plenty of time to be open to the public. We do DOT inspections, tires, brakes, oil changes and air conditioning work, anything we can do on cars and trucks. The DOT inspections are a big one."
Minnesota statute requires commercial motor vehicles to be inspected annually and display an annual inspection decal.
The shop also offers towing services for vehicles that need repair.
Dusty Trail Auto is located at 39674 U.S. Highway 10, four miles from Frazee, eight from Perham and 10 miles from Vergas. The shop can be reached at (218) 234-1030, or via the shop's page on Facebook.