Historic Phelps Mill restored for future generations
News | Published on June 13, 2023 at 4:37pm EDT | Author: frazeevergas
0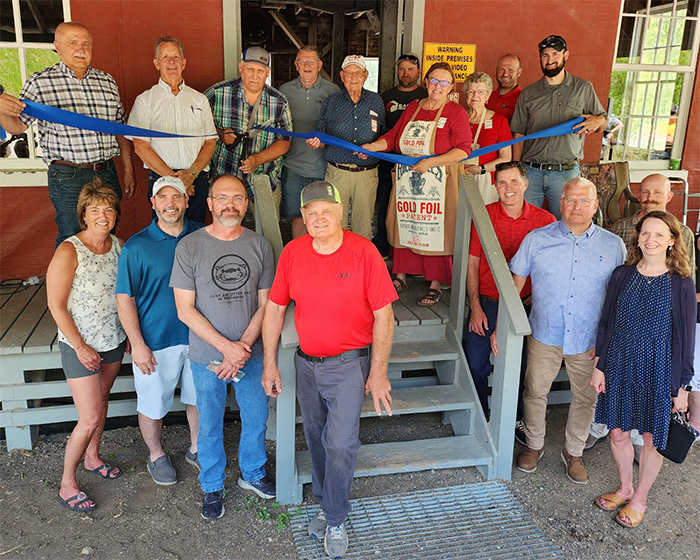 The mill at Phelps Mill Park is open to the public once again.
Set on the mill's loading dock with the sounds of the Otter Tail River in the background, over 150 people celebrated the restoration efforts of the mill. Friends of Phelps Mill welcomed visitors to tour the mill. Otter Tail County thanked those who worked to restore the mill as the Friends of Phelps Mill presented Eagle Construction with a symbolic bag of Maine Rollermills flour in appreciation of their work.
Chris Schuelke, Executive Director of the Otter Tail County Historical Society (OTCHS) shared an interesting history of the mill, and County Commissioner Bob Lahman ceremoniously cut the ribbon to mark the event.
"We are grateful to those before us who had the vision for the County to purchase the property for the opportunity to develop this beautiful park," said Lahman. "Today, it is a privilege to continue the restoration and growth of the park."
The Otter Tail County Board of Commissioners extended its appreciation to all who committed their time and efforts to the restoration project. To pour the footings in the basement of the mill the Eagle Construction crew had to perform a bucket brigade and haul the cement bucket by bucket.
Dave Boen, Phelps Mill Park Caretaker, was given a round of applause for his extensive work cleaning the mill in preparation for the open house and for maintaining the park in pristine condition throughout the year. Partnerships with those invested in the preservation of the mill were key to the success of the project.
"There were a lot of very hard-working people and groups that came together to make this restoration project end up being a great success and to protect the historic mill structure for generations to come," said Kevin Fellbaum, Director of Parks and Trails. "Eagle Construction's attention to detail on their work was second to none, they did such a beautiful job on restoring the mill to a condition that matches its original historic nature."
The Friends of Phelps Mill, a volunteer group, has been working to preserve the history and culture of the mill since 1993. The group provides tours and holds fundraising events to raise money for the restoration of the equipment and interpretive signage inside the mill.
Anyone who is interested in becoming a Friend of Phelps Mill should contact Chris Schuelke at the OTCHS.
The repair work stabilized the structure while retaining the building's historically significant character.
Grants from the Minnesota Historical Society and a State Capital grant funded much of the restoration. The mill and park are open to the public and visitors are encouraged to take the self-guided tour of the restored mill. The Phelps Mill Festival will be held July 8-9.
For more information about Phelps Mill visit www.ottertailcounty.gov/phelps-mill.