Kids come from all around for Vergas Arts Camp
News | Published on June 13, 2023 at 4:57pm EDT | Author: frazeevergas
0
Saturday's event attracts more than 100 artists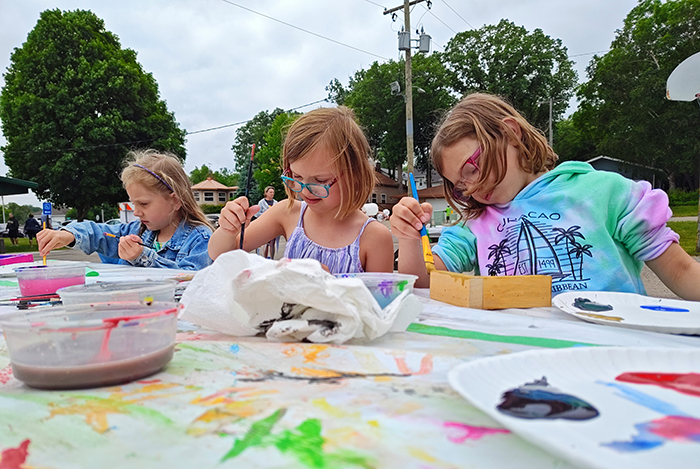 By Robert Williams
Editor
An idea from a gardening magazine has become a staple of the Vergas summer as more than 100 burgeoning artists came to the village for the fourth annual Vergas Kids Arts Camp on Saturday, June 10.
The camp in the magazine article was for adults and upon seeing it, Mayor Julie Bruhn had the thought that it would be ideal for kids. She enlisted the help of artist and retired art instructor Carol Albright and the duo put the camp together despite the COVID-19 pandemic.
The camp has grown in popularity over the past four years.
"It's gotten bigger," said Bruhn. "Last year, I think we ended up with 96 or 97."
Attendance was well on the way to over 100 kids halfway through the three-hour event on Saturday, more than doubling it in size from year one when there were 50 kids participating.
Every year, the art made by area kids is displayed downtown and not all that art is from local kids. That display might need to be enlarged to accommodate the art from a record number of participants.
This year, there were children that hailed from four different states and one all the way from Madrid, Spain. While on display, each piece of art will have the artist's name, age and what town they're from displayed on the front of their project. The camp also attracts a wide group of different ages from one to 16-years-old.
Each year's project has a theme with kids decorating a specific piece of art. It began with fish the first year, totem poles the second, loons last year and this summer birdhouses.
The first year had rain to go along with COVID-19, but according to Bruhn it has mushroomed since then.
While the main camp was held Saturday, organizers also brought it to a pair of daycares that cater to Vergas as part of a daily project for those kids.
"It's been a good community project," said Bruhn. "We wanted to involve youth and have them understand community involvement and have an appreciation for the environment of a community and the arts."
The arts camp is part of a well-rounded list of weekend activities throughout the Vergas tourist season that provide excellent entertainment opportunities for the whole family, highlighted each summer with Looney Days, which will be held Aug. 11-13.
"We have some creative people and people work so well together and the businesses are right there to help with things and support; we're very fortunate in this community and we love doing something for the kids," said Bruhn.