Sharing the Fiero love with a new generation
News | Published on June 13, 2023 at 4:50pm EDT | Author: frazeevergas
0
Minnesota Fieros Forever car club made a dream come true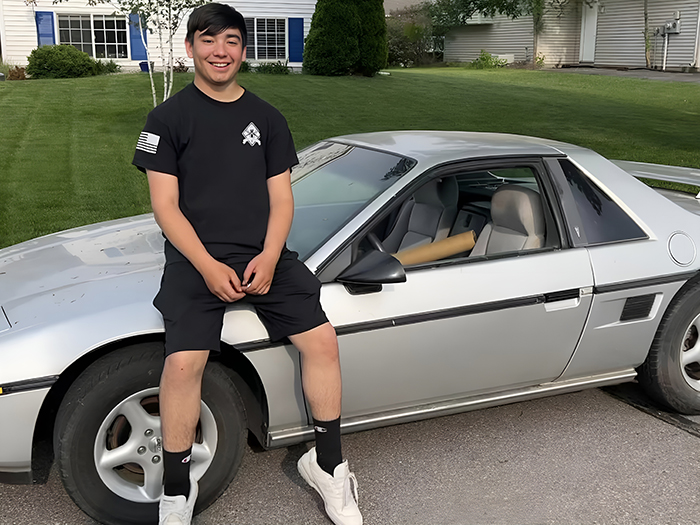 By Chris Kliewer
Special to the Forum
It is an absolutely incredible feeling to be in the presence of someone experiencing true joy and happiness, to the point that they cannot contain it.
We're members of the Minnesota Fieros Forever car club, one of the oldest Fiero-specific organizations in the world, many of our closest friends are Fiero people, and a lot of our social interactions are with this group of people.
Many of you also know that I was a participant and organizer in The Tyler Shipman Memorial Project, when a global community of Fiero fans pooled their talents, tools, and resources to make a dream come true for a young man in Frazee back in 2009. An event that helped me finally find traction when my life was spinning in circles, and led to an incredibly large found family where none of us are related but we're all bonded tighter than if we were.
The Fiero is a unique piece of automotive history with a cult following and shows are just the excuse for a vast number of people to get together and celebrate the joys in life.
Sometimes, though, the car is more than an excuse… It's the spark that kindles a burning passion in a new generation of car enthusiasts that quickly become members of the family.
In 2022, a random knock on the front door led to a conversation that started off with a simple "Can we look at the Fieros?"
Standing in front of me were two young men, the one who knocked was very nervous. The courage it took to knock on a random door and ask to look at a car that clearly doesn't have a for sale sign in the window is pretty impressive. I obliged, and just assumed that they were kids looking at sporty vehicles. We talked for a bit as I opened up the two cars and they poked and prodded, sitting in my GT, asking questions.
What I didn't know is that the young man, Josiah, had seen the Fiero from the highway and had his dad drive him down the alley to look at it. My understanding now is that this was a very regular occurrence for him.
Sweet. Our Fieros have a stalker!
Josiah is a quiet person, at least in my limited interactions with him. I'll use the word stoic here. Calm, quiet, collected. He and his friend left, and I put the visit out of mind after telling Cindy later that day about it.
Saturday, a knock on the door had Josiah standing on the front step asking if he could look at them again. He was alone this time.
Sure. Let's go take a look. I'll gladly talk cars with anyone. We went back and I opened them up again.
He looked at them both for close to 45 minutes as we talked. He told me about the quirks of the hand brake on the Fiero and how to release it when getting ready to drive, talked with me about the rust in the corners of the trunk that is prevalent here in Minnesota, etc. He knows these cars as well as a fan can know them without actually owning one. There's a fire raging beneath the surface of this quiet exterior.
When I casually dropped that we were thinking about selling one of them, he said "I'll buy it, cash in hand." with absolutely no hesitation.
The way he delivered this line, even though I had not mentioned price, was the hint that maybe this was the perfect person to take the mantle of Fiero ownership up.
I did tell him that someone else was interested in it, and I wanted to sound it out with them first. He just said "OK" in a very quiet voice, but never once stopped looking at the car.
On a tangent that leads to the next part of this story, the riding mower blew a head gasket and started spewing forth smoke like Cheech and Chong were living under the hood. I am waiting on parts for it and the lawn needs to be mowed, pretty badly. I mentioned this in a passing comment asking if he knew anyone who might be able to help. He offered to come mow the next day. He mowed lawns all last summer for money. We struck a deal, and the very next day I heard a lawnmower start up at the exact agreed upon time and looked out at Josiah, already four full length cuts in.
I drove to the store to hit an ATM and grab some cold Powerade for him, and when I got back ten minutes later, he was already done with half the yard, push-mowing through 8+ inches of thick, wet, and heavy grass. Heart attack grass, we call it here in Minnesota…At least when you're bagging and have to empty the bag.
I stopped in the front as he completed a few passes, and then he joined me. I handed him his drink and we continued to chat about the Fiero in general. There's the fire. I can see it clearly now. It's an inferno. I said I'd check with Cindy about the other interested party and went inside. While inside, I asked her if she had heard back. When she said she hadn't texted them, I said "Good," and then described the conversations Josiah and I had.
It was at that point that Cindy and I agreed that Josiah would be the next owner of the car, if he were able to pull it off from his side of things. We also agreed that if he was, we'd cover his first year's dues in the Fiero club, as well as an entry in our club's car show, Back To The 80's – Minnesota (at Buck Hill, June 10, be there, or be square!). We'd also offer it to him for an absolute steal, because we believed the fuel pump in the car had failed.
When I got out of the hospital on October 14 of 2020, I could barely stand, let alone walk unaided. Receiving a forecast for a significant winter storm, I needed to get my Fiero off of the street and get both mine and Cindy's down to storage at a friend's place in New Prague. Cindy's car, which had run not even three weeks prior when it was parked, suddenly didn't start. It turned over just fine; the battery even drained as I tried to get it going, swapping relays, etc.
I worked on this thing in the cold, chilled to the bone so badly I was shivering the whole time, even with my thick winter coat on, and had started seeing spots as my lungs still weren't in a good place, post-COVID.
I gave up, calling it a lost cause, and went inside where it took a hot shower and a heating pad to stop the shivers. Those two were not at the same time, for the record. I'm stupid, not an idiot.
Anyway, back to Josiah.
Here I am, leaning on Cindy's silver 1986 Pontiac Fiero 2m4 (2 seats, mid-engine, 4 cylinder) talking with a neighbor as Josiah finishes mowing the backyard and grabs a weed whacker. I'm waiting to share our decision with him and see what he says.
He finished the lawn and walked over and I said "Turns out, she never heard back from the other guy. The car is yours if you want it."
This quiet young man became deathly still and silent. If I didn't know better, I could have sworn I was standing next to Drax from the Guardians of the Galaxy. An expert in stealth, our Josiah is.
I looked at him and said "You're screaming inside right now, aren't you?" and an immediate ear to ear grin hit him, outshining the sun.
I told him two prices. One running with the pump, one without. He had grown up working on cars with his dad, so I knew he had the chops to get it going.
He made plans to come back with his dad that night to look at the car, and I said "Good. I'd like to talk with him." I wanted to tell his father how impressed I was with this young man and his work ethic, and attention to detail when he burned his way through the lawn as if it were the second mow of the day.
When they showed up in a 1971 Pontiac Ventura in Triple Black with a billet engine, I *KNEW* we had made the right decision.
We toured the car, examining the notorious rust locations, which were all spot free as if new, and in general chatted about next steps and plans. They left, and a day goes by.
Tuesday, Josiah texts and asks if he can bring a battery and hear the engine turn over. Sure. Here's the keys. I know it won't drive off. Haha!
Ten minutes later, Josiah is knocking on the door.
"How did it go?"
"It started."
"Let's go take a look."
Yup. The kid has the magic touch. Maybe it was the cold. Maybe it was the car trying to tell us that it needed to move on…. Maybe he simply wishes things into existence. The car fired right up and idled.
"I'll still honor the no fuel pump price for you…"
An hour or so after he leaves, I get a call. "Can I bring my friends over and show them the car?"
Sure. Where are you at?
"Pulling into the alley right now."
This kid, I'll tell ya.
Tonight, Josiah returned with his dad. The tires had been aired up, a bunch of Fiero-specific goodies were crammed into hiding spots in the car for Josiah to discover, and some car show swag was added. I even tossed in some super special gear from The Tyler Project build and car show stuff for him.
As I walked up to them, I said "Josiah, I have some news. Cindy and I would like to keep…in touch."
I swear, his heart stopped for a brief moment. Poor kid. I feel bad now.
My absolutely amazing insurance agent, Katy Lindberg Insurance Agency put 24 hours of coverage on the car and tossed me some insurance cards so I could re-up the plates. I wanted Josiah to be able to jump in this thing and go without having to deal with the extras or pay the penalty for our lapse.
As he wrapped up getting everything together and was about to button up the car, I pulled the plates out and handed them to him saying "You're good to go. Slap these on and you're legit."
Drax. Silent. Unmoving. Stealth. Very quiet voice…. "Really?"
Yes. Enjoy your new ride. Your spot is reserved at the show and in the club.
As we coined for The Tyler Project…"Welcome to the Fiero family."
When his dad backed the Fiero out into the alley, the quiet kid in front of me suddenly exploded into the air, fist pumped high and shouted "OH MY GOD IT LOOKS SO GOOD!" and practically giggled his way down the alley. Stealth mode disengaged.