Grants will bring mental health specialists back to school
News | Published on June 20, 2023 at 2:37pm EDT | Author: frazeevergas
0
New track and football field ribbon cutting in July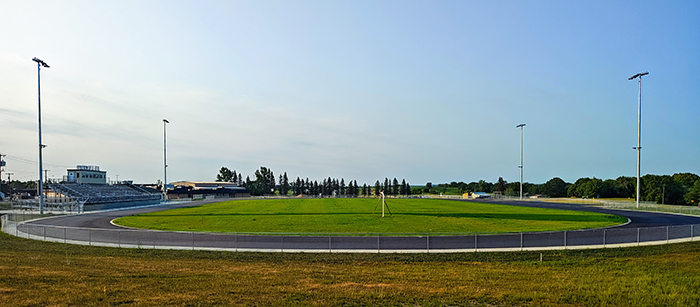 By Robert Williams
Editor
Superintendent Terry Karger was excited to report to the school board on the return of two mental health specialists provided by Stellher Human Services for the coming school year during the school board's monthly meeting on Monday, July 12.
The specialists were on board this past school year thanks to expiring using the Elementary and Secondary School Emergency Relief fund (ESSER) funds. The school district had contracted with Stellher to provide a mental health professional clinical trainee in each school and a school-based supervisor.
Stellher's in-school services include individual and group skills and therapy designed to minimize disruption to the school day, while encouraging cooperation and communication. Counseling sessions do not become part of a student's school record and all services are offered on a needs basis regardless of ability to pay allowing uninsured students also have access to mental health services.
Referrals are made by staff to Stellher school representatives and communications are had with parents, along with paperwork, prior to services being administered. Most students receiving mental health services typically meet once per week.
"They were able to obtain another grant for the mental health providers," said Karger. "They've obtained two different grants with some third-party billing and some different pieces."
The grants and funding reduce the cost to the district for a mental health provider in each school for the entire school year to $15,000.
"I think a $15,000 investment for two mental health providers is pretty much a no-brainer on our behalf," said Karger. "From what I've been told by many people, they did a fabulous job."
The specialists are even more important for the 2023-24 school year, as the district is going down to one counselor with the loss of Megan Galligan.
Galligan commented on Stellher's presence in the school in a May interview with the Forum.
"It's been really helpful having Stellher in the school this year," said Galligan. "Full-time mental health staff through Stellher had a full caseload with a waiting list."
In January, Frazee-Vergas school social worker Shannon Bakkila echoed those sentiments in a written recommendation of the benefits of having Stellher Human Services in the district the past year.
"I have seen only positive impacts from the additional mental health services provided by Stellher," Bakkila said. "The staff members are very professional and knowledgeable and our district is fortunate to have them."
Football, track complex
Karger also reported on the improvements at the football field and track and field complex. The company putting down the track was delayed awaiting a specific part to complete the track. Plans are to hold a ribbon-cutting ceremony with a tour for the board of the new facility in July.
"Things are moving along well, both inside and outside," said Karger.
Staffing
The following individuals were recommended and approved for hire:
• Karli Wherley – First grade classroom teacher.
• Mike Miller – Sixth grade classroom teacher.
• Jolene Tappe was recommended and approved as a Special Learning Disability (SLD) classroom teacher pending out of field permission.
• Amy Malikowski was recommended and approved as an Autism Spectrum Disorder classroom teacher pending out of field permission.
• Michelle Sharp was recommended for hire as a summer technology assistant.
• Paige Callahan was recommended and approved to fill a Latch Key Supervisor position.
• Delaney Matejka was recommended and approved for the position of 0.5 Elementary Music Teacher and a 0.2 Gifted and Talented Instructor. Matejka was also hired as the assistant dance coach.
• Danielle Adams – Indian Education Coordinator.
• The district entered into an agreement with Cheryl Neyens to perform the duties of Food Service Manager for the summer program from June 5 – Aug. 10.
The board approved the resignations of the following positions: School Readiness / ECFE Classroom Teacher / Parent Educator; Special Education Teacher; High School Science Teacher; Indian Education Coordinator; Native Club Advisor; Custodian; Student Council Advisor; Head Cross Country Coach; Junior High Track Coach; Junior High Volleyball Coach.
Memberships
Minnesota School Boards Association Membership Dues for 2023-2024. Annual renewal of the membership agreement with MSBA: Policy Services $750; ISD Membership $4,319; BoardBook Subscription Tier 1 $2,100; for a total of $7,169.
Adult Basic Education (ABE) Agreement. Annual agreement with Detroit Lakes for Adult Basic Education services provided to our residents.
The agreement with the details is attached.
Lakes Country Service Cooperative Membership Agreement for 2023-2024. Annual membership fee of $3,833.25.
Lakes Country Service Cooperative Health & Safety Service Agreement for FY 2023-2026. A service agreement is attached for management of environmental health and occupational safety programs in our District. FY24 – $12,164; FY25 – $12,407; FY26 – $12,717.
Service Program with Danielle Francis FCC – The contract is attached for vended meals for the 2023 Summer Food Service Program.
Child and Adult Care Food Program Contract for Vended Meals for the 2023 Summer Food Service Program with Tiffany Haugen's Childcare.
Enrollment
The District received the Enrollment Options Applications for enrollment out of the District to: Detroit Lakes (1) and into the District: Perham (2).
Hornet Pride
The FFA program received a donation of $2,600 for the efforts of transplanting lady slippers last fall.
The Detroit Lakes Rotary Breakfast Club donated $500 for the reading program.
Maureen Karsnia donated $50 to the art program.
Dacotah Paper Company donated trash bags for the annual Day of Caring.
Continuous Improvement Plan
Staples-Motley School District Superintendent Shane Tappe and principal Debbie Ferdon were back to help finalize the Frazee-Vergas School District's continuous improvement plan.
The district received feedback and input from all over the community, including students. Small groups met multiple times to outline priorities, goals, issues that need to be addressed, and ways to bring success to the Frazee-Vergas school district.
Activities
Activities director Nick Courneya summarized spring activities for the board, including art, FFA, trapshooting and the rest of spring sports.
The Fall season student and parent meeting for activities is set for Wednesday, August 2, at 7 p.m., in the high school's main gymnasium. Fall activities begin Monday, Aug. 14.
Budget meeting
A special board meeting will be held later in June for a presentation of the 2024 fiscal year budget and long-term facility maintenance plan. A tentative date for the meeting is Thursday, June 29.