Lakes Corner Liquor captures niche bourbon market 
News | Published on June 20, 2023 at 2:07pm EDT | Author: frazeevergas
0
Summer season has taken off for corner store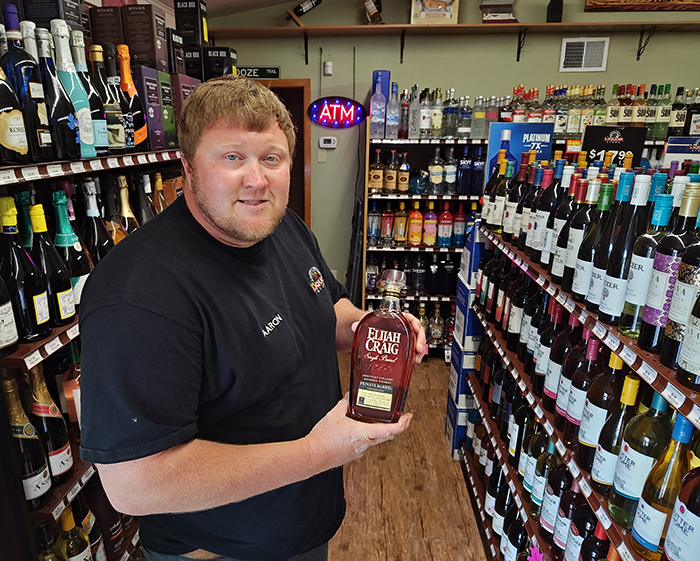 By Robert Williams
Editor
Aaron Aslesen's 13th year in business at Lakes Corner Liquor has been a busy one so far.
"It's been so busy we're just trying to keep up with the business," said Aslesen. "This little charge in May and early June has been incredible. I feel like nobody is missing a weekend at the lake. We've had great weather; it's been hot; the river has been going good. It's been a lot of fun."
To keep up, the 720-square foot store uses every bit of space from the show floor to Aslesen's personal office to cram in as much inventory as possible.
"Every inch is utilized from floor to ceiling," said Aslesen.
Aslesen specializes in bourbon and has become the go-to store for connoisseurs of whiskey.
"Beer and seltzers are the number one thing; this is just a niche on the side that we have picked up and ran with," said Aslesen.
Other summer trends that are flying off the shelves include Busch Light Peach, a peach-flavored lager with a touch of sweet on the front end and a clean beer finish on the back and SunnyD Vodka Seltzer.
"Incredible sellers," he said. "We sell them like it's going out of style."
Lakes Corner Liquor has all the typical brands of beer and booze, including a walk-in beer cooler, but what's helped build Aslesen's brand is the bourbon. The store held its first bourbon raffle over Memorial Weekend.
"I feel like this year Memorial Day was as good as last year's Fourth of July, so I think that long winter pushed people out," said Aslesen.
As did the opportunity for raffle participants to get their hands on some special bourbons.
"That was a massive success," said Aslesen. "We had 123 people get their names in to try to buy these allocated bourbons that we hung onto for a year. People came from all over the area. It was way more than I anticipated."
Customers were lined up in a full parking lot an hour before the store opened. Liquor representatives were on hand providing tastings during the bourbon lottery.
"There were so many people in here that nobody else could come or go," he said. "You couldn't do your regular business here. It looked like a festival or music concert, but it was really cool. I was really pumped up."
Sales success has allowed Aslesen to purchase a private barrel of bourbon specifically made for Lakes Corner Liquor.
"We got our first barrel of bourbon in March, an Elijah Craig bourbon that we picked out ourselves," he said.
Elijah Craig is a premium and super-premium brand of bourbon whiskey produced in Kentucky by Heaven Hill Distilleries.
To get a private barrel, the store has to sell a certain amount of bourbon of a certain brand to be considered. There are a specific number of barrels that a distillery allocates per state and those are allocated to stores per sales.
"You've got to earn it," said Aslesen. "We were lucky enough to get one. Most of the barrels go to Cash Wise and big chains. To get one in our area is pretty rare, especially one that is on the edge of semi-allocated. You don't see them everywhere."
Limited quantities remain and a second barrel is on the way.
"Since that's been so good, we've ordered another from Kentucky and that should be showing up this summer," said Aslesen.
Aslesen has also earned the opportunity to go to Kentucky and be part of the selection process for another private stock. The selection would be aged to an agreed upon year and it would be pulled and bottled with Aslesen's name on it.
Aslesen's personal interest in bourbon and the positive response from his customers has him continuing to pursue new ways to please those customers coming up with new and creative ways to share the enjoyment of whiskey.
"As much as I possibly can," said Aslesen. "It's been amazing. I just started ordering everything and looking under every nook and cranny finding out as much as I can about bourbon. I feel like I have deep dived into it so much I know the releases that are coming out and I know what people in my area are looking for."
Lakes Corner Liquor announces its upcoming events and special liquor opportunities regularly on their Facebook page and the physical store is located on the southeast corner of the intersection of State Highway 34 and County Highway 29 in Detroit Lakes.
More information can also be found on the company's website www.lakescornerliquor.com